OPP announced today the result of a 16 month investigation that resulted in 21 arrests for 118 charges and the seizure of more than $32 million in cannabis and cannabis products, along with 65 kilograms of psilocybin, guns, other drugs, and property.
The Ontario Provincial Police (OPP), Organized Crime Enforcement Bureau (OCEB) and London Police Service (LPS) began the investigation, dubbed Project GAINSBOROUGH in June 2020 after police became aware of the large-scale distribution of illegal cannabis and cannabis derivatives, as well as the trafficking of cocaine, in the London area.
Police say they were able to identify a sophisticated criminal organization responsible for operating an illegal cannabis website with delivery service in London, Kitchener, Hamilton and Toronto. The members and associates of this criminal organization have also been involved in the exportation of illegal cannabis and cannabis derivatives to numerous locations domestically and worldwide, including Europe and South America.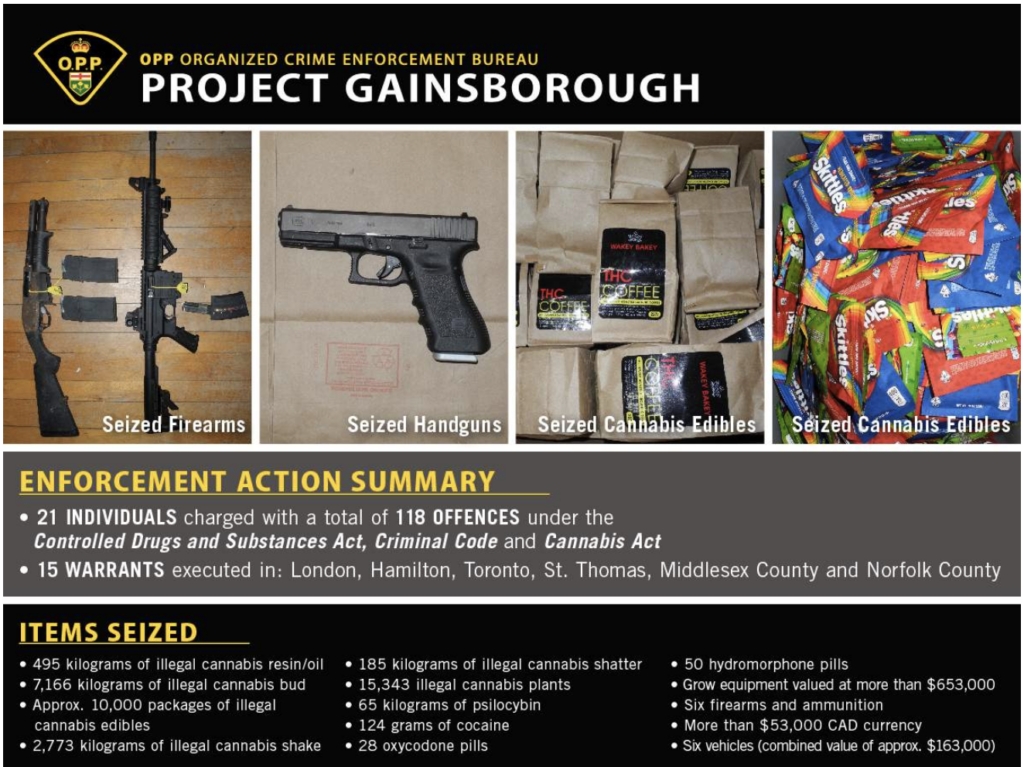 OPP has said they have shifted their focus from illegal brick-and-mortar stores to those operating in the online retail space.
As a result of the investigation, investigators identified two clandestine cannabis extraction labs located in Brampton and Middlesex County.
On November 3, 2021, police executed 15 search warrants at locations in London (8), Hamilton (2), Toronto (1), St. Thomas (1), Middlesex County (1) and Norfolk County (2). Members from the OPP OCEB, Community Street Crime Unit, Emergency Response Team, Canine, Digital Forensics, Forensic Identification Service, the Provincial Asset Forfeiture Unit, Middlesex County Detachment, Biker Enforcement Unit and Provincial Joint Forces Cannabis Enforcement Team as well as the LPS, Toronto Police Service, St. Thomas Police Service, Hamilton Police Service and Woodstock Police Service Canine Unit assisted with the execution of warrants.
As a result of this investigation, police seized:
495 kilograms of illegal cannabis resin/oil;
7,166 kilograms of illegal cannabis bud;
Approximately 10,000 packages of illegal cannabis edibles;
2,773 kilograms of illegal cannabis shake;
185 kilograms of illegal cannabis shatter;
15,343 illegal cannabis plants;
65 kilograms of psilocybin;
124 grams of cocaine;
28 oxycodone pills;
50 hydromorphone pills;
Grow equipment valued at more than $653,000;
Six firearms and ammunition, including four handguns, a .22 cal rifle and a 12 gauge sawed off shotgun;
More than $53,000 CAD currency; and
Six vehicles as offence-related property, with a combined value of approximately $163,000.
The drugs seized in this investigation have an estimated street value of more than $32 million.
---