Ontario has recently informed cannabis producers that the OCS will soon be pausing new product calls as they reconfigure their product call system.
In an email shared with StratCann that was sent out to cannabis producers this week by Bev Altberg—the OCS's new Vice President of Merchandising, Marketing and Ecommerce at OCS Ontario Cannabis Store—the provincial cannabis distributor and online retailer told cannabis producers that the upcoming product call in August will likely be the last until next year, cancelling a product call previously scheduled for October.
As the province has traditionally held product calls every two months, this likely means at least two other new product calls are being cancelled prior to the one now scheduled for April 2022.
Producers will still be able to ship previously approved products into the Ontario system, but following the August deadline, no new product will be approved for sale, potentially until April 2022. Although the OCS says the intention of this change is to better streamline their product call and procurement process in the long term, the impacts on the industry in the short term could be significant, especially since Ontario is the largest single cannabis buyer in Canada (and the world). 

Daffyd Roderick, the Senior Director, Communications and Social Responsibility at the OCS, says the decision to pause product calls while they refine their system was made with feedback from producers. The provincial distributor appears to be moving towards a system with fewer product calls, allowing for greater lead time for producers.
"We are making adjustments to our product call process for 2022," says Roderick. "The current process has been instrumental in helping us grow Canada's largest number of retail stores selling Canada's broadest assortment, but as the cannabis sector evolves, so do the processes at OCS."
"Greater lead time and more energy at the front end of the process will allow us to better align with LP product innovation and give LPs and retailers a more manageable process."
"We both solicited and took into account feedback from both licensed producers and retailers to build a process that better aligns with industry planning and commercialization processes, and the new product call helps to achieve this."
While the changes may improve the system in the long term, the short-term effects on the market could be significant considering the OCS is the single largest cannabis buyer in Canada.
For any established or new producer with new products on the market that become available after the August 13 product call, they will need to look for buyers in other provinces. As the volume and varieties of cannabis products that need buyers increases, the market is already becoming increasingly competitive. This increased volume being pushed into other provincial markets will only exacerbate this "glut", making it even more of a buyers' market, with increased competition and lower prices for growers.
To partially account for the fact this will also put a pause on new products in Ontario potentially well into mid-2022, Ontario's August product call will be staggered across three product launches; October, November, and January. But this also means these products will be at least two to four months old by the time they reach consumers, assuming they were fresh at the time of the product call in August.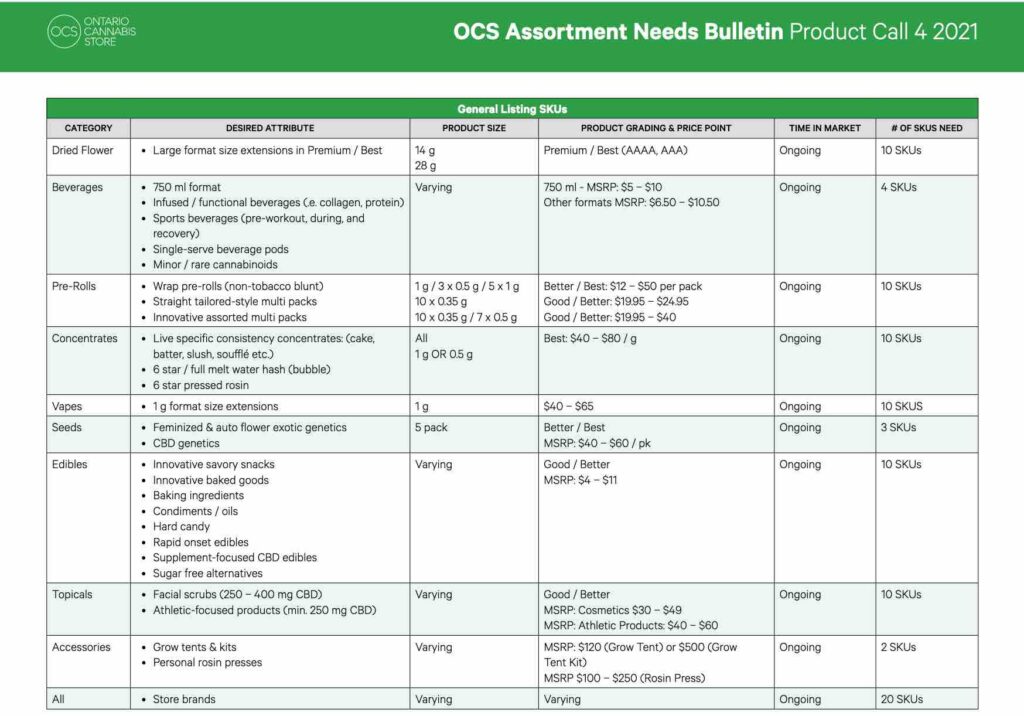 This is because Ontario's product call process requires a product to be harvested and ready for sale, with testing results in place, before pitching it to the province. So a product that was harvested in late July, was dried and cured and tested in time to meet the August 13 deadline could still take several months to reach the consumer. 
Ontario's August 13 product call also shows the relatively small amount of products the largest cannabis buyer in Canada is actually seeking. Although there are more than 800 retailers in Ontario and over 700 different cannabis producers approved across Canada who can in theory supply them with an increasing array of products, a crowded market means most of these products will never even have a chance of being listed in Ontario. 
For dried flower, for example, the OCS is only looking for 10 products in the 14 and 28 gram category, 10 more from the 3.5 gram category, and 10 in the pre-roll category. They only want 10 SKUs in the concentrate category and 10 in the edibles category.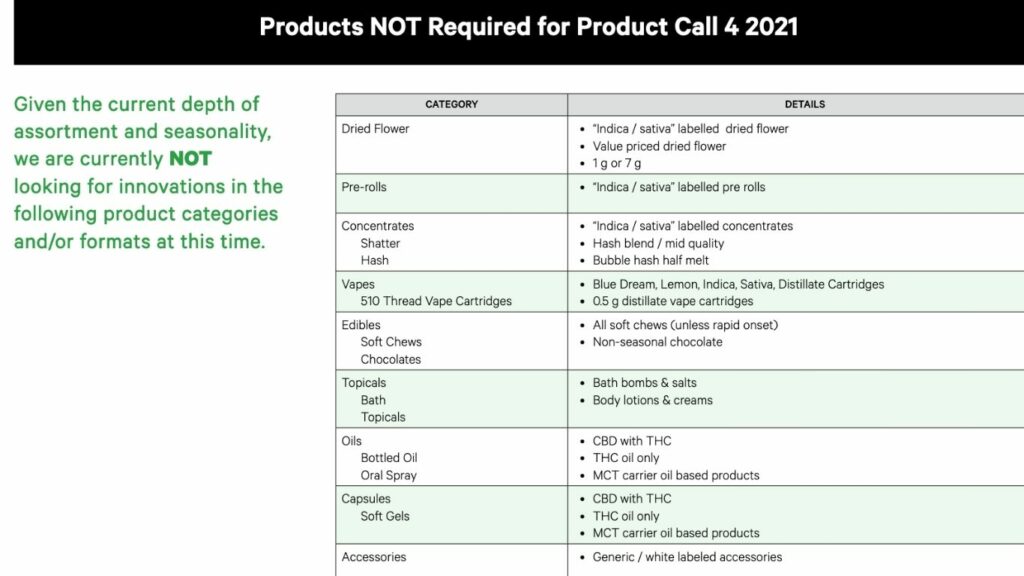 Those who can't get their products accepted will have to appeal to buyers in provinces like Alberta, BC, and Saskatchewan who are still taking on new products. (Quebec, Manitoba, and the Maritimes all have some form of caps or other restrictions on new vendors).
Although StratCann spoke with several cannabis producers about this new plan from the OCS who expressed frustration, none were willing to go on record out of fear of upsetting the provincial buyer.
---