The Ontario Cannabis Store says they will be introducing a new "flow-through" program by late summer to allow retailers to order products not stocked in the OCS warehouse.
The program will initially launch as a pilot project with a limited number of SKUs from a test group of cannabis producers and retail stores. Retailers will be able to choose from selected products from the OCS flow-through catalogue, and OCS will then facilitate the wholesale purchase and shipment to retailers.
The program will allow Ontario's cannabis distributor to offer more products to their growing number of retailers, such as new SKUs, products that have a short shelf life or are slower-moving, and could even potentially include live cannabis plants by this winter. It would also allow some retailers to carry products their competitors might not carry.
The OCS will gradually launch the program beginning in September, before adding other products in the fall and winter.
"Ordering via flow-throughs results in fresher products, the ability to order short shelf life and seasonal products, and an opportunity to test out new SKUs," says Daffyd Roderick, Senior Director, Communications & Social Responsibility.
The program would also include the opportunity for producers to provide "Store Brand" products that feature a branding element associated with a licenced retailer.
Any products listed in either the general catalogue or the flow-through model, including store brand products, will still be available to all retailers. The OCS has also been offering limited release SKUs.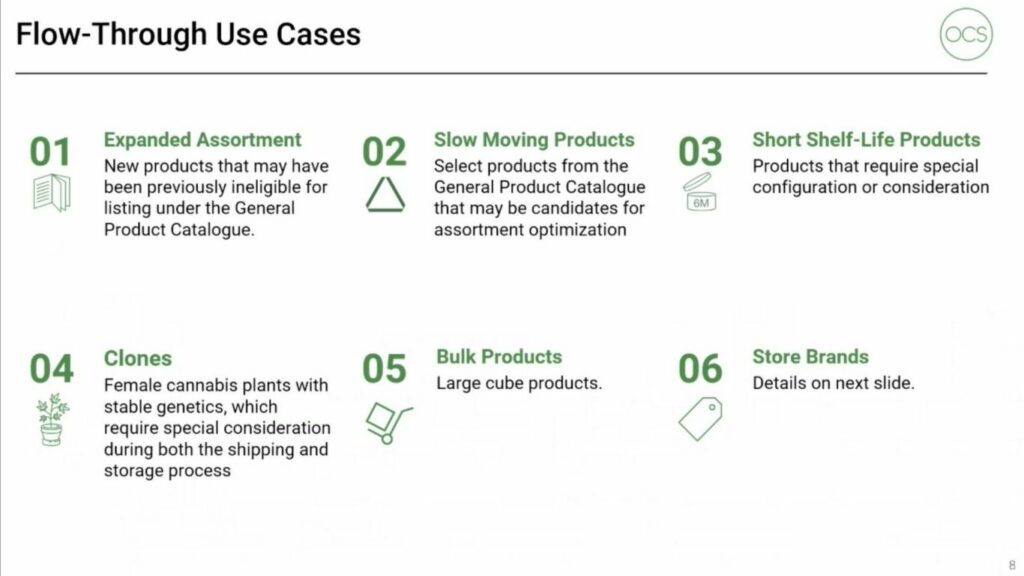 Cannabis producers in Ontario who want to participate in the new flow-through program will need to be able to fill orders within seven days, those outside Ontario will need to do so in 10-14 days.
Ontario currently has nearly 700 licensed retailers, with 30 new authorizations a week. The province intends to open more than 1,000 retailers by September first, although this target could be impacted by various Covid-related restrictions. About 175 of those currently licensed are waiting until after lockdown to open. All in-store shopping for cannabis in Ontario is currently not allowed due to lockdown restrictions. Because of this, ordering from stores during this current lockdown is down 30-40% compared to projections.
While Ontario's flow-through plan will still include the OCS as an intermediary, British Columbia announced last year that they are considering a direct order program in 2022 that could allow retailers to order some products directly from "small-scale" producers. Although BC has not defined "small-scale", they say it will include more than just micro cannabis producers.
Currently, only Saskatchewan, Manitoba, and Newfoundland and Labrador are the only provinces with no provincially-run distribution warehouse. Saskatchewan allows for private distributors, as well as producers to ship directly to retailers. Manitoba still manages orders, but producers ship directly to retailers. Newfoundland and Labrador currently only allow retailers to order directly from producers, but are planning a warehouse and distribution arm for later this year.
---