Veterans Affairs Canada paid for nearly $116 million worth of cannabis for medical purposes in 2021.
Although the number of veterans in Canada covered by Veterans Affairs Canada's (VAC) medical cannabis reimbursement program continues to increase every year.
Veterans Affairs Canada's cannabis for medical purposes reimbursement policy allows approved veterans to be reimbursed for up to three grams a day at a fixed cost of nor more than $8.50 a gram.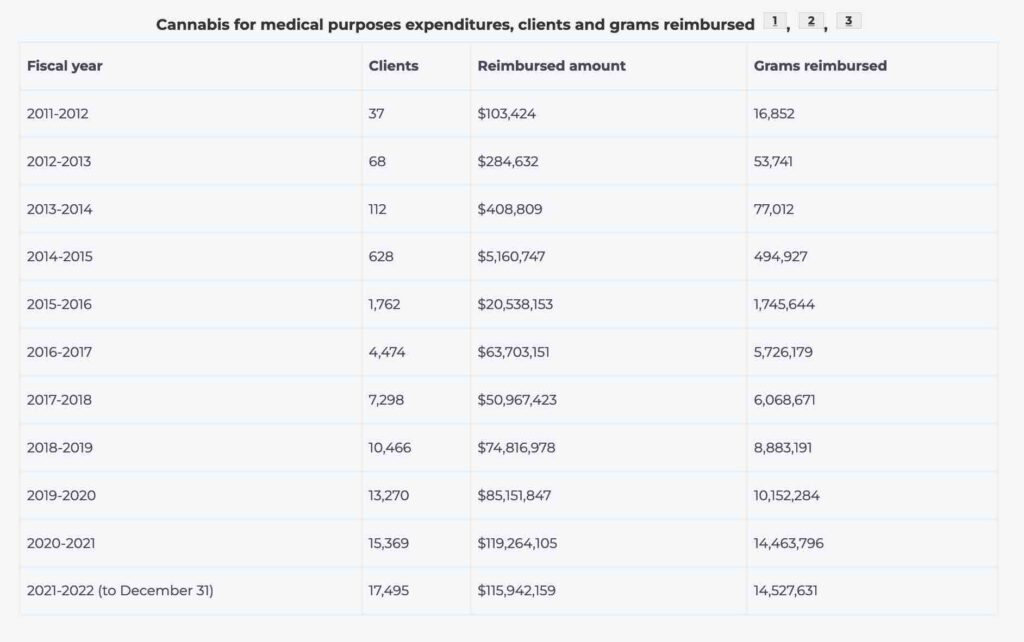 Although the program initially had no limit on how much cannabis could be reimbursed, the three-gram policy was implemented in November 2016, in large part to address rising costs and very high daily gram totals from some who were using the program. 
According to Veterans Affairs Canada, the data they report pertains to the CMP reimbursement program by fiscal year.  The statistics for fiscal year 2020-2021 provide for twelve months (from April 1, 2021 to March 31, 2022); whereas, the figures for 2021-2022 only include data up to December 31, 2021 (the first three quarters of the fiscal year). The last quarter for fiscal year 2021/22 (from January 1, 2022 to March 31, 2022) is not yet complete and therefore does not reflected in those figures.
The program has grown from one veteran being approved for reimbursement of their medical cannabis in 2007 to 37 being approved in 2011. By the end of 2016, the program had grown to include 4,474 different veterans, reimbursing the cost of 5,726,179 grams of cannabis or its equivalent, for a total of $63,703,151.
Following the three-gram limit policy change at the end of 2016, 2017 saw a slight decrease in total reimbursement to $50,967,423, but the volume of cannabis (6,068,671 grams) and the number of registered veterans continued to increase (7,298).
This slight decrease in payments in 2021 was reflected in similar decreases in most provinces or territories. Only Quebec, Northwest Territories and Yukon saw an increase in payments. Yukon saw the largest increase, nearly doubling from $23,528 to $46,186. The number of veterans taking part in each province increased.
Veterans Affairs Canada settled on the three-gram daily limit based on feedback from medical experts, as well as the average daily approved gram total in Canada, which is about 2.7 grams per day.
Although some approved veterans may still be authorized by their doctor to use more than three-gram a day, VAC will only reimburse up to the three grams per day limit.
---