Cannabis Yukon, the agency tasked with managing cannabis in the territory, released their newest annual report today.
The report, covering April 1, 2020 to March 31, 2021, shows the agency sold $6,070,000 of cannabis, an increase from less than $5 million in revenue in the previous fiscal year.
Profit for the most recent fiscal year was $1.4 million, up from $1.2 in the previous cycle.
Cannabis flower sales accounted for $4,587,779 of the annual sales. Extracts accounted for $1,173,853, seeds accounted for $5,871 of sales, while all other product categories such as oils, edibles, and topicals accounted for $302,653.
Yukon has a population of about 43,000 people.
Yukon has supply agreements with 20 cannabis producers selling through the Cannabis Yukon online store and five private retailers. This represented eleven new suppliers from the previous year. The crown corporation bought a total of $4.2 million worth of cannabis products in their most recent fiscal year, an increase of $0.5 million from 2019/20.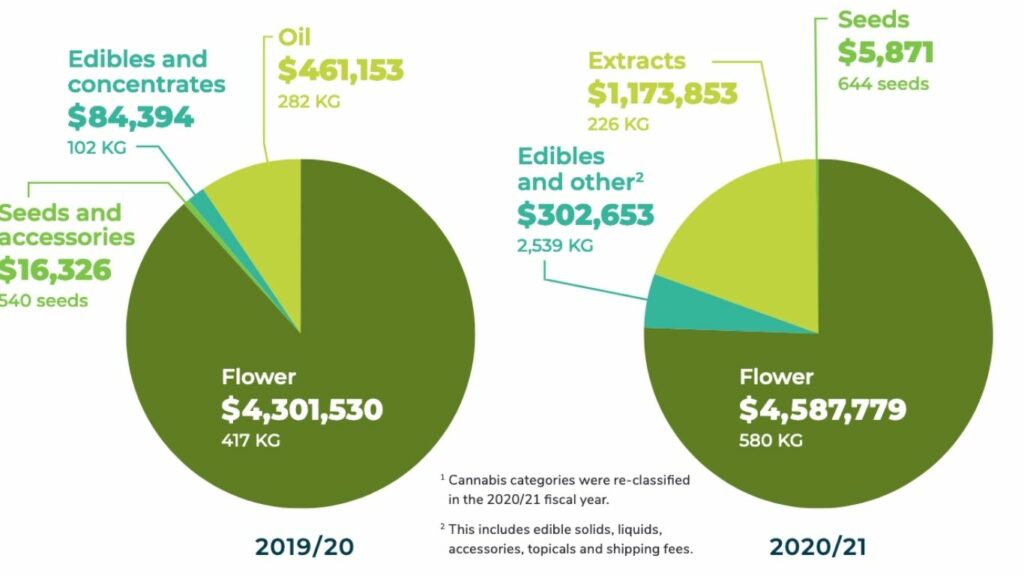 In 2020/2021, Yukon Liquor Corporation inspectors conducted twelve inspections of retail licensees to ensure their premises and operational conditions are in compliance. No fines or suspensions were issued.
The Corporation is also working with the departments of Health and Social Services, and Justice to prepare for a five-year review of their territorial Cannabis Act.
Legislation was recently tabled in the Yukon to allow cannabis retailers in the territory to sell products online and deliver to Yukoners. Online sales were temporarily allowed due to COVID restrictions in 2020, but were not made permanent.
Online sales through Cannabis Yukon made up only $12,000 of the more than $6 million in sales in the most recent fiscal year.
---