Growing Relationships Manitoba – 2023 Synopsis
On Monday, October 16, 2023, StratCann held the fourth instalment of our ongoing Growing Relationships industry networking event series at the Inn at the Forks in Winnipeg, Manitoba. Previous events over the past year have brought us to BC, Ontario, and Alberta.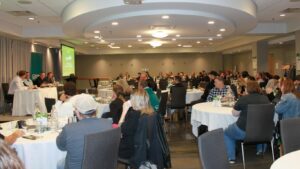 This one-day industry networking event attracted a good mix of just over 110 retailers and producers from across Manitoba, as well as producers and ancillary services selling products in the Manitoba cannabis market. 
While some of the day is set aside for formal and informal industry networking, we also start and end the event with an industry brainstorming session and panel discussions. In our brainstorming session, we encourage attendees to discuss and then share with the group some of the most common and important issues facing the industry today, from a provincial perspective. 
In our Manitoba brainstorming session, which was made up of tables of 5-7 discussing and then presenting to the whole group, a handful of themes emerged. A few of these key issues are listed below.
---
Summary of Discussion Items
Distribution and lead times
By far, the most commonly raised issue is the challenges retailers and producers face in a province without centralized distribution.
While there was an acknowledgement of some of the benefits of direct-to-retailer distribution in Manitoba, and improvements the provincial regulator has been making in terms of allowing private distributors, most retailers expressed frustration with the long lead times from producers as a result of a lack of central distribution.
Cross-docking was said to not be a useful solution to this issue.
Communication
Retailers and producers also discussed the need for better direct communication between these parties, with several producers acknowledging this and committing to doing better.
Retailers asked producers to be more proactive in communicating with them when there are supply chain disruptions or other delays.
Producers asked retailers to reach out to them if they experience an issue.
Overlooked
Another issue raised by several attendees was a feeling that Manitoba is both overlooked by much of the industry, while also serving as a dumping ground for out-of-province producers. It's often much easier to get access to the Manitoba market in comparison to many other provinces.
Manitoba cannabis producers feel the government could do more to support local growers to somewhat counteract this trend.
---
---