Peel Regional Police executed a search warrant at an unlicensed cannabis store in Mississauga on Friday, August 25, leading to the arrest of two men.
Investigators from the Peel Regional Police (PRP) Specialized Enforcement Bureau (SEB) opened an investigation into the illegal cannabis store earlier this month, located in the area of Dundas Street and Hurontario Street in Mississauga.
Police say the store has "shown a blatant disregard for law enforcement," noting that eight search warrants were executed at the location between January 2019 and December 2022, along with "numerous calls for service."
The City of Mississauga also worked with PRP SEB officers to establish an "enhanced physical barrier" of large concrete blocks to prohibit entrance to the establishment. Toronto has also used a similar approach, with mixed results, to deal with unlicensed dispensaries. 
While serving the warrant, police say they seized various properties, including drugs, drug paraphernalia, Canadian currency, televisions, and a black handgun (BBgun).
Police arrested Dennis Arenburg, a 42-year-old man from Mississauga, who is charged with Possession for the Purpose of Distributing and Possessing Cannabis for the Purpose of Selling, and Hong Anh Vu, a 28-year-old man from Toronto, charged with Possession of Property Obtained by Crime, Possession for the Purpose of Distributing, and Possessing Cannabis for the Purpose of Selling.
Both were released on an undertaking to appear at the Ontario Court of Justice in Brampton on a later date.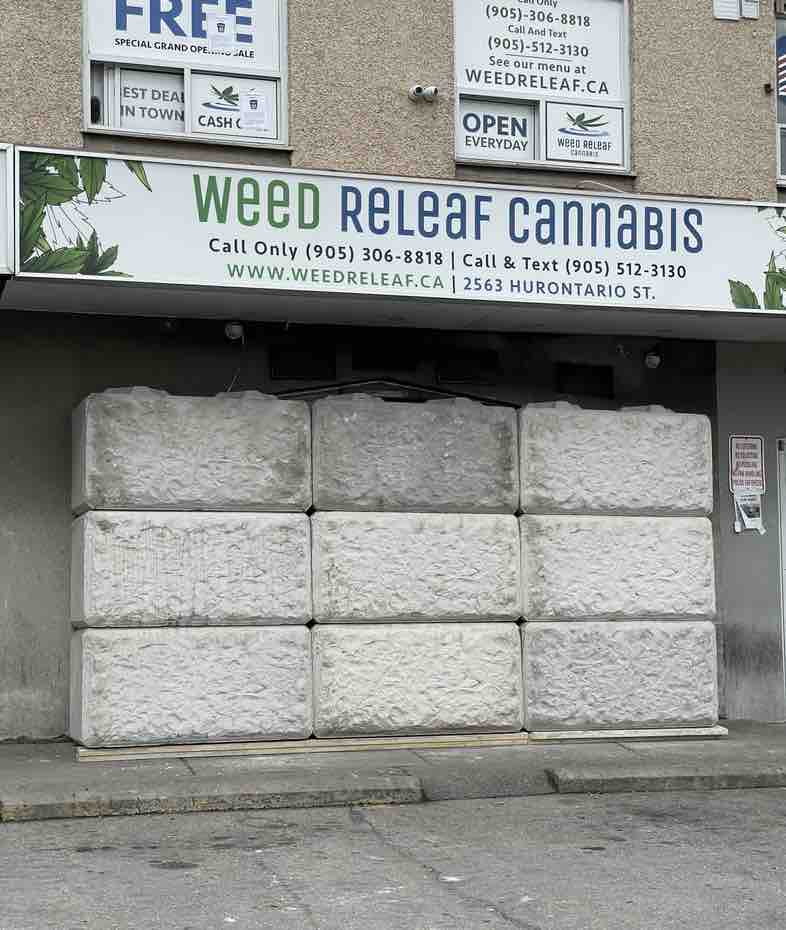 As of publishing this article, Weed Releaf appears to still operate an online store, advertising cannabis at $13 a gram or as low as $50 an ounce.
Weed Releaf was mentioned in a municipal report from the City of Mississauga when it was discussing allowing legal stores in the city earlier this year, noting that police had raided it several times in the past, seizing thousands of dollars worth of cash and cannabis each time. 
In April, the city voted to begin allowing applications for cannabis stores, with several now operating in the municipality.
"The dispensary consistently reopens after it has been ordered to stop operations," notes Shari Lichterman, Mississauga's acting city manager, in the report at the time. "This operation has effectively cornered the illegal cannabis market in Mississauga and its central location provides easy access to consumers."
Related Articles
---