US Customs and Border Protection (CBP) officers in Detroit seized 3,175 pounds of cannabis on April 20th of this year.
The cannabis was discovered at the Port of Detroit, hidden inside a shipment of tires, after the commercial truck carrying those tires was selected for additional screening at the Fort Street Cargo Facility near the US/Canada border.
Following a physical inspection by officers, multiple packages of cannabis were discovered concealed inside the tires among brown packing paper and garbage bags.
The cannabis, along with the truck and trailer and its additional cargo, were seized by CBP.
"The CBP officers in Detroit continue to work diligently—day and night—to accomplish our border security mission in order to protect our nation and the communities we serve," said Port Director Devin Chamberlain. "This success is a testament to their hard work and dedication."
Large-scale seizures along the US/Canada border have increased in the past few years, especially while the border was closed to non-essential traffic.
So far in 2023, CBP has seized nearly 6,000 pounds of cannabis at the US' northern border with Canada. In 2022, CBP seized more than 23,000 pounds of cannabis. In 2021 that figure was nearly 80,000 pounds, and in 2020 it was almost 55,000 pounds. There were less than 8,000 pounds seized in both 2018 and 2019.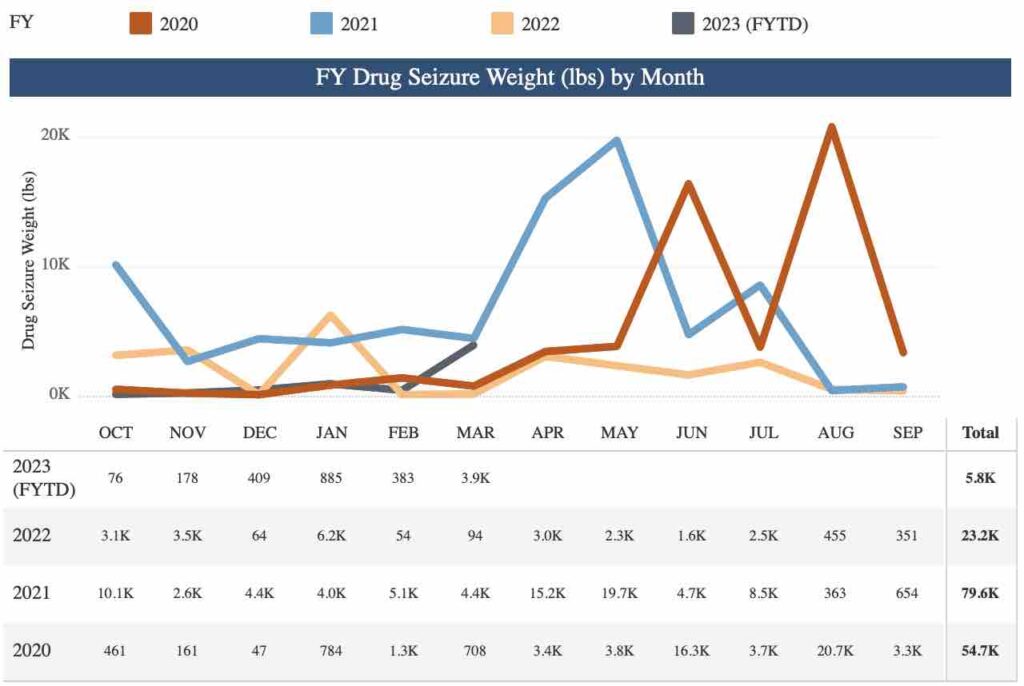 In comparison, CBP has seized almost 36,000 pounds of cannabis at their southern border with Mexico so far this year, just over 85,000 pounds in 2022, nearly 213,000 pounds in 2021, and over 500,000 pounds in 2020.
---