The early days of cannabis 2.0 were met with a tepid response from the industry as 'no one wants beverages' echoed through the Twitterverse. Health Canada restrictions on potency and volume posed some challenges but beverages hit the market nonetheless. Despite the negative Nelly's, cannabis beverages have proved popular in the consumer market – but are they of any use to patients?
To see how 2.0 beverages might fit into my cannabinoid treatment, I tried a variety of doses and formats to gauge the effects.
Any patient knows that outcomes from products are not universal and have many influencing factors. These are my experiences and should be taken as such, not as any sort of medical advice or endorsement. My cart certainly isn't a comprehensive review of all products on the market but my intent was to grab a bit of everything.
What's in my cart:
Everie Lavender Chamomile Tea – 10 mg CBC, 0 mg THC
Haven St. Chocolate Rooibos Tea – 5 mg CBD, 10 mg THC
TGOD Zen Green Sencha – 10 mg CBD, 1 mg THC
TGOD Happy Hibiscus Maté – 5 mg CBD, 2.5 mg THC
TGOD Dissolvable THC Powder – 0 mg CBD, 10 mg THC
Tweed Bakerstreet & Ginger – 1 mg CBD, 2 mg THC
Deep Space Deep Space – 0 mg CBD, 10 mg THC
Houseplant Grapefruit Sparkling Water – 0 mg CBD, 2.5 mg THC
Everie Lemon & Lime CBD Sparkling Water – 10 mg CBD, 0 THC
Aurora Drift THC Citrus Shot – 0 mg CBD, 10 mg THC
Summit THC Citrus Water – 0 mg CBD, 2.5 mg THC
House of Terpenes Limonene and Sparkling Tonic – 5 mg CBD, 5 mg THC
The tea on tea
Infused tea has been a favourite of mine for years, in the past I've steeped dried cannabis leaves or added oil. Perhaps it's how cannabinoids respond to heat but I've always been partial to a hot cup of canna.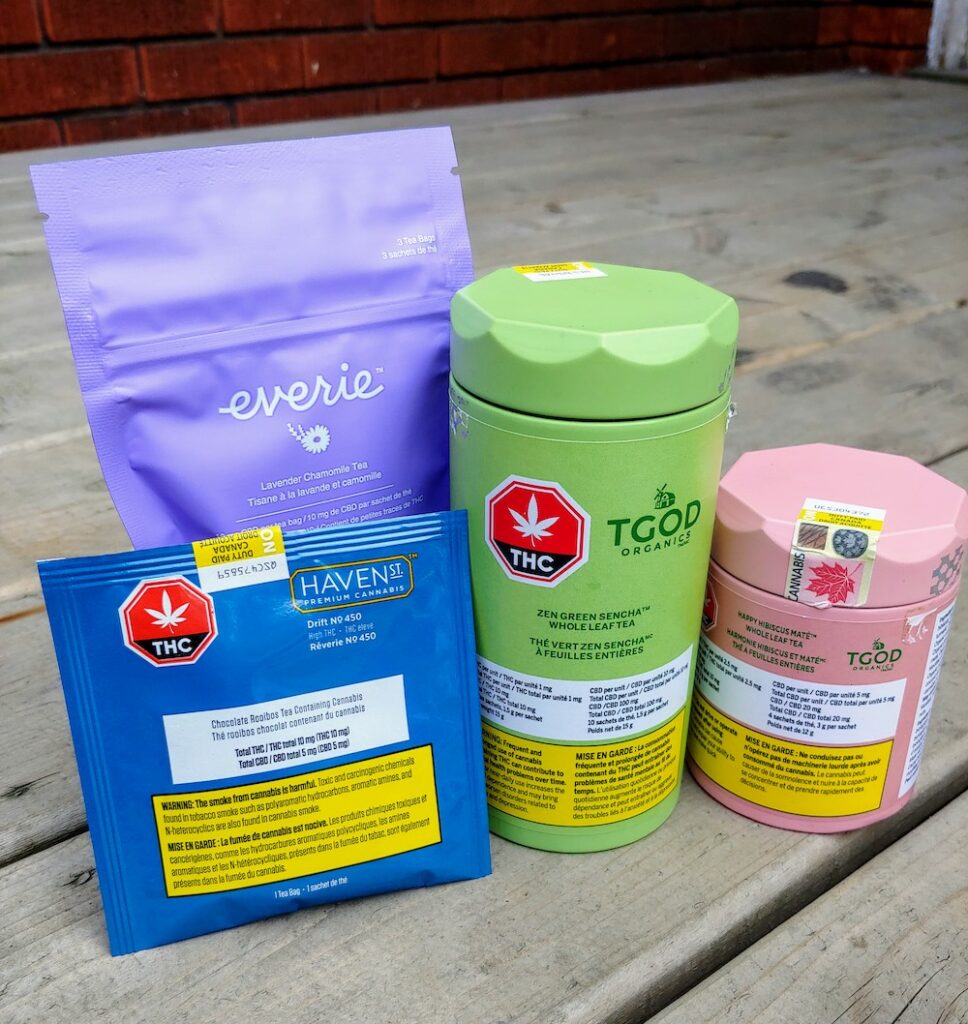 Haven St. has some of the highest potency teas on the market, with a CBD tea at 40 mg and a THC tea at 10 mg. In addition to being the most potent, the Haven St. teas also brewed the most enjoyable cup of tea out of the ones I tried.
While 10 mg of THC wasn't enough for me to feel the psychoactive effects, a cup before bed did influence a very sound and relaxed sleep. A close second for me was the Hibiscus tea from TGOD, which was delicious even though I felt no physical effects. I can actually get the TGOD teas through my medical provider but I find myself going back to retail to reorder Haven St. time and time again. 
Sparkling waters
Let me start off by saying, sparkling waters are my jam so I was excited to see what the cannabis market had to offer. I watch my sugar intake and that means no pops, cocktails, juices, etc. Sometimes I just want to drink something with a little oomph.
A variety of providers have really nail infused waters, there were no disappointments in this category. The drinks from Houseplant, Everie, and House of Terpenes were light, refreshing, and similar to non-infused sparkling waters in terms of flavour. The standout flavours for me in this batch were House of Terpenes and Summit.
House of Terpenes created a limonene and sparkling water that was crisp and enjoyable. The THC citrus water from Summit had a hint of turmeric that lingered in the back of my throat and gave it that extra hint of spice. Aside from flavour they were all 5 mg of THC or under and I didn't feel any effects, psychoactive or otherwise.
Imitation is flattery (soda, beer, shots)
They say imitation is the sincerest form of flattery and the cannabis market is full of odes to traditional beverages. Companies like Tweed and Deep Space have tried their hand at flavours similar to pops, Aurora and THC BioMed paid tribute to shots, and recently Mollo came out with an homage to non-alcoholic beer. The Aurora Drift THC citrus shot was the winner of this category for me. Reminiscent of a mimosa, the citrus shot was not only tasty but the physical onset was quick and effective.
In my adventures of beverage tasting there were only two beverages I didn't want to finish and both were in this category. The Deep Space beverage was probably the worst infused thing I have ever tasted but I'd be damned if I was going to let 10 perfectly good milligrams of THC go to waste. That said, this drink was effective in a full body sort of way and if you like that energy drink kind of taste it is worth the price.
Tweed Bakerstreet and Ginger was delicious, likely from the 28 grams of added sugar. That may be less sugar than a can of traditional pop but it was far more than my diabetic self could justify. If you are a patient exploring the retail market of beverages and edibles please remember to check the nutritional information prior to purchase to avoid mistakes like mine. (Side note: the beverage did not go to waste and is now my partner's favorite non-alcoholic ginger beer replacement.)
DIY with dissolvable powder
The TGOD packs of dissolvable powder, which come in THC, CBD, and 1:1 varieties, remind me of Crystal Lite. Unlike those flavoured powders, these TGOD packets are totally odorless and tasteless which make them incredibly versatile. Dissolvable powders are my hands down favorite products from 2.0 – I can instantly turn any liquid I like into an infused beverage. Morning 1:1 coffee? Boom. Bad at making edibles? Stir into pudding and there you go.
Conclusions
Cannabis beverages aren't a universal experience for patients or consumers, making it hard for producers to know exactly what the market wants. If I were to pick a winner, the choice would be different based on what I was looking for.
Easiest and fastest onset? Aurora citrus shot.
Best flavour and enjoyability? House of Terpenes limonene.
The one that's actually in my cupboard on an ongoing basis? TGOD dissolvable powder.
Overall I preferred the beverages with the full 10mg of THC, the Haven St. tea, the Aurora Citrus shot, and yes, even the Deep Space.
From a patient perspective I use extract products primarily for pain relief. In these low doses the cost to effect ratio just doesn't work for me. This isn't to say that mine would be a universal experience. Patients that prefer lower doses may enjoy these products for therapeutic benefits, even if people with higher tolerance don't.
---