Provincial and federal law enforcement took part in a raid of an illicit cannabis production facility this week in Southern Ontario, near the US and Quebec borders.
Members of the Ontario Provincial Police SD&G Community Street Crime Unit (CSCU) say they seized over 5,000 cannabis plants in South Glengarry Township. The operation was run in coordination with the OPP Organized Crime Enforcement Bureau (OCEB), OPP Emergency Response Team (ERT), OPP Canine Unit, SD&G OPP Crime unit, Canada Border Services, Ministry of Labour, Provincial Asset Forfeiture Unit and officers from local OPP detatchments.
In addition to the cannabis plants, police say a large quantity of growing and processing equipment were seized.
Seven people were arrested. Jun Jiang, age 36, of Markham, Shuhua Xu, age 51, of Scarborough, and Tao Zou, age 29, of Unionville were all arrested and charged with, among other things; Possession of illicit cannabis – Cultivation, propagation or harvesting a cannabis plant that is from seed or plant material that is illicit cannabis, and distribution.
Three others, Zongxin Zou, age 49, of Cornwall, Yun Lin, age 52, of Cornwall, and Yuhua Lin, age 51, of Unionville were also charged with falsification of books and documents, and fraud over $5000.
All accused persons were released from custody and are scheduled to attend the Ontario Court of Justice in Alexandria on April 7,2021.
The investigation is continuing.
Such raids have become common in the last two years. The Ontario Provincial Police's Provincial Joint Forces Cannabis Enforcement Team (PJFCET) say they have executed 152 warrants across Ontario, seized over 180,000 cannabis plants, thousands of pounds of dried cannabis, edibles and concentrates and other illicit drugs, $3.2 million Canadian currency and over $1.8 million in proceeds from crime such as property, vehicles and firearms, and laid 1,176 federal Cannabis Act and Criminal Code charges in 2019 and 2020.
Seizures of product entering the US from Canada have also increased since the border was closed to non essential traffic in March 2020.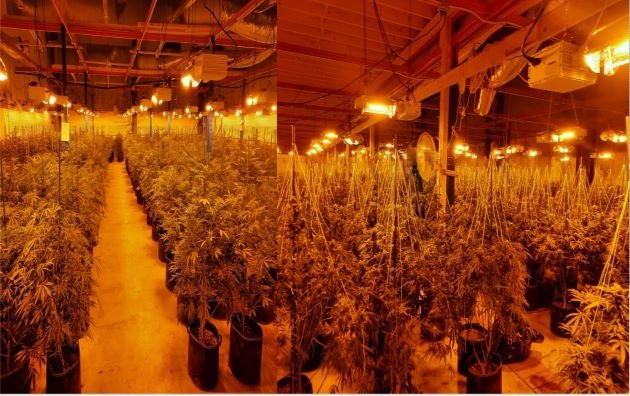 ---