US Customs and Border officers say they seized several thousands of pounds of cannabis entering the country from Canada at a border crossing near Detroit earlier this month.
The seizure, which they say was the second of its kind in the last month, was at the Fort Street Cargo Facility on Wednesday, July 21, just north of Canada.
The cannabis was hidden inside a tractor-trailer and manifested as aluminum caps, but secondary inspection by customs officials revealed 2,583 pounds of cannabis. Customs officers seized both the cannabis as well as the truck and trailer.
In an affidavit provided to StratCann, a similar seizure was made on July 7 from a shipment originating in Ontario, heading to Ohio with 2,276 pounds of cannabis. The affidavit noted that the distribution area for cannabis from Canada into the US is "typically midwestern and southeastern areas within the United States".
US Customs officers and the Detroit Crossing and many other northern border crossings have seized over 100,000kg of cannabis coming in from Canada since the closure of the border in March 2020, due to covid.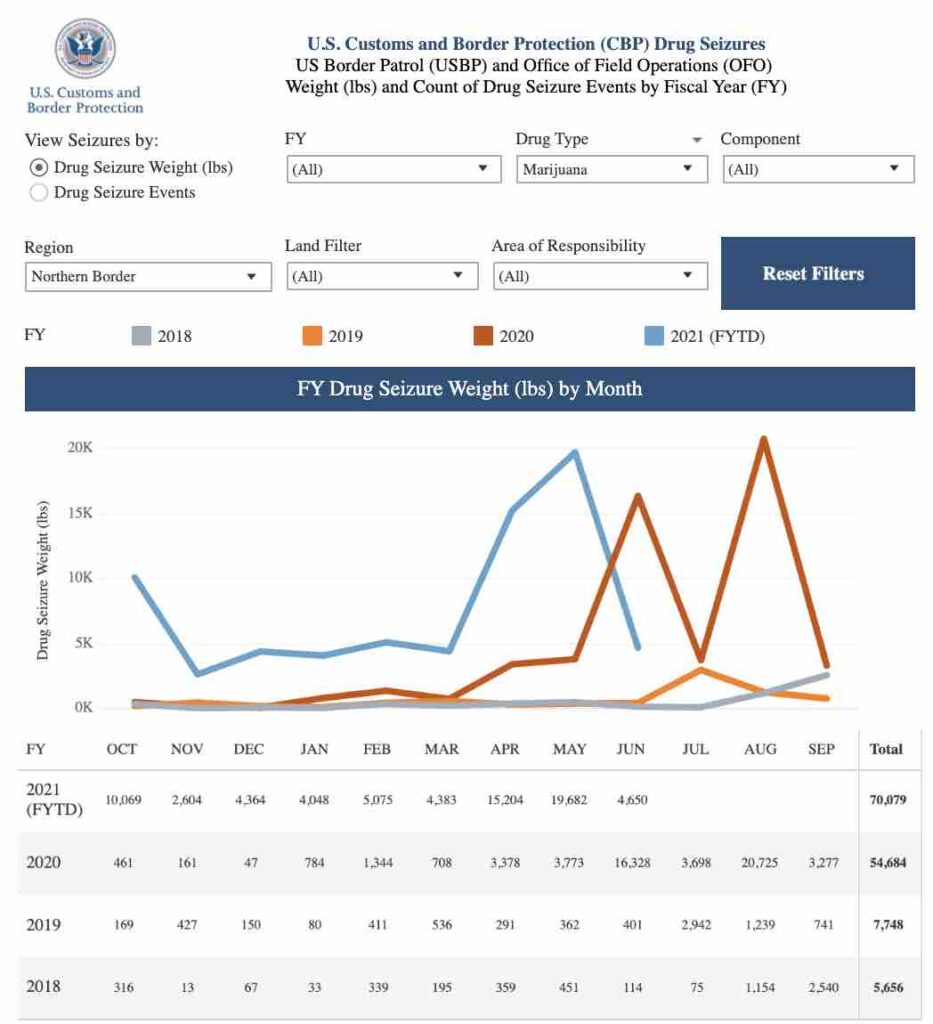 Other recent seizures from Canada
On July 13, customs officials in Memphis, Tennessee intercepted a package sent from British Columbia to Michigan, that contained 11.45 kilograms of cannabis.
"Marijuana is legal for recreational use in the state of Michigan, purchased through state-licensed dispensaries. You can have 10 ounces at home. Why are you buying over 11 kilos from Canada? What a waste of your allowance," said Area Port Director Michael Neipert. "It is also a controlled substance under the federal laws CBP enforces, and so this shipment never reached its buyer."
On June 17, US Border Patrol agents say they were alerted to more than 100 pounds of cannabis left on a path on the US side of the Niagara River north of Niagara Falls.
A "concerned citizen" who was walking a trail in Whirlpool State Park at 2:00 am is said to have contacted New York State Parks Police after seeing a person first dragging what appeared to be multiple plastic-wrapped packages. Upon being seen, the person reportedly fled, leaving behind several large black packages that turned out to contain 118 pounds of cannabis.
In May, US Customs officers seized 3,765 pounds of cannabis at the Portal Port of Entry between North Dakota and Saskatchewan.
---