Registrations to buy medical cannabis from commercial producers have begun to decline slightly from a peak in late 2019, although registrations for personal or designated production have continued to increase across Canada, according to new numbers released last week.
The amount of cannabis prescribed on a per day basis has also continued to decline, a trend that continues since the implementation of Canada's commercial medical cannabis program in 2013.
Registrations to order cannabis from medical producers have declined slightly since a peak of 369,614 in September 2019.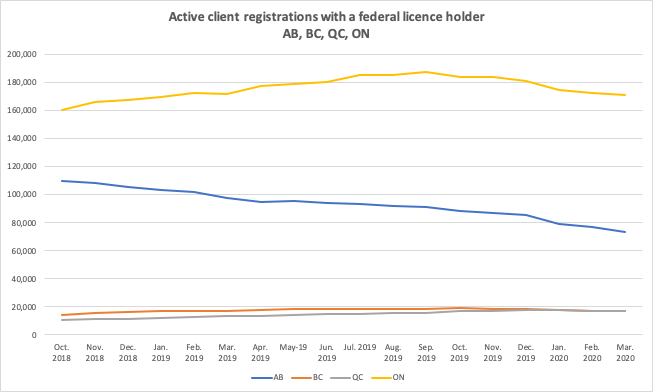 In January of this year, the numbers first dripped just below the 345,520 level they were at in October 2018 when cannabis was first legalized, and continued to decline through February and down to 329,038 as of March 2020.
These modest declines in registrations are spread across every province and territory in Canada, except Nunavut, which had 111 in February and 121 in March, more than double the four previous months and much higher than any other months on record.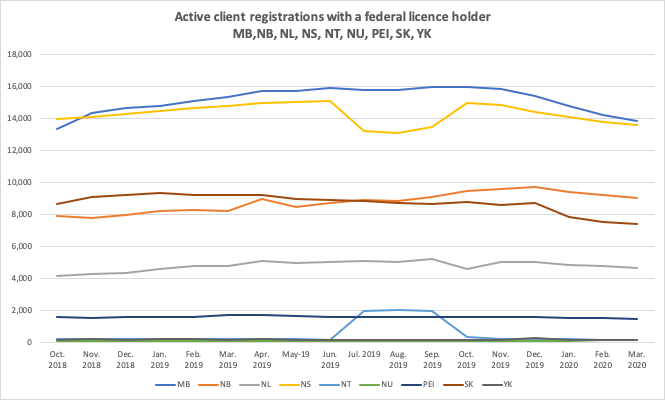 Since legalization, pretty much every province and territory saw a continued increase in active registrations into mid to late 2019, before beginning to slowly decline. The only major exception to this rule is Alberta, which saw active registrations begin slowly declining since just before legalziation.
Historically, Alberta has seen very large rates of active registrations compared to other provinces, especially on a per capita basis. In October 2018, Alberta had 112,776 of Canada's 307,397, compared to 11,393 in neighbouring BC and second only to Ontario, at 155,217.
It seems likely that Alberta's high rate of registration compared to their relatively low population numbers was due, at least in part, to the fact there were few other access points in the province compared to BC, Ontario, and others that often had numerous illicit dispensaries. With legalization opening new and easier access points, especially with Alberta's robust cannabis retail network, it would appear fewer Albertans are utilizing the medical stream, albeit to only modest declines.
Increase in personal or designated production registration
But as active registrations to buy cannabis from LPs has declined some, personal or designated production registration with Health Canada has continued to increase from 25,945 in October 2018 to 35,227 in March of this year.
Every province and territory saw overall increases, except for Nunavut which declined by one. Quebec saw the largest increase of those registering to grow their own cannabis for medical purposes, nearly doubling from 4,424 in October 2018 to 7,700 in March 2020. Manitoba's numbers also nearly doubled, from 921 in October 2018 to 1,693 in March 2020. Both of these provinces have banned home cultivation of non medical cannabis.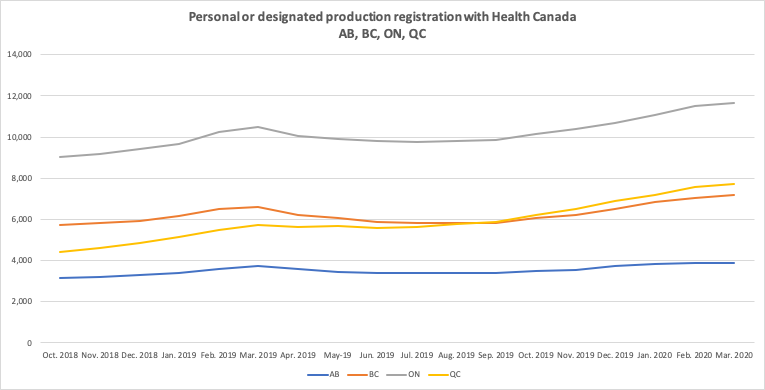 BC also saw fairly significant increases, from 5,747 in October 2018 to 7,195 in March 2020, although the province does allow home growing with some limitations, such as it not being visible to the public.
Health Canada's figures show they have a rate of over a 90% of completed registration applications processed within eight weeks.
The average authorized amount of dried cannabis (grams/day) has also slightly declined, from 2.1 in October 2018 to 2.0 in March 2020. In 2014 the figure was 4,0 grams a day, declining to around 3.0 in 2015, to around 2.6 in 2016 to 2.4 in early 2017 to 2.1 in March 2018.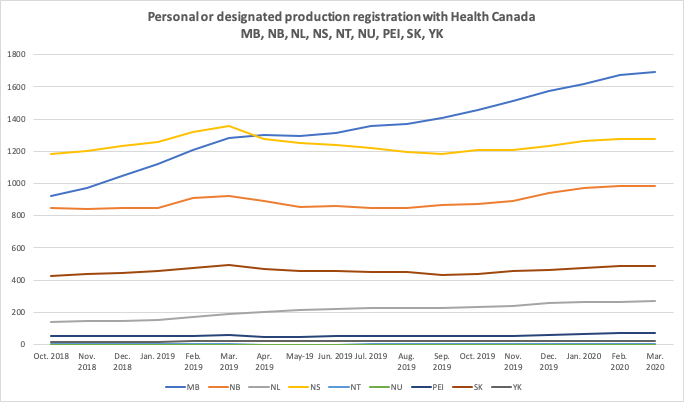 The total number of shipments of cannabis for medical purposes from a federal licence holder, by province and territory of destination also slightly declined, from 143,752 in October 2018 to 128,236 in March 2020. This final number actually represents an increase from the previous months, potentially related to COVID-19 purchasing habits, up from 98,209 in February 2020 and the highest monthly shipments since May 2019.
This decline was not reflected across the board, though, with BC increasing from 5,432 in October 2018 to 6,942 in Mach. 2020. New Brunswick also saw an increase in the number of shipments, from 3,917 in October 2018 to 5,138 in March 2020, Newfoundland went from 2,060 to 2,347, Northwest Territories going from 315 to 1,750 and Quebec going from 5,822 to 8,047.
Health Canada has still not updated their import or export information since March 2019 when Canadian producers exported 178.67 kg of dried cannabis and 250.45 litres of cannabis oil. Only 0.07 of cannabis oil had been imported under Health Canada's strict medical or research purposes requirements since legalization. No dried cannabis has been imported. Prior to legalization Canada has imported 0.60 kg of dried cannabis for research or medical purposes, and four litres of cannabis oil.
---