Outdoor cannabis growers in BC have finished their season and brought in their crops and are now waiting for their products to make their way to shelves across Canada.
The province is home to a few dozen outdoor growers of many different sizes, from small micro growers with just a few hundred plants to farms with thousands of plants over several acres, and everything in between, growing with an array of methods as diverse as the farmers behind them.
This year, like any, brought an array of challenges, with record-setting temperatures during the summer and a somewhat late, wet spring. But BC's growing community of outdoor cannabis farmers say they are excited by the direction they see the industry going and the different products that can be made from their cannabis flowers.
One newer cannabis farm located on Texada Island, Weathered Islands Craft Cannabis, finished its first crop in September, and already has dried flower on shelves in Ontario. They expect to have pre-rolls on shelves in BC in early 2022.
Weathered Islands is a micro cultivator, meaning they can grow with a limited canopy space of 200 square metres, a scale Jeff Gontovnick, one of the three owners of the business, says is manageable by their small team.
Weathered Islands is a three-person team of Collier Quinton, a long-time cannabis grower and resident of Texada, his sister Camille Quinton, who manages the business and handles marketing, along with Jeff Gontovnick, who is focused on business development and regulatory compliance.
The outdoor licence is actually their second cannabis production licence, the first being a small cannabis nursery licence just down the road that they received in early 2020.
"We had originally intended to apply for a micro licence first, but then decided to do the nursery," explains Gontovnick." So it's always been in the back of our minds and once we got the nursery set up, we realized there was still an opportunity to have a little more space to grow for flower and the micro seemed like a good fit."
Although some are still weary of the federal licensing process, he explains he and his team found the process relatively easy, only taking a few months from submission to licensing.
"Going through the licensing process already with the nursery, it was pretty smooth. Having an idea of what to expect helped. Application to full licence was about four and a half months, which we're really happy with."
They keep their costs down by keeping things very simple, he says, and working with the unique nature of their remote farm.
"We're completely off-grid. We grow in the ground, not pots, we use local inputs like seaweed to feed the living soil and harvest the power of the sun."
Although they grew a handful of varieties this year, their main focus was on a cultivar bred by their master grower Collier Quinton, Sweet Texada Lavender, coming in at just over 20% THC, a threshold many provinces use to determine price and quality.
"It's a good example of a high yielder that is great outdoors and is consistent. Our harvest was done by late September, which allowed us to bring everything in by the end of summer," says Gontovnick.
While their Sweet Texada Lavender will only be sold in Ontario initially, they will also have pre-rolls in BC in the coming months, their Texada Coastal Blend, made from a blend of other cultivars they tried this year to complement their Sweet Texada Lavender. Both products, says Gontovnick, will be the first outdoor micro flower on shelves in Canada branded under its own name (at least one other outdoor micro made it to shelves earlier this year, but branded under a partnership with a processor).
Focussing on one main cultivar was key, he says, in ensuring they could find a buyer in a large province like Ontario. Having a handful of other strains allowed them to also learn more about other varieties within their genetic library, while still being able to find a buyer for them as a blended pre-roll.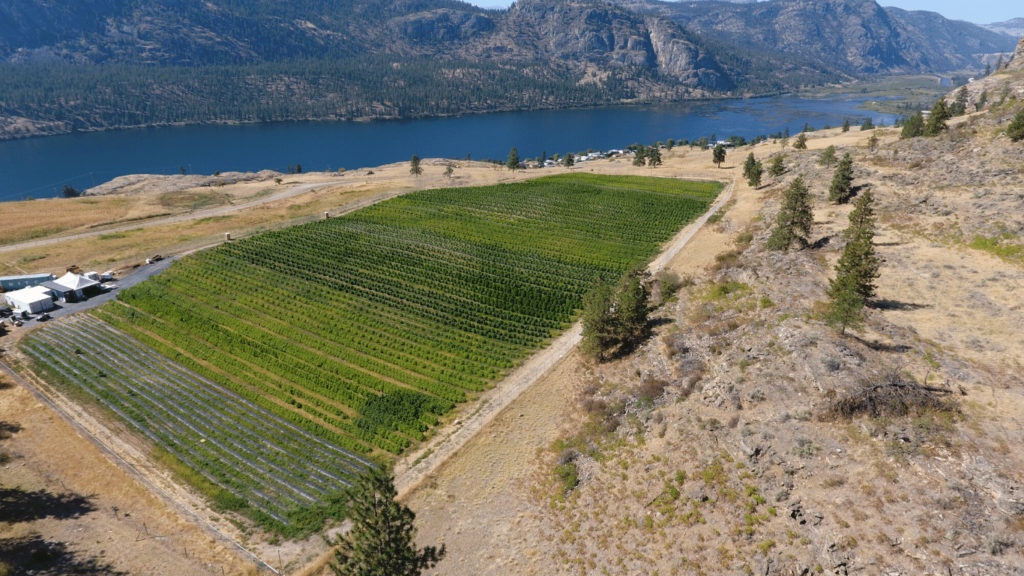 For Colin Davison, the director and president of McIntyre Creek Cannabis, part of a 16,000-acre ranch in Oliver, limiting the number of varieties they grew, even with their much higher plant count and yield, was equally important.
"A lot of companies make the mistake of not having a large enough batch to make it commercially viable, and we learned that lesson last year," says Davison. "So we're making sure we are harvesting enough to make it attractive for our clients."
Although last year McIntyre Creek grew 12 different varieties for a total of 24 batches, this year he says they focussed on six main varieties and three limited varieties for just nine batches in total.
Unlike Weathered Islands, which hang dries their cannabis for dried flower, McIntyre Creek immediately freezes its cannabis upon harvest and then stores it in a frozen state to sell to processors for live resin, live rosin, hash, and other products.
This process, explains Davison, is appealing for such large harvests of outdoor cannabis because it allows them to focus less on that 20% THC level Govtonick referred to.
"Advances in processing technology has brought on more abilities for outdoors to compete because they can really mine the terpenes or certain cannabinoids that aren't THC, like CBN, and really create new markets for outdoor while not putting so much importance on that 20% THC being the only factor," says Davison.
"Processing technology is streamlining more for outdoor growers and creating a lot of good opportunities. Getting to that magic number of 20% THC is less relevant if you can grow high terpene or high cannabinoid product other than just THC."
Now on their second season, Davison says they doubled their harvest from last year, bringing in about 35,000 kg of fresh frozen, freeze-dried cannabis, or the equivalent of about 7,000 kg of dried flower. About half of that gets sold to processors in BC, he says, while the other half goes to processors in Alberta and Ontario.
BC's interior, he argues, is one of the best areas in all of Canada to grow cannabis outdoors.
"We have very dry summers, we get an extended dry period in the fall. We don't get a lot of snowfall. So we can get into the field earlier and stay in the field longer. Location is probably the number one advantage we have compared to our peers in terms of outdoors."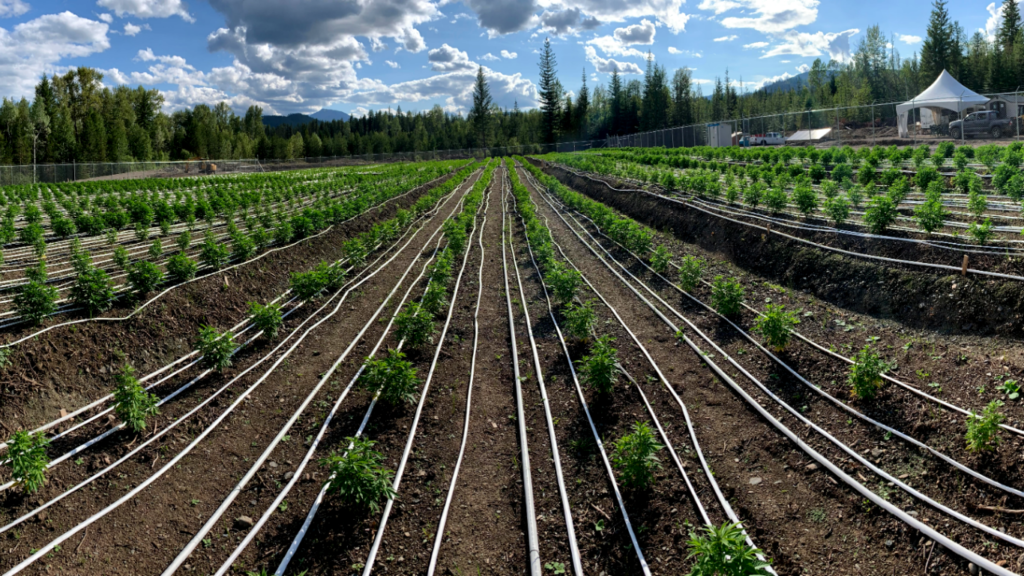 In addition to being an ideal location for growing, he says the southern interior also offers opportunities for farm tours, very similar to winery tours offered in the region. Davison says he hopes that with changes planned for next year that will allow growers to operate a retail store on their farm—often called cannabis farmgate—that he and other farmers in the area could hold tours of the region where people can come and see how farmer grow their cannabis before purchasing some of what they have grown there on site.
"We're definitely looking forward to farmgate in British Columbia," says Davison. "That would be a much-needed benefit to our outdoor business and a much-needed avenue to bring our products into a retail setting."
"It's such a great opportunity for outdoor growers," he continues. "If you look at wineries, having a membership and people come out to the winery, that would be a great way to link up with other outdoor growers, have tours and be able to cross-market our farms together."
Although Govtonick, on Texada Island, says he thinks Weathered Islands is too remote for a farmgate store, he says he still supports the idea and hopes that other changes planned for next year, such as direct sales for farmers to retailers, will help others like himself out. Direct sales is a model BC has said they will begin implementing in 2022, that will allow cannabis producers to sell their product directly to retailers, rather than having to first go through the BC LDB's warehouse in the Lower Mainland.
"I don't think we're well-positioned to have a farmgate location because we're pretty remote, not really in a place people can get to. But I am a huge supporter for those who are in a good location. Direct sales I think is more interesting for us because it gives us an opportunity to connect and make more meaningful relationships with retailers."
Meanwhile, another group of outdoor growers in BC's Kootenay region have teamed up this year in a cooperative effort to bring their own products to market, especially with the concerns around ensuring large enough batches that can find buyers in the provincial markets.
The program, dubbed the Rose Buddies, involves seven licensed outdoor micro cultivators all growing the same cultivar to be purchased by and sold through another outdoor BC grower, Rosebud Cannabis Farms.
Che Leblanc, the owner of Rosebuds, says that the intention behind all of these different farms growing the same variety of cannabis is to maintain small-batch, craft integrity, while still benefiting from a larger, combined harvest to contribute to Rosebuds product lines that will be sold into the provincial retail systems.
Leblanc's Rosebud Cannabis Farms is a standard cultivator with no size limit on their potential production space, but he says they have stayed relatively small themselves to ensure they can maintain the same kind of small-batch quality his micro cultivation partners operate under.
Like McIntyre Creek, Rosebud and their partner farms all freeze their cannabis immediately after harvest to best preserve terpenes and cannabinoids for processing into extracts like live resin and live rosin.
All the farms grew the same variety, Sarah's Secret, developed by Leblanc.
Jimi Holland, owner of Wholeland Enterprises in Kaslo BC, one of the partner farms growing Sarah's Secret for Leblanc, says being able to all grow the same variety is a big advantage.
"It makes sound economic sense to combine our crops because there's strength in having a larger quantity to distribute," says Holland. "It would be quite hard for a micro like myself who has only 30-35kg to easily enter the marketplace. That was a huge impetus around Rosebuddies joining forces so that we can create something that we can go to market with and have some leverage."
Holland says he was able to connect with other growers like himself in the region through the local Community Futures chapter's cannabis branch.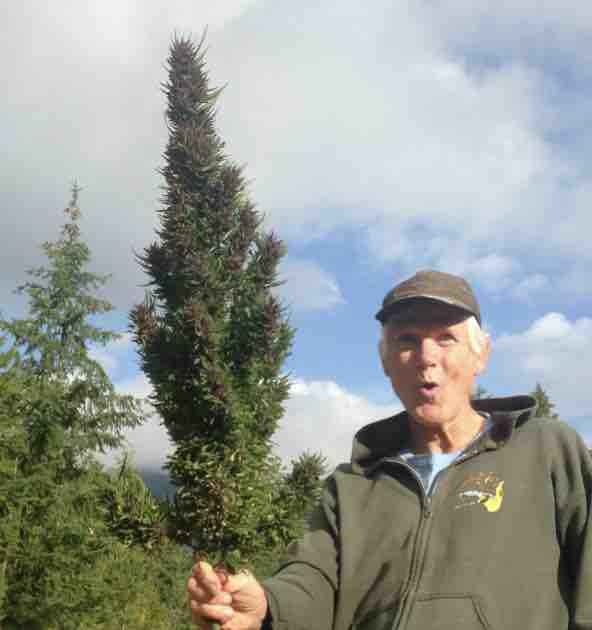 "I discovered that Community Futures had a program to assist people to transition," he explains. "Once I got hooked up with the Community Futures team, things started rolling really well. It was excellent."
But once licensed, Holland says one of his major concerns was figuring out how he would sell his product after hearing this was a challenge for other outdoor growers, especially micros.
"The real weak link for me was finding a market. But through Community Futures I found out that Che was starting a bit of an informal working group, so I started talking with them, and Che was able to get me genetics and said he could find buyers. So far it's going pretty good."
Kalibri Wetsch at Green Wynds in Crawford Bay, another outdoor micro taking part in the Rose Buddies program, echoes that feeling of community collaboration. She and her partner James Wood have been gardening on their plot of land for over a decade and met Leblanc last year through mutual friends and the Community Futures program.
"I had been to Che's farm to help with harvest last year and then I learned about Rose Buddies through the Community Futures program and it all came together," she says. "Somehow we all just started meeting every week and it just made sense to all learn from each other and support each other, and also find a way into the market. It's pretty tough for an outdoor micro to enter the market."
This article previously appeared on The Oz.
---