Health Canada has provided an update for their proposed restrictions around flavouring in cannabis extracts and vape pens, expected to come into force no earlier than 2022.
The proposed changes were highlighted in a Regulatory Impact Analysis Statement (RIAS), posted June 18. These changes were expected by industry based on previous guidance from the government.
These proposed amendments would restrict the production, sale, promotion, packaging, or labelling of inhaled cannabis extracts from having a flavour "other than the flavour of cannabis" and would apply equally to inhaled cannabis extracts sold for both medical and non-medical purposes.
Although on the surface these changes appear quite strict, they are written in a way that still allows smells and flavours associated with cannabis to be used, either from cannabis-derived or non cannabis-derived sources, says one industry expert.
Tom UIanowski is the VP of Quality Assurance and Regulatory Affairs at Nextleaf Labs, a BC-based cannabis processor that produces extracts used in an array of cannabis products, including vape pens and other extracts. He is also a professional and chartered chemist in BC and Ontario, respectively, as well as an Articling Agrologist with the BCIA.
"At first glance, the proposed regulations—which aim to strictly limit the flavours that licensed cannabis processors are able to utilize for formulated inhalable extracts—seem rather bleak for the industry," writes Ulanowski in an email to StratCann. "However, upon closer reflection, my biggest concerns are related to the lack of clarity, vagueness, and questionable enforceability of these proposed changes."

The biggest issue, he says, is about how Health Canada could even enforce these proposed rules.
"Ultimately, it seems Health Canada is not proposing to ban non-cannabis derived natural (botanical) or synthetic flavouring agents such as terpenes," he continues. "Rather, they seem to want to limit the use —or promotion—of flavouring agents that are not "typical to cannabis". As a chemist that appreciates the molecular and aromatic diversity of the plant, I have a hard time seeing how the regulator will be able to enforce such a nebulous regulation.
"The scientific peer reviewed literature indicates that over 150 different terpenes have been identified to occur naturally in the cannabis plant. Further, advanced extraction and purification techniques can produce highly-purified, aromatic compounds from cannabis itself. It stands to reason that processors would continue to be able to use a wide assortment of cannabis and non-cannabis derived terpenes and other flavouring agents in any quantity/ratio they desire, as long as the quality of the flavouring agents could be assured and there was some scientific evidence to demonstrate that these same molecules are found in cannabis, presumably even at trace-levels."
The government's stated intention with these changes is to address concerns that flavoured vaping products are more appealing to young people and encourage consumption. The changes are intended to mirror similar restrictions in the nicotine space.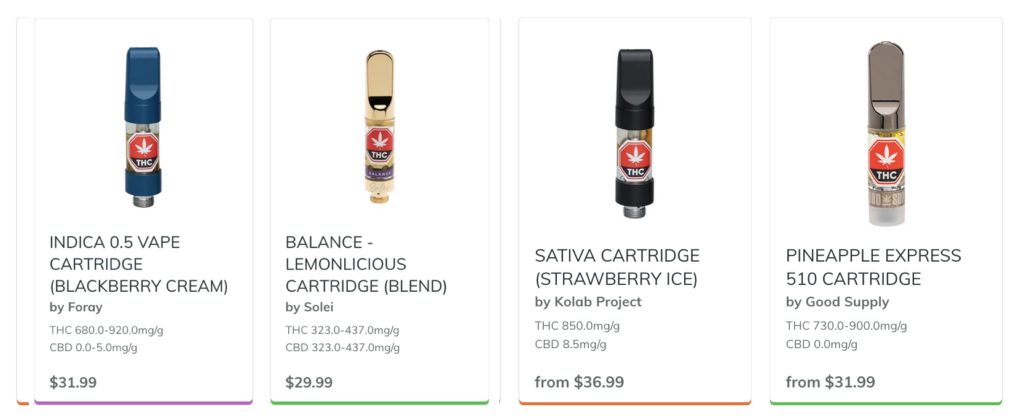 In addition to restricting licensed processors from producing or packaging and labelling inhaled cannabis extract products with any flavour other than the flavour of cannabis, these changes would also "restrict the promotion of inhaled cannabis extracts in a manner that could cause a person to believe that the product has a flavour other than one that is typical for cannabis" and would apply to all inhaled cannabis extracts such as hash, shatter, rosin, etc, and not only vape pens.
Aaron Anderson, VP of sales at BZAM Cannabis based in British Columbia, says he thinks the restrictions could make it harder to compete with the black market, where consumers can easily find many of these types of vape products. BZAM sells several different vape pens in several provincial markets.
"It's a step backwards when considering the objective is to combat the black market," says Anderson. "Clearly there is a demand from responsible adults for these products. While I understand the importance of protecting our youth, the truth is legal cannabis products are already so well regulated that the likelihood these products are getting to youth is unlikely."
As proposed, cannabis extracts for inhalation would not be allowed to impart a smell or taste other than those that are "typical for cannabis". To help define this "typical taste", the government document gives examples such as the taste or smell of dried cannabis, fresh cannabis, a cannabis plant, or processed forms of a cannabis plant.
Types of ingredients that can be used as flavouring agents in inhalable extracts would also be restricted to those that are from "or identical to substances produced by, or found in, cannabis". This can include botanically-derived or synthetically-produced terpenes. Consistent with the current regulations, licensed processors are allowed to continue using substances such as terpenes, aldehydes, and ketones that are derived from cannabis to produce inhaled cannabis extracts.
Any non-cannabis–derived flavouring agent used to produce an inhaled cannabis extract would also be required to meet certain quality specifications/standards set out in the relevant food and flavouring regulations.
Producers would also be prevented from the promoting, packaging and labelling of inhallable extract products in a way that could lead consumers to "believe that the cannabis product has a flavour other than one that is typical for cannabis, including the flavours of confectionery, dessert, soft drink, or energy drink."
"Health Canada intends to continue to allow factual flavour descriptors and strain names such as "pink kush," or flavour notes such as "piney," "diesel" or "skunk." Factual statements about the terpene content of inhaled cannabis extracts would also be permitted. Further guidance on the promotion of certain strain names for cannabis extracts intended for inhalation would be provided."
Ulanowski agrees that the rules will make it harder for the licit market to compete with the illicit one.
"The regulator cites the desire to mitigate the rise in youth and young adult vaping, which I don't think many would disagree with," he writes. "I certainly support evidence-based regulations which deter youth from using any potentially harmful substances during particularly critical stages of brain development. However, given that cannabis products are already strictly age-gated, I really don't see how this regulatory change would significantly mitigate the issue of vaping in young persons.
"Given the serious potential quality concerns (e.g., heavy metals, pesticides, and other adulterants) in unregulated cannabis products, I would rather see more investment into education rather than eliminating these products from the legal market altogether, forcing people of all ages to procure their flavoured vaped from illicit, unregulated sources. To me, this goes against the government's mandate to provide adults with access to quality-controlled cannabis products and displace the illicit market."

Cannabis producers will be allowed to continue selling flavoured inhaled cannabis extracts that are packaged and labelled under the current regulations until they sell out of existing inventory. This would allow for the sale of any remaining flavoured inhaled cannabis extracts they purchased prior to the coming into force of the proposed amendments.
The coming into force of these proposed changes will be 180 days after the day on which the new regulations are registered. Once the proposal comes into force, licensed processors would no longer be permitted to sell these products. The proposed amendments are expected to be registered in 2022.
According to data from Health Canada's Cannabis Tracking System, as of the end of September of 2020, there were approximately 40 licence holders, 10 provincially and territorially authorized distributors, and 600 provincially and territorially authorized retailers conducting business associated with inhaled cannabis extracts.
Quebec, Newfoundland and Labrador, and Prince Edward Island have all disallowed vape pens, while Nova Scotia limited cannabis vapes from having synthetic flavouring or "a scent or flavour other than cannabis noticeable before or during use".
Despite that restriction in Nova Scotia, the provincial retailer still carries vape pen cartridges with advertised flavours like "Forbidden Fruit", "Super Lemon Haze", "Mango", and "Pineapple Express".
This article directly quotes and references several sections from the RIAS.