Canadian cannabis companies are patenting extraction techniques
As legalization brings cannabis into a regulated, commercial industry, cannabis-related patents are increasing, from equipment and processes for value added products like extracts or infused oils, to roach clip accessories and even leaf shaped gummy molds.
One website that offers listings of patents of all kinds (freepatentsonline.com) lists nearly 15,000 cannabis related pending and issued patents in the US alone, and more than 8,000 associated with marijuana.
Two Canadian companies have recently made headlines with their patents on two different cannabis extraction processes. Canopy Growth Corporation recently filed suit against GW Pharmaceuticals, for violating their patent on subcritical CO2 extraction, and Nextleaf Solutions recently announced a patent on their proprietary method for producing bubble hash.
Graham Pechenik, a registered patent attorney and Founder of Calyx Law in San Francisco dealing with intellectual property law and strategy for ventures in the cannabis and psychedelics space, says part of the reason for so many patents in the cannabis space is they are easy to get and can protect a company from lawsuits.
"There have been thousands of cannabis-related patents granted, and thousands more are pending, covering aspects of almost everything you can think of from plant to product," says Pechenik. "Patent examiners are rushed, and especially in the earlier years were mostly still unfamiliar with the cannabis industry and without much knowledge of or access to any prior art to properly evaluate whether something was truly inventive or not. So there are a lot of very broad cannabis-related patents around.
"In theory, they could be invalidated in court, but patent litigation is incredibly expensive," he continues. "Often the best strategy is therefore just one of mutual assured destruction. But companies without any patents can find themselves targets, and everyone may find themselves a target if patents end up in the hands of patent trolls, because patent litigation also can be hugely asymmetrical—it costs very little to bring a case against an alleged infringer, but hundreds of thousands at minimum to defend it."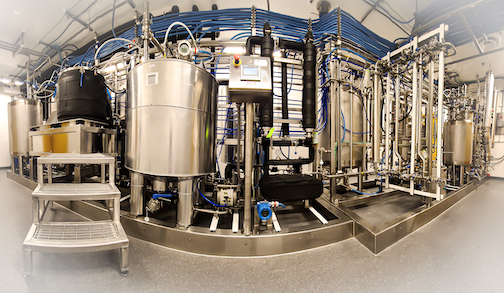 Paul Pedersen, the CEO at Vancouver-based Nextleaf Solutions, says different companies have different reasons for securing these kinds of patents, he sees it as a defensive tool against other larger companies trying to absorb the IP of smaller ones like his.
Pedersen says he also understands how some people, especially those deeply embedded in the broader pre-legalization cannabis culture, might see the idea of patenting something like bubble hash might seem like stealing IP from others. But he's quick to point out what they have patented, is specific equipment and processes, not the entire idea of something like bubble hash. The company holds 12 unique patents in the US, with several also held in Canada, and other countries around the world.
"Of the 12 unique patents we have in the US, primarily it's based around our process and hardware to get to a distillate, so we really focussed on the method," explains Pedersen. "We have a number of patents around our method of extraction, purification and distillation, plus a few hardware patents, post extraction processes."
"Patents are something that I think can get people revved up," he continues. "People will say 'These guys didn't invent that, I invented that', but no one is saying that we invented anything other than what we have built. It's about ensuring that no one can stop us or our future partners from being the most efficient processor globally."
For a relatively small startup like Nextleaf, Pedersen says it's not about using these patents to go after other companies, but about protecting his own company's IP and ensuring the specific and unique processes they've developed can't be stolen by a larger, more powerful company.
"I understand why people get upset. Certainly some companies use patents as a sword as opposed to a shield, but when we look at the space, seven of the ten top patent holders are pharmaceutical companies. It's inevitable in my mind that things in cannabis are going to head that way to a certain extent where larger companies are going to use IP rights (as a sword).
"We're not here to use patents as a way to attack others. I think it's the opposite, it's more as a defensive tool. That's certainly what I've learned in my seven years in this space, is when you're dealing with some of these larger, multinational companies, they can get aggressive. So I see it as a moat around our small company, and the hard work of our team who have helped develop our IP."
Pechenik says there have not been many cannabis patent lawsuits so far, but says the pending Canopy v. GW Pharma case could possibly shift that.
"So far there's been only one other federal lawsuit involving a cannabis patent, and it was effectively ended when the plaintiff entered bankruptcy," explains Pechenik. "It lasted long enough to suggest that cannabis extracts may be eligible for patenting, and that federal courts may be willing to enforce cannabis patents, but it ended too soon to really put the patent to the test.
"People will be watching the Canopy v. GW case to see if a broad cannabis patent can survive, and what kind of value can be extracted from it. If Canopy comes away with a big damages award, you can be sure folks will start looking around to see who's holding other extraction patents, and companies holding the biggest extraction portfolios will find others eyeing them as desirable merger or acquisition targets."
---