Even as the cannabis industry continues to grow exponentially in Canada, the number of federal cannabis producers to call it quits will likely also increase, say some industry analysts.
In 2020, 12 federal cannabis licenses (cultivation and/or processing) were revoked, two were allowed to expire by the licence holder, and one licence was suspended. So far in 2021, four more licenses have been listed as revoked and one as expired.
In early 2020, Canopy closed two large greenhouses in BC and Aurora had to put a large Ontario greenhouse up for sale. Around the same time, Tilray shut down a large Ontario greenhouse. Zenabis announced similar plans and had two of its BC facilities listed as revoked on January 9 of this year. In late 2020 Aurora shut down an Alberta $250 million greenhouse "indefinitely".
"We have concluded that this non-operational greenhouse would require retrofit and significant capital investment in order to meet Aurora's production standards," said a company representative at the time.
While only a small percentage of the approximately 600 federal production licences are currently active, the fact that several of these so far have been much larger producers is a symptom of a changing cannabis market, says Monica Chadha of EY National Cannabis Leader.
Restrictions related to COVID-19 have exacerbated ongoing financial issues for some growers, and investor interest is somewhat shifting to the US market, she says.
"The pandemic has certainly accelerated the pace at which we are seeing restructuring activities, exit strategies, and closures," explains Chadha. "Capital constraints have made it difficult for some companies to fund current operations and future growth. We have seen and will likely continue to see more distressed companies."
Although early on in Canada's commercial medical cannabis industry simply having a Health Canada production licence was often seen as high value, as the number of licences increased and the perceived value of those licenses declined in the wake of the stock bubble implosion in 2018/19, that value has declined. This is somewhat buoyed by renewed investor interest with the expectation of pending US legalization, she says.
"As the market becomes saturated, the value of licences decreases," says Chadha. "Canada is not there yet, as there is an interest by foreign investors and adjacent sectors. On the other side of the border, the potential of federal legalization in the US and other jurisdictions has renewed investor interest and financing activity in the industry, and investment in companies that have a sound strategy."
One company who recently had a license listed as revoked, The Cronos Group, says they still hope to sell their facility, despite losing the licence for their Original BC production facility in Armstrong, BC.
Original BC, also known as OGBC, was one of the first production facilities licensed by Health Canada, receiving their licence under the name In The Zone Produce (ITZ) in February 2014. The facility was one that transitioned from an old personal production licence under the MMAR. The OGBC/ITZ site had been plagued with challenges and underwent an extensive rebuild prior to legalization, but never reached parent company Cronos' expected potential.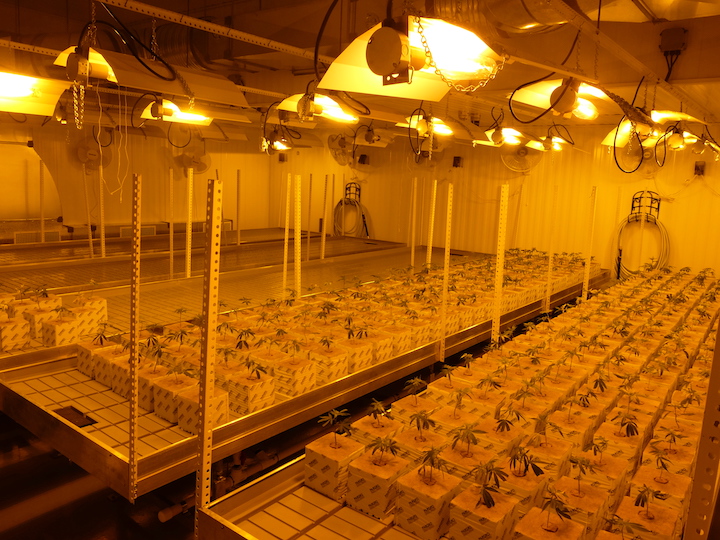 In Cronos' Q3 report from 2020, they disclosed that during the three months leading up to September 30, 2020, the company advanced its plans for the sale and disposal of substantially all of the assets of OGBC. The company still hopes to sell the facility and site. The Company recorded $919,000 as a valuation allowance upon reclassification of assets as held-for-sale on OGBC for the three and nine months ended September 30, 2020.
"As part of a regular evaluation of Cronos Group's global business, we intend to move forward with the sale of the OGBC production facility in Armstrong, British Columbia as outlined in our 10-Q, which was filed on September 30, 2020," a representative for Cronos told StratCann via email. "The OGBC assets are now being carried as held-for-sale until the disposition of the assets is completed."
"I think there's still too much (production), especially inefficient production, production that doesn't produce the right products," Cronos Executive Chairman and former CEO Mike Gorenstein said during an interview with MKM partners in 2020. I think there's still more to come. Every week you read an announcement where you can expect more facilities to shut down."
"The thing you have to think about is if you look at a lot of these locations where greenhouses were built, certainly some areas are agricultural hotspots but a lot of them you're looking at a place where no one is growing produce and there's a reason. If you don't have the right labour pool and if you don't have the right climate… it's easy to say 'Oh someone will start growing tomatoes and cucumbers', but if you're looking at a place that's pretty cold and doesn't get a lot of sunlight I just don't know that it's going to make sense in a competitive, thin margin market for a commodity producer to take over those greenhouses."
Building on Gorenstein's points about the difficulty in translating the unique uses of a specialized cannabis facility to other purposes, agriculture or otherwise, Aaron Salz the founder of Stoic Advisory, says increasingly the value of an actual licence is minimal. As a CFA and Principal at Stoic, Salz has worked as an advisor and analyst with numerous Canadian cannabis companies. 
"In my view, a license has ZERO value today, and even the invested capital is worth less than book value unless a profitable business is there to back it up. There is substantial proof to this being the case."
"Unless that facility is a business with real revenue (>$10M annual run rate) and positive EBITDA with successful brands and products, (it probably has no value)," Salz continues. "Licenses have zero intrinsic value and these facilities are so specialized they have no secondary use and tearing them down for parts is $0.10 on the dollar. I see very little opportunity for groups like that and I'm seeing it in real-time with a number of facilities for sale, no bidders, and some groups willing to take offers at a fraction of invested capital to just recoup something. Any groups interested in the Canadian market that I encounter want to acquire leading businesses here and nothing else."
One greenhouse grower operating under a micro cultivation licence in Alberta had to recently request that their licence be listed as revoked, after running into challenges selling their crop, as well as conflict with their landlord. Rather than selling the operation Jim Vanden Berg, the founder of Budding Gardens had to simply destroy the products he had on hand and walk away.
"Players in the cannabis space are faced with challenging calls about whether to continue to operate, close, or consolidate," says Chadan, from EY Canada. "Those looking to sell or consolidate should focus on how they market their facilities, regardless of if they're selling the space for similar use or an alternative use."
---