Some cannabis producers and retailers in British Columbia are gearing up to participate in the province's new direct delivery program, while others say the program misses the mark.
The direct delivery program, officially launched on August 15, will allow some cannabis producers to ship products directly to private retail cannabis stores in BC, rather than going through the province's centralized warehouse in Richmond.
Although no products are yet listed, a representative for province has told retailers they hope to have cannabis listed for retailers to select by the end of the week. It's unclear how the current strike is impacting this work.
Request for comment from the LDB on how many producers are registered and how the current job action by the BCGEU will impact its rollout was not available as of press time.
The stated goal of the program is to help small-scale cannabis producers in BC. Although it can be packaged and processed by a producer outside of BC, the program is limited to cannabis grown in the province, by companies cultivating no more than 3,000 kg a year. The program also applies to cannabis plants and seeds from BC growers.
The LDB has already begun the process of reviewing and approving retailer, cultivator, and product applications for participation in the program, and will continue to add companies and products in the coming weeks and months.
Producers, once registered in the new program, will have their cannabis listed on a website accessed by cannabis stores in the province. Stores can then order that product, with the processor taking responsibility for delivery to the store, as well as any product returns and recalls, etc. Retailers must provide payment upon delivery.
Logan Dunn, the owner of Dunn Cannabis, a micro cultivator and processor in Abbotsford, says he's already registered in the program and is excited to have exclusive products available in the coming months. The delay, he explains, is because he's growing out new, exclusive cultivars that will be packaged specifically for direct delivery.
"We don't want to release something that's already on the market, we want an SKU that's really unique, and can stand out," he says.
Long term, Dunn says he would like to work with retailers to allow them to choose specific cultivars that he would then grow for them.
"We want a retailer to be able to come to the facility, pick out a strain, and then when it's ready, they can tell their customers all about it, because it's one they chose. And now they can sell it just a few days after it was packaged."
John Kaye, Co-founder and CEO of Burb Cannabis, with five locations in the province currently, has been preparing for the program as well, with another unique twist: utilizing their international partnerships.
"We're very excited. We've been talking to a lot of growers, a lot of micros, and we're also looking to bring some exclusive strains. That's what excites us the most, is being able to offer exclusives. Direct to retail is dope, exclusive is even better."
As with many other retailers StratCann spoke with, Kaye sees this as a way for retailers to stand out in an increasingly competitive crowd.
"Everyone knows that pretty much everyone carries the same stuff. So this is a big one, this could create a more loyal customer who knows they have a reason to choose you over someone else. Everyone selling the same thing is a little bit silly."
Jim Leslie, owner of The Kootenays Cannabis Tree in Nelson, agrees that this will help retailers start to compete, especially with the BC Cannabis Store.
"We're very keen on the concept, and we want to utilize it as much as possible. We want to be able to buy from growers around us, which is how it used to work, instead of having to go all the way across the province and back."
"This gives us an advantage where we can buy the high quality, micro, craft products from these processors and then that doesn't end up on the BC Cannabis Store shelves. And, it allows us to service our clientele with a higher grade of product that is specific to the regions from which they want to see their products. I'm hopeful that it can benefit us in that regard and set us apart".
Producers then must report sales on a weekly basis to the LDB, who still collects the same "proprietary" 15% fee as they charge for products run through their warehouse. The fee is controversial with producers who say they are taking on extra responsibilities for record-keeping and delivery, but still paying 15% extra to the distributor, despite them never touching the product.
Products can be exclusive to the direct delivery program or also listed through the BC LDB, but producers cannot create exclusive pricing for specific retailers.
While the LDB vets what kinds of products they choose to carry in their warehouse, any products that meet the requirements for direct delivery will be approved for sale. This could mean that some small-scale producers who have had challenges selling through the LDB could finally find a market for their products by going to retailers directly.
Kayla Mann, the Chief Financial & Revenue Officer at Habitat & Cake and Caviar, a micro cultivator and processor in Chase, BC, is also looking at the program as a way to bring exclusive products to market.
In addition to flower, Habitat's small team has been busy pressing rosin from their own flower, some of which they plan to offer exclusively to retailers through direct delivery.
"One of the most exciting things with this is to work with others to bring exclusive offerings to the market. I think we can provide a real benefit to the shops. Obviously retail is a tough space to be in right now with all the competition we're seeing.
"I think they're all feeling the pressure on the retail side, so to build something out that can be such a differentiating factor from shop to shop, I think that is the most exciting thing, to me that's where the excitement lies. I think those stores that do participate will have a unique opportunity with a producer like us."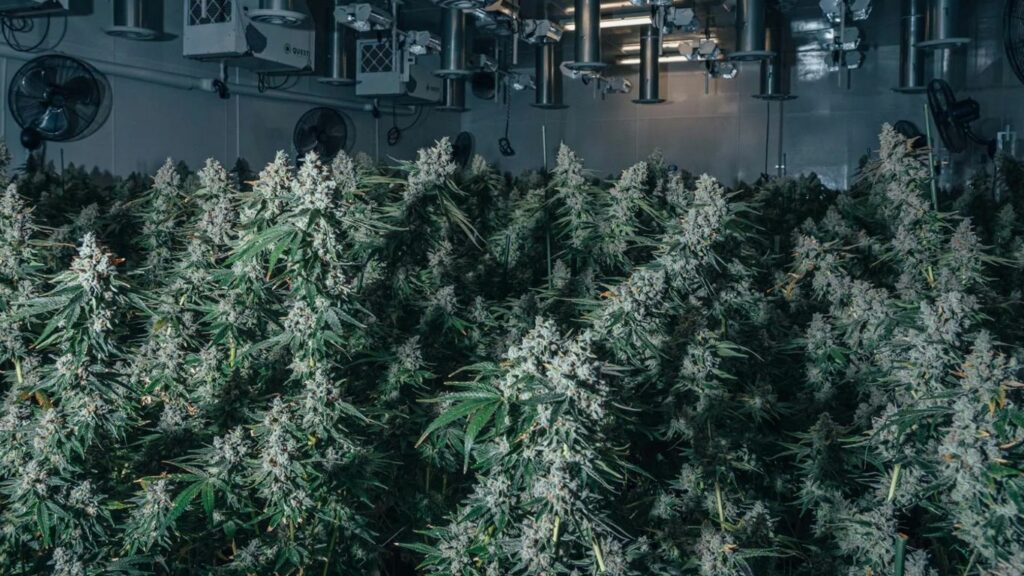 For William Marshall, the founder of Aaron's BC BUD Inc., a standard cultivator and processor in Coombs, who hopes to have products listed for direct delivery by the end of September, it's about bringing the market back to how it used to operate.
"We can deliver to anywhere in the province, so in a way, it's like the good ol' days of the grey market. The potential is, I think, spectacular."
Marshall says he doesn't see the program taking off immediately, but that it will instead require retailers to understand the value and to actively work with growers to get their products.
"It's going to take a certain retailer. It's going to take a retailer who can understand that you have something unique and how to sell it. I do think this is going to be a tremendous opportunity for both sides, but especially those retailers that really understand the value of good weed and smaller batches."
Not everyone is excited by the program
Not everyone is happy with the new program, though.
Sarah Roberts, the President of Cicatrix Labs Inc, a micro processor in Kelowna, says the way the program is set up now isn't viable for a small, micro processor like her company. Cicatrix Labs makes cannabis topicals and suppositories.
Because they source their cannabis inputs for their products from larger companies often growing well over 3,000 kg of flower a year, and often from out of province, Cicatrix Labs cannot participate in the program.
"While this program was a great concept, leaving out micro-processors undermines a lot of the intent of the program, and I believe that it will severely limit its uptake by micro cultivators," says Roberts.
"This program is only useful for flower and is extremely unlikely to be used for any other finished product," she continues. "It is unlikely that a micro cultivator will produce enough biomass to make extraction and product production financially viable. We looked at this option to allow us to use the direct delivery model, but it would at least double the cost of our inputs and would price the end products out of the provincial pricing goals."
Brandon Grieve-Heringa, the QAP at Sweetgrass Cannabis, a micro cultivator and processor in the Kootenays, says he sees it as too much extra work and cost, and would prefer to just continue to ship directly to the LDB as they do now.
Although the company may eventually participate, he says he finds it hard to see how they can make it work when they still have to pay the LDB their 15%, but are taking on extra record-keeping and reporting responsibilities, along with having to manage logistics like deliveries and returns
It's unfortunate, the way it's been rolled out," says Grieve-Heringa. "But I'm realizing we're going to have to make our peace with it. To me, the amount of time they spent thinking about the program—they spin it as a way to help people like us—but my sense is they're really downloading their responsibilities onto people like us and they are doing less work for the same amount of money. It's going to vastly increase the complications in our life."
Katy Connelly, the co-owner of Sea Dog Farm, an outdoor mico cultivator in Saanichton, says the system is too complicated and time-consuming to serve those it seeks to help. 
"I think they completely missed the mark and didn't think it through from a systems perspective," says Connely. "They need to look at how creating a whole new delivery system would impact retailers who have to learn new software, processors who now have to have a warehousing system, a delivery system, a tracking system, and growers who have to bear the cost of a duplicate system."
Although she says she thinks the goal of the program was well-intentioned, the final product and rollout don't match those goals.
"I think people on the front lines who were doing outreach to growers truly believed this would help us. But mistakes were made, and people didn't think it through. There were lots of oversights, as we're now seeing as it's starting to roll out and the costs are being put on the growers.
"Now that I've seen what has to be in place for a duplicate system to work, I truly think they need to go back to the drawing board and find a way to support small growers within the current computer system in the BC LDB delivery models."
Meanwhile, Abyan Schupp, who oversees sales and operations for Organnicraft, a micro cultivator and processor in the Kootenays, says he was initially skeptical of the program but is now looking to participate.
"My initial thoughts were not good. I was pretty negative about it because I did not understand what the BC LDB was going to do. They were very vague on how the system was going to work. And then at the last webinar we did, they stated that there would not be a gatekeeping situation on actual SKU listings and that completely changed my mind about the process.
"Now that they are allowing us to essentially list whatever we want, as long as we're accepted into the program, that allows us the flexibility to put different, unique SKUs into the market that we think best represents our brand and work with our retailer partners."
Editor's note: This article mistakenly identified Katy Connelly as Katy Coulson and has been edited to correct this error.
---