Prices for cannabis flower on the retail and bulk market declined significantly in 2021 as supply and competition in the market have increased, according to a new report from the Canadian Cannabis Exchange.
The annual report from the B2B wholesale cannabis trading platform shows that prices on its listing in Q4 of 2021 were on average 36% lower than in Q1.
This decline was driven by mid-range THC products in the 20-25% THC range, which dropped from about $2.65 a gram in early 2021 to $1.52 a gram by the middle of the year before rebounding to about $1.75 a gram in Q4 2021.
A similar decline was seen in the 15-20% THC products, as well as the 25%+ THC range, landing around $1 a gram in the former range and $3 in the latter.
This trend is expected to continue into early 2022, before potentially rebounding again by the middle of the year with an expectation of greater demand for high-quality flower from B2B purchasers. The report notes that buyers are especially interested in paying a higher price to lock in long-term supply of high-quality, high THC flower over the 20% range.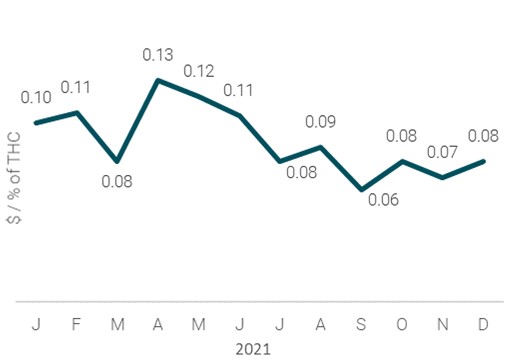 This trend of the industry moving away from one-off deals to longer-term supply contracts is expected to continue into 2022, as well. The last two quarters of 2021 saw 64 of these "forward deals" compared to only seven in the previous two quarters.
"Buyers are looking to secure an ongoing supply of specific strains once an SKU is in market. Cultivators are beginning to grow for buyers specific SKU approvals," notes the report.
This trend is also being driven by provincial product calls, with buyers noting which products are being approved by provinces and then seeking to secure a long-term supply to meet that approval.
Major Market Reshuffling in 2021 to Continue into 2022 as Big 4 Lose Market Share
The market will also continue to trend away from some of the largest of Canada's cannabis producers, as new smaller and mid-sized growers continue to gain a foothold in the market and in consumers' minds.
Part of the major market shift is a movement away from vertical integration, argues the annual report. While the initial market had large, often publicly traded companies marketing themselves as controlling all aspects of production and even sales, the market is now shifting to companies who can focus on one specific aspect of the supply chain well. This trend will also lead to greater and larger wholesale buys, as some companies focus on production and processing and allow others to focus on growing good cannabis.
The market for dried flower will have four key factors to consider. The first is an explication of a continuing increase in exports, as more foreign markets open up to even larger purchases from Canadian companies. Although exports to markets in Europe and Australia and other newly legal (medical) jurisdictions have been happening for years, many of those early sales were quite small compared to more recent sales as those markets grow.
For example, in 2020, producers in Canada exported 15,684 kgs of dried cannabis flower compared to 3,740 kgs in 2019. The exchange report says it expects that this growth will continue to increase in 2022. In August 2021 Eve & Co announced its largest-ever shipment to Germany and then in January 2022 Aurora announce the delivery of $10M in product to Israel.
As prices continue to decline in Canada, some producers who are able to satisfy export requirements may find solace in higher prices abroad in these emerging markets.
Slowing Consumer Growth
While the Canadian cannabis market continues to expand, there are also signs that some of the consumer growth may be slowing down. While 2021 saw a huge increase in overall sales compared to the two years prior, supported by a significant increase in retail outlets, especially in Ontario, this growth is expected to slow considerably in 2022.
Although retail sales grew by 30% from January to October 2021, this growth slowed to an average of 2.4% a month by the latter part of the year. This trend is expected to continue as the retail market becomes saturated.
Extracts
Similar declines were seen in the extracts market. Although wholesale prices started off strong in early 2021, at around $7,500/kg, prices declined to a low of around $3,000/kg by the end of the year, a decline of over 100%.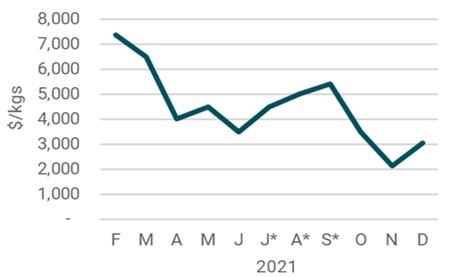 This wholesale pricing is expected to continue in 2022 as extraction capacity peaks and the price of bulk flower inputs continues to decline.
However, this decline could be somewhat buoyed by a growing demand for kief, distillate and hash for infused pre-rolls, a product that has begun to gain interest from producers and consumers alike.
More novel cannabinoids are also expected to drive extract demand. Three major trends to watch are CBN, THC V, and CBG as buyers become more educated on these cannabinoids.
The Canadian Cannabis Exchanges' (CCX) 2021 Bulk Wholesale Cannabis Report is an analysis of all 2021 settled deals (over 600) transacted on the CCX live trading platform (which includes dried flower, extracts, and genetics). Settled prices are a weighted average of all deals completed in the period and include both spot and forward deals. There are over 325 licensed Canadian companies trading on the CCX screen.
Access to the full report, which includes 2021 settled monthly prices, a January 2022 forecast, and details on the Top 10 Traded strains can be found HERE or email [email protected] 
---