Saskatchewan's auditor has praised aspects of the province's oversight of cannabis wholesalers and retailers, but wants to see a shift from education to enforcement of retailers.
The Saskatchewan auditor's report for spring 2021 includes the results of several audits and various government agencies, including the cannabis sector. Saskatchewan's wholesale and retail cannabis sector is regulated by the Saskatchewan Liquor and Gaming Authority.
The report calls on the provincial government to enact several changes to more effectively protect public health through its oversight of this side of the industry. Those recommendations include calling for a shift from a focus on educating retailers and wholesalers of the regulations to enforcing those regulations, and compiling and reporting this enforcement action.
The report did not look at enforcement of the law in regard to unregulated cannabis activities, as these are under the jurisdiction of law enforcement and the Ministry of Justice and Attorney General.
Saskatchewan had issued 54 retail and 4 wholesale active cannabis permits, and 97 active registrations for licensed producers to sell cannabis products to retail/wholesale permittees in Saskatchewan at the time of the report. These cannabis permits have a three-year term, and the first cannabis permit renewal will occur in 2021.
The province began accepting new retail licenses in September 2020 and currently has 82 licensed retailers. In the fiscal year 2019-20, the Saskatchewan Liquor and Gaming Authority recorded revenues of $226,000 for cannabis permit fees, and expenses of about $3 million relating to implementation and oversight of cannabis regulation.
For the period covered in the report, Saskatchewan's Cannabis Licensing and Inspection Branch had 11 full-time equivalent positions, as at December 31, 2020. The positions included four cannabis inspectors, two licensing specialists, three managers, one director, and one data analyst. The found inspectors are located in Regina and Saskatoon. The report found they were all very qualified and trained for their role.
Since January 2019, the Authority's own guidelines say cannabis inspectors should inspect retail and wholesale permittees at least once a month. The provincial cannabis regulator plans to have its draft risk-based inspection plan finalized and implemented by September 30, 2021.
The report also notes an instance where the provincial regulator cancelled a licensed producer registration in 2020 following a cancellation of their federal production licence. Once the federal licence was reinstated, the province reinstated their ability to sell into the provincial system, as well.
The areas the auditor's report says need to change are:
Finalizing key operational documents (e.g., a risk-informed inspection plan and guidelines for sanctions) to guide identification and handling when retail and wholesale permittees do not comply with permit requirements,
Communicating to permittees when it plans to start taking enforcement actions (e.g., fines) on identified non-compliance,
Establishing guidance about consistently and centrally maintaining evidence about its key activities to regulate recreational cannabis (e.g., in its IT system),
Actively monitoring whether permittee inspections are done as planned and identified non-compliance with permittee requirements have been addressed, and
Reporting to senior management on the nature and extent of non-compliance and related enforcement activities over retail and wholesale recreational permittees.
The report also praised the Authority for its efforts to engage and educate licence holders, showing how the province handled communications relating to relevant COVID-19 restrictions in early 2020. It does criticize the provincial authority, though, for not properly maintaining records of the results of its "due diligence procedures".
However, the report found that the Saskatchewan Liquor and Gaming Authority "does not actively or effectively monitor whether it inspects retail and wholesale permittees consistent with its frequency expectations."
Based on reviewed inspection records for 2020, there were 40 instances found out of about 470 inspections where an inspection was not completed in accordance with management's monthly frequency expectation. For these 40 instances, the report found there were between 51 and 196 days between inspections. The provincial Authority says that not having its full staff of cannabis inspectors contributed to why there were delays for some inspections.
The audit also found that the Saskatchewan Liquor and Gaming Authority was not always finalizing and issuing recommended sanctions for instances of non-compliance within a reasonable period. For two of six instances of inspector-identified non-compliance tested, the Authority had not reviewed or approved as of January 2021 sanctions drafted several months earlier. One was drafted in September 2020, and the other in October 2020. For one, the draft related to a permittee not asking customers for identification at the time of sale to verify age.
Such inconsistent response to non-compliance, says the auditor, can lead to retailers not respecting or following the regulations. It calls on more prompt responses to such instances.
The report also found an instance where the provincial authority had effectively tracked instances of reports of large quantities of lost product by comparing the opening inventory of one month to the closing inventory of the prior month.
Of these, 18 permittees were found to be reporting more than 30 packages of lost or stolen product in a month and 16 permittees with differences between closing inventory of the prior month.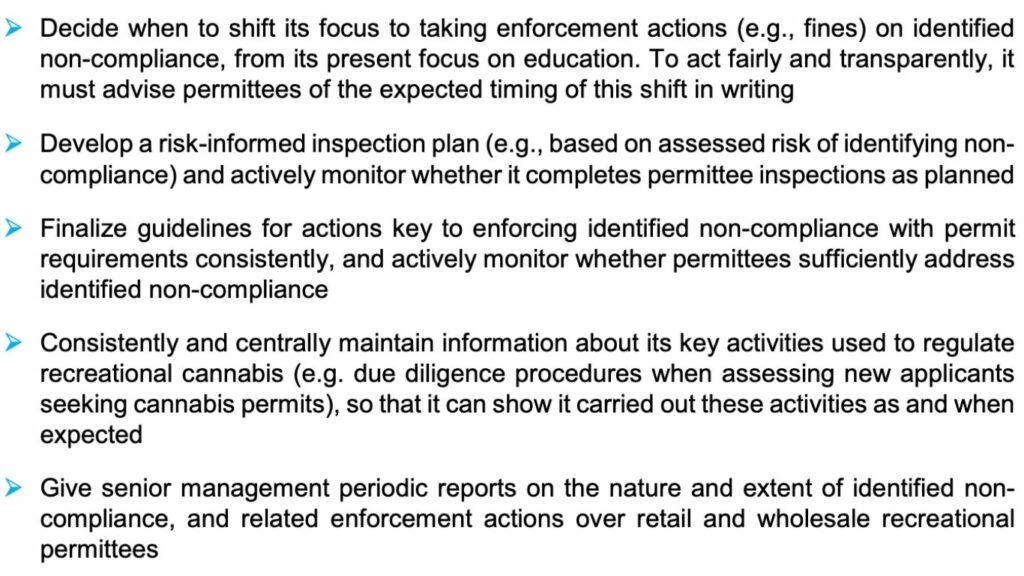 Featured image of Moonlit Cannabis, Carlyle Saskatchewan
---