A recent survey of Canadian cannabis licence holders gives some insight into the changing dynamics of the industry and the differences in perspectives and approaches between micro and standard licence holders.
The survey, conducted by the Canadian Cannabis Exchange—a B2B exchange for cannabis and hemp products in Canada—polled 66 different federal licence holders from a mix of standard and micro producers, along with nurseries and research licence holders in nearly every province in Canada.
Respondents were asked an array of questions about their experiences with and perspectives on the industry, from revenue and profitability, to supply chain challenges and interest in the export markets. Most respondents were C-suite members, followed by those working in sales and marketing, then growers and production staff, followed by QA/QC.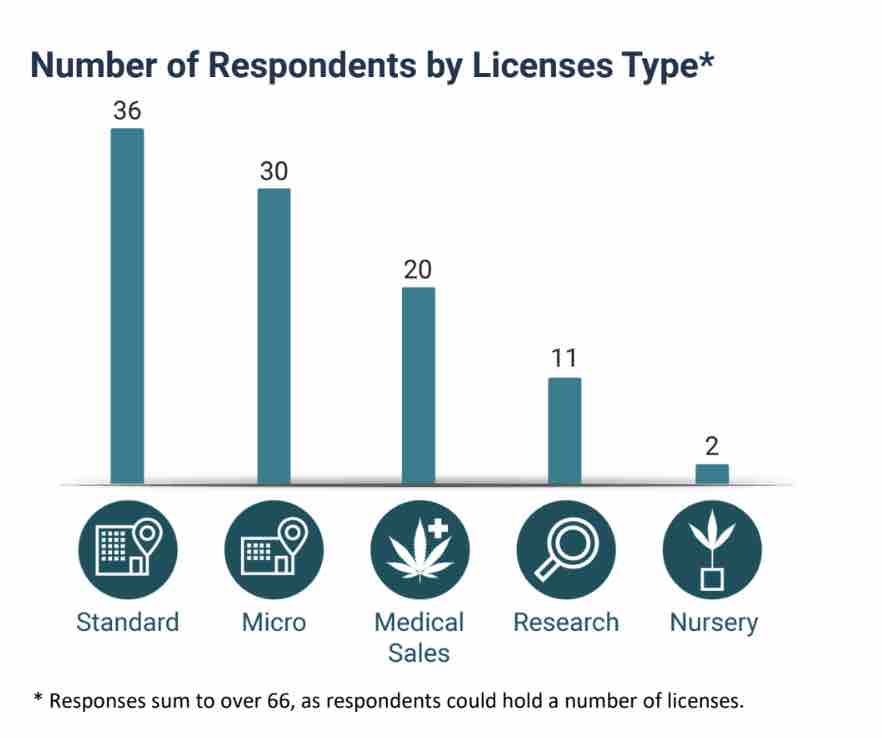 Steve Clark, CEO of the Canadian Cannabis Exchange (CCX), says the survey results show that the industry seems to be moving into a phase of refining processes to maintain profitability in an increasingly competitive market.
"Canadian licensed producers have reported increased revenues, but they recognize that profitability is not growing at the same pace. Producers are taking measures such as innovation and streamlining resources to remain competitive as wholesale flower prices are expected to drop. The main challenges faced by LPs continue to be taxation, government regulation, and access to capital in a low-price environment."
"According to the survey, only 10 per-cent of respondents are currently engaged in international exports, while 40 per-cent have plans to export in the future," he explains. "Despite challenges such as competition, licensing, and knowledge barriers, international exports can potentially become a significant source of revenue and growth for LPs."
Revenues and profitability
Respondents were asked to compare their revenue in 2022 with the previous year, with only 11 per-cent of respondents having a decrease. The remainder reported that their top-line revenues either increased or remained the same.
However, the revenue increases were not evenly split between micros and standard, with 81 per-cent of standard licence holders (cultivators, processors, and/or medical sales only) reporting higher revenues in 2022 compared to just 47 per-cent of micros.
Increases in profitability were not quite as robust, with 43 per-cent of respondents saying their profits increased in 2022, pointing to an increase in costs. As with revenue reports, standard licensees were more likely to report increases. Fifty-four per-cent of standards reported higher profitability growth, compared to just 30 per-cent of micro-licence holders.
The survey also looked at inventory levels among licence holders, with micros more likely to be increasing inventory of packaged goods. Fifty-seven per-cent of standard licence holders and 41 per-cent of micro licence holders expected to increase their unpackaged inventory in 2023, while 45 per-cent of standards and 56 per-cent of micros expected to increase their packaged inventory.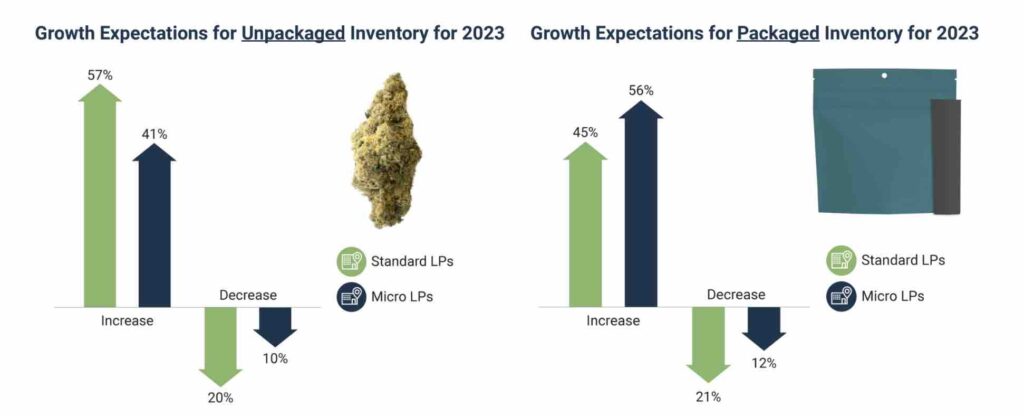 Profitability
Licence holders were also asked to list the various factors that lead to profitability and operational success in the cannabis space. The quality of the product was the most commonly cited reason for success, followed by, in descending order of importance: provincial purchase price and provincial and federal taxation, input costs, branding, yield per square foot, product innovation, and vertical integration.
Responses differed depending on who was answering though, with micros more likely to cite the need for vertical integration for example, or with different responses from those in more corporate roles vs those working in operations. Differences of opinion were greatest on yield per square foot, provincial & federal taxation, and branding.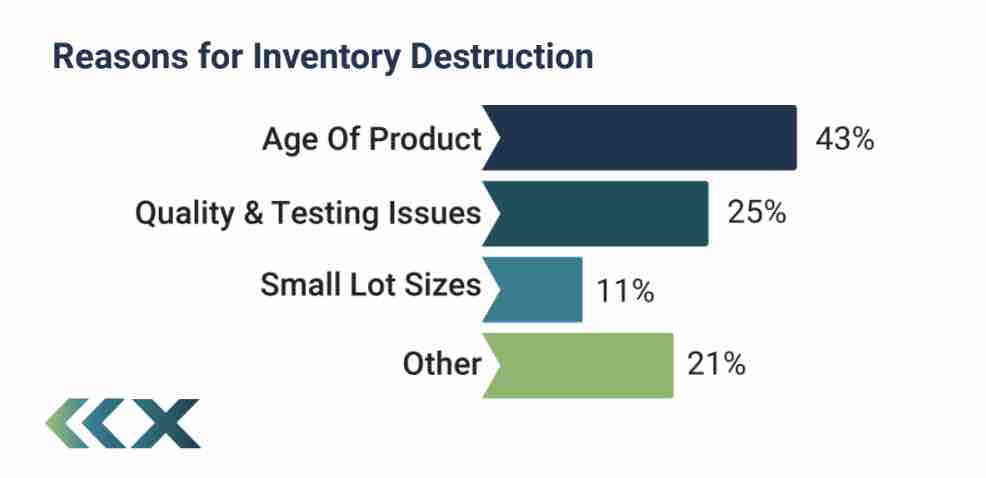 Destruction of cannabis
Fifty-two per-cent of standard licence holders and 41 per-cent of micros reported destroying finished cannabis in 2022, or just under half of all licence holders surveyed.
Rather than tossing out good weed, though, the most common reason (43 per-cent) respondents cited for doing so over the past year was age of product. Another 25 per-cent said they destroyed cannabis due to quality and testing issues, while 11 per-cent did so due to small lot sizes, and another 21 per-cent declared "other" as a reason.
Domestic cultivation and consumer demand outlook for 2023
Most respondents said that they expect overall domestic cultivation in Canada to decrease or stay the same in 2023. Forty-four per-cent said they expected cultivation to decrease, 39 per-cent expected it to remain the same, and only 17 per-cent expected an increase.
Standard licensees were more likely to see domestic production decrease in 2023 compared to micros.
When it comes to expectations of consumer demand in 2023, 46 per-cent said they expected demand to stay the same as in 2022, 32 per cent expected it to increase, while only 22 per-cent expected it to decrease.
As with expectations of domestic cultivation, standard licensees were more pessimistic on consumer demand than micros, with 27 per-cent of standards expecting consumer demand to contract in 2023, compared to just 17 per-cent of micros.
Taxation and government regulation are the largest obstacles to profitability
Respondents were also asked to rank which factors have the greatest impact on their profitability. Unsurprisingly, the most common responses were taxation and government regulation, followed by access to capital, market access, increased competition, increasing costs, and a shortage of skilled labour.
However, for micros specifically, market access and access to capital were the two biggest obstacles identified rather than taxation and government regulations. Unlike larger producers, micros often have a more difficult time getting approved by provincial buyers, have less capital for marketing and branding, and often have very little access to capital in general from traditional lending institutions or private investors.
The report also notes that the ability to retain workers has not been nearly as challenging for the cannabis industry compared to other industries in Canada according to an annual labour survey by The Canadian Manufacturers and Exporters (CME).
Wholesale cannabis
Most respondents reported that they were engaged in some form of wholesale trade, with 73 per-cent saying they were engaging in wholesale sales and 47 per-cent purchasing wholesale orders. There are numerous cultivators, especially micros, who sell to third-party processors who often then take over sales into provincial markets for the cultivator, along with marketing.
The average wholesale price paid was $2.26 a gram, ranging from as little as $0.10 a gram to as high as $6.00 a gram. Most respondents (53 per-cent) said they expect these prices to decrease in 2023, while 25 per-cent expect an increase and 22 per-cent expect it to stay the same.
Wholesale trading margins show micro licensees doing much better than standard licence holders, with 63 per-cent of micro-license respondents achieving margins in excess of 20 per-cent, compared to just 46 per-cent for standard licensees.
Respondents were also asked about the direction they expect wholesale prices will trend in the next year, with just over half expecting prices to decrease, and a quarter expecting an increase. The most commonly traded wholesale product was dried flower, as reported by 89 per-cent of wholesale buyers and 77 per-cent of sellers. Below the top most traded, tendencies diverged, as wholesale buyers' second most common transactions were in oils/distillates, whereas for sellers they were in concentrates.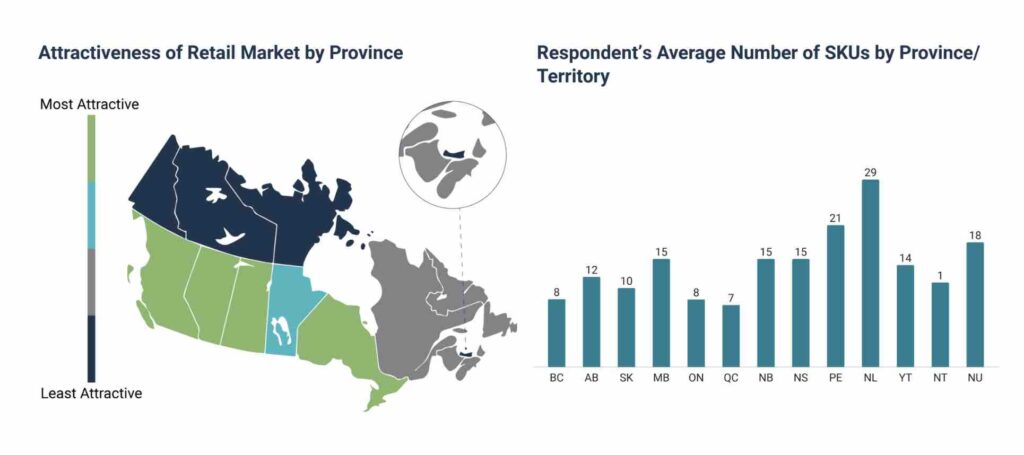 Retail cannabis sales
Licence holders were also asked about their retail presence. Just over half (52 per-cent) reported having at least one retail SKU. The average number of SKUs was 14, with the average number of provinces at territories carrying those SKUs at 3.7. More than half of licence holders with retail products had SKUs in three or fewer jurisdictions, while only 13 per-cent were present in eight or more provincial/territorial markets.
They survey also asked licence holders to rank their provinces and territories by their favorability. The most attractive provinces were British Columbia, Alberta, Ontario, Saskatchewan, and then Manitoba, in that order. Nunavut, Yukon, and Prince Edward Island were considered the least attractive, likely due to the small size of those markets.
Newfoundland had, by far, the highest average number of SKUs by province according to respondents, with 29, followed by PEI with 21, Nunavut with 18, and New Brunswick, Nova Scotia, and Manitoba with 15 each.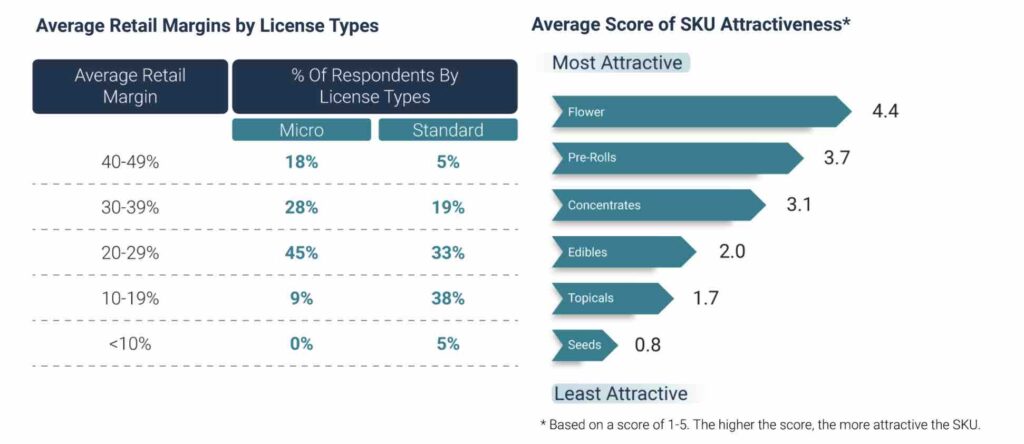 Average retail margins by licence types
When it comes to average retail margins, micros fared much better than standards, with 91 per-cent reporting retail margins between 20 per-cent compared to only 57 per-cent of standard licence holders.
More than two-thirds of respondents reported achieving margins between 20 per-cent and 49 per-cent. Micro-licensees reported stronger margins, with 91 per-cent of respondents achieving retail margins between 20 per-cent and 49 per-cent, compared to just 57 per-cent of standard licensees.
Reflecting sales figures released by provinces, cannabis flower was listed as the most attractive SKU, followed by pre-rolls, concentrates, edibles, topicals, and then seeds.
Supply chain challenges
As with most other industries, the cannabis industry has been impacted by supply chain disruptions and pressures. Sixty-four per-cent of respondents reported an increase in shipping costs and 71 per-cent reported frequent or occasional supply chain disruptions.
On average, respondents reported shipping costs to have risen by 36 per-cent, with the report noting that this significantly outpaces domestic inflation.
Licence holders in Alberta were the most likely to report being impacted by supply chain disruptions at 86 per-cent, followed by BC at 66 per-cent, and 50 per-cent in Ontario.
The biggest increases in shipping costs were for producers in Atlantic Canada, at 69 per-cent, followed by BC at 50 per-cent, Alberta at 35 per-cent, and Ontario at 25 per-cent.
Exporting cannabis from Canada
Lastly, the survey looked at which portion of respondents were exporting cannabis products outside of Canada. Only 10 per-cent said they were currently engaged in any international exports, but 40 per-cent said they intended to in the future.
The most common reasons given by the majority of respondents who said they are not planning and have no future plans to participate in the cannabis export market were legal and regulatory concerns, a lack of international clients, lacking expertise, and overall competition.
Several micro-licensees also cited small production volumes as the biggest barrier to accessing the export market. While there have been some largely publicized export deals—generally from larger, publicly traded licensed producers into markets like Australia, Israel, and Germany—the process of getting approved for such sales both by Health Canada as well as the receiving country can be challenging.
Health Canada's most recent figures show there have been more than 65,995 kg of dried cannabis flower exported from Canada between October, 2018 and March, 2022, with more than 25,919 litres of cannabis oil.