Showcasing Canada's best dried flower products
Welcome back to the Good Weed Board! In Part One, we discovered some of the first regulated dried flower products for sale in Canada that were actually worth consuming. Here in Part Two, I will showcase four more products from the Good Weed Board. I will also touch on some of the most important quality metrics for grading cannabis, and explain how these metrics influence the OG Rating Guide.
By now you might be asking why? Why does The OG Rating Guide matter?
You might argue that most consumers only care about the basics—basics like price and THC—that they don't need some fancy rating system. You might point to the data, which it shows the average consumer trends towards the most bang for their buck. But the OG Rating Guide isn't for the average consumer: it's made for consumers with good taste.
The average consumer has become a walking billboard for cannabis marketing and misinformation.
Take indica and sativa for example. This nomenclature applies to cannabis plant morphology, but is not capable of predicting user experience, and doesn't translate neatly into product categories. Yet the lingo prevails on labels, store menus, and provincial wholesaler lists.
There are other examples. THC is related to potency, but marketing the exact percentage is a hoax. The testing labs are not standardized, and the results can't be trusted. Producers compromise the integrity of their bud just to push the numbers higher. Today we commonly see results of 30% and upward. The truth is that almost all dried flower on the market lies in the 16-24% range, and the exact number isn't a predictor of how high the user will get.
It's the same issue with terpenes. The number on the label doesn't indicate how flavourful or aromatic a product will be. Some labs test for ten different terpenes, others test for more than forty, when only the top three to five really count. The goal of the marketers isn't to quantify quality. Their goal is to manipulate a number in order to inflate the price and increase demand. The day marketers start talking about cannabinoids, terpenes, flavonoids, esters, and thiols all mixed together is the day I'll start paying attention.
The question I have for you is: as an industry, how do we quantify quality? In my opinion, the best way is through education, relying less on fake data and more on the voice of experts. Experts like the folks at CannaReps, the dynamic duo of WhatsMyPot, or for a really deep dive, pancakenap. For the OG Rating Guide, the most important characteristics of any sample are flavour and aroma. To preserve flavour and aroma, producers must do everything right. From the genetics and growing side, to the processing, storage and packaging. If they miss one step, an entire crop can be compromised. I've witnessed the most beautiful flower at harvest become dusty mids within weeks after not being handled properly.
The second most important characteristic of any sample is smoothness. Is the burn clean? Is the ash colour grey/white? Does the joint burn consistently? If the answer to any of these questions is no, then there is a problem—it could be the moisture content, or chemical residue, or simply the way the joint was rolled—but there is definitely a problem because good weed should burn smoothly.
I would be remiss if I didn't mention the third most important characteristic of any sample: potency and effect. It's not a big surprise that most of us like to get high when we smoke. For me, getting high off dried flower isn't really about the psychoactive effect. It's more about the sensation deep in your chest when you take a good hit, and the relaxation that tends to follow. If I really want to get lifted, I take a dab or smoke some hash. That's all I've got to say about potency and effect.
The fourth most important characteristic of any sample is beauty, because cannabis is art. Gorgeous weed might not always translate to quality smoke. But who doesn't love to break apart a big, sticky bud that is layered in colour and covered in trichomes? I know I do (even though I've been fooled once or twice by sexy flower that had no substance). Now to the ratings.
To reflect on Part One, the OG Rating Guide is weighted on a 100-point scale. To qualify for the Good Weed Board, a product must score at least 80 points.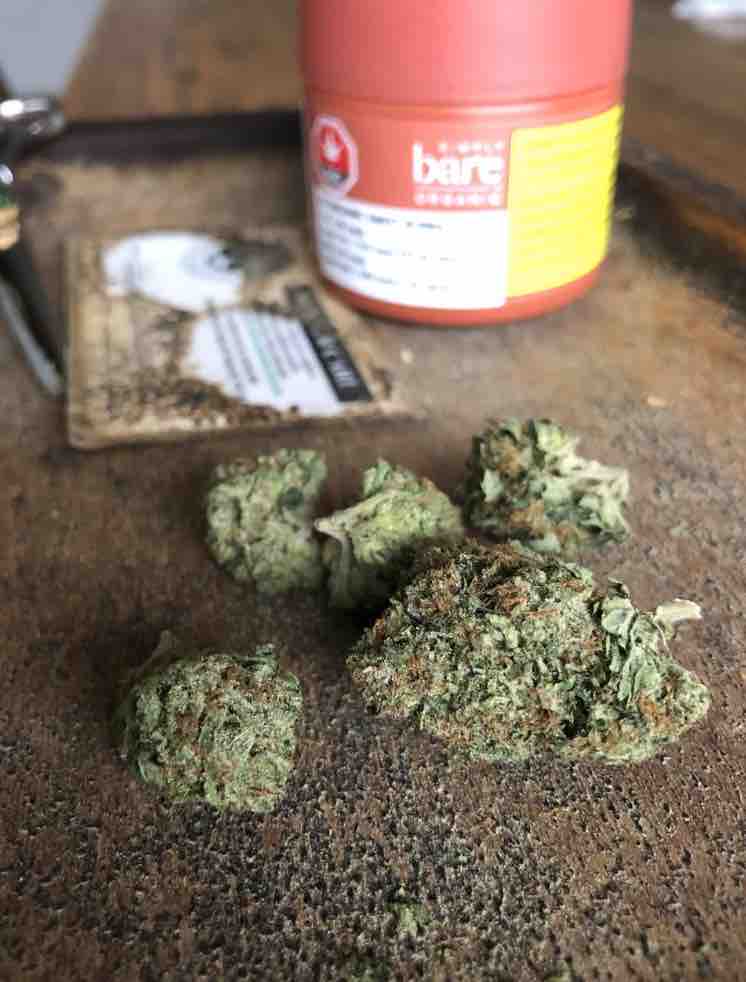 The first entry for Part Two is a record breaker! Sweet Bubba by Simply Bare Organic. This is the second product from Simply Bare to qualify for the Good Weed Board.
The Sweet Bubba is the first regulated product I've sampled that is the gassy kind of kush with a lime, caramel aftertaste. It reminded me of various Bubba Kush or OG Kush cuts from the traditional market. In fact, the Sweet Bubba was so good I went back to the store for two more containers. But at $46.19 per 3.5g, it's not sustainable. This level of quality should be available in larger formats at a discounted price. My rating = 86/100
The second entry for Part Two is Platinum Grapes by Organnicraft. Their marketing team nailed the packaging on this product. I love that they included detailed information about the cultivar and how it was produced on the label. The flower inside was still fresh—even though it was packaged in a mylar bag and without any humidity pack which means the producer invested in the proper drying and curing of this batch.
The Platinum Grapes is some of the nicest looking bud I've ever laid eyes on. Frosty green on the outside with lots of orange pistils, and layered with deep purple hues. The first joint burned so smoothly, I immediately went back to the store and grabbed two more packages. I even recommended this product to my uncle in Saskatchewan who had been smoking bag after bag of Farm Gas by North 40. Now he and his buddies only want to smoke the Platinum Grapes. My rating = 85/100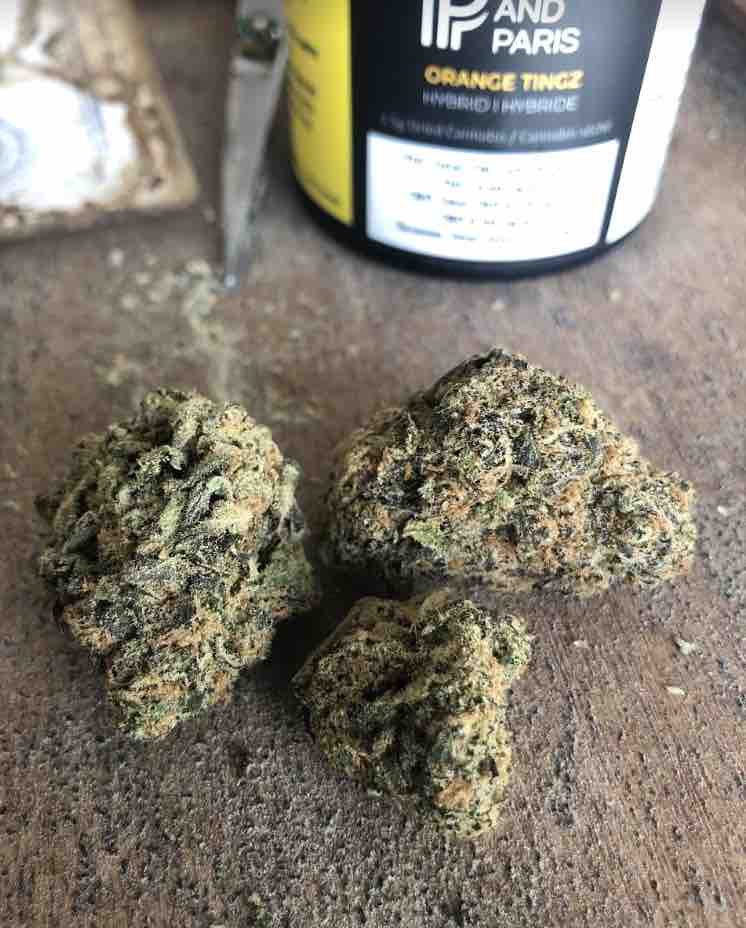 Next up is Purple Punch Mints #11 by Joi Botanicals. This was my first regulated purchase in the 28g format, and I ended up buying several bags. It is also the second entry on the Good Weed Board for Joi Botanicals. The product features a delicious blend of sweet fruit and cream. There is definitely a strong Kush Mints influence. Now if only more craft producers would start releasing ounces. Perhaps the industry requires excise tax reform to make that happen?
The Purple Punch Mints is also a test case for THC percentage. The first two bags I grabbed were labelled 20%. Then I started hearing buzz on social media that there was a new 27% variety available, so I went to Lake City Cannabis in Calgary to find one. But after sampling both, the 20% variety burned more smoothly than the 27% batch, and was also more pungent. I definitely didn't get higher from the extra THC. My rating = 83/100
To round out the Good Weed Board for Part Two, we have Orange Tingz by Pistol & Paris. Grown by JBuds in Summerland BC, this product came packaged in a glass container. The flower was still fresh in March 2022, even though it was packaged in November 2021. The buds are dense, featuring a zesty citrus profile with hints of earthy berry and pine. This is energetic daytime smoke. My rating = 80/100
That's all for Part Two. I hope you enjoyed reading about these products as much as I enjoyed smoking them.
My next column, Part Three, will showcase more products from the Good Weed Board. Keep an eye out to see if any of them break the current record score of 86. Happy blazing!
Marty Wig is the cofounder of Overgrown Gardens, and creator of the OG Rating Guide. He has been grading cannabis since 2003.
---