Finding a buyer for outdoor cannabis can be a hard sell, say some gowers, but shifting consumer perceptions and getting creative with what you do with the end product can give a competitive advantage.
Outdoor growers say they have great cannabis, but convincing consumers—and provinces—can be a challenge.
For Jacob Saffer-Spiro, he says he thinks part of the perception of outdoor being of lower quality has more to do with what kind of outdoor some people may have tried. The owner of Willow Weed, a micro cultivator in Ontario, Jacob grows a few hundred cannabis plants on the farm he grew up on, about an hour outside Toronto.
Having a relatively small grow means he can spend a lot of time tending the crop, he says, giving it the attention it needs to create a premium product.
"Not all indoor operations are the same, and not all outdoor operations are the same," he explains. "We grow small scale outdoors – organically, craft, hand-trimmed. And that is the critical difference, I'd say. We are growing very hands-on still, not fields of it. So we can really keep an eye on them, top them, prune them, and work with them."
"I'm with my crop every single day. That helps me watch the quality of the product from seedling to harvest."
One downside of being a smaller grower, though, is some provinces aren't all that interested in, or equipped to manage, small amounts of products. When they had their first crop ready for sale at the end of 2020, he says they had about 40kg in total from a year's work, which was too little for some provinces to show any interest.
"Ontario wouldn't even give us the time of day. This is a big challenge for outdoor growers. Provinces like Ontario, British Columbia, Alberta—who have hundreds of retail stores—if you can't give them, at least say, 20kg a month regularly, that just doesn't work with their business model right now."
Instead, Willow Weed found a path to market in Saskatchewan and Manitoba through a partnership with Benchmark Botanics, and say sales have gone well. With their low operating cost as an outdoor grower, Saffer-Spiro says wholesale prices of around $1-$2 is enough to keep them going.
"We did it last year, amazingly, with just our own bootstrap operations and our own thick skulls, we were able to pull off a harvest and get that to market, and that was the proof of concept we needed to do it again this year, even better. We were the first outdoor product in Manitoba and Saskatchewan, the first in Shelter. And consumers are happy. People are comparing us in the same category as some of the best indoor growers."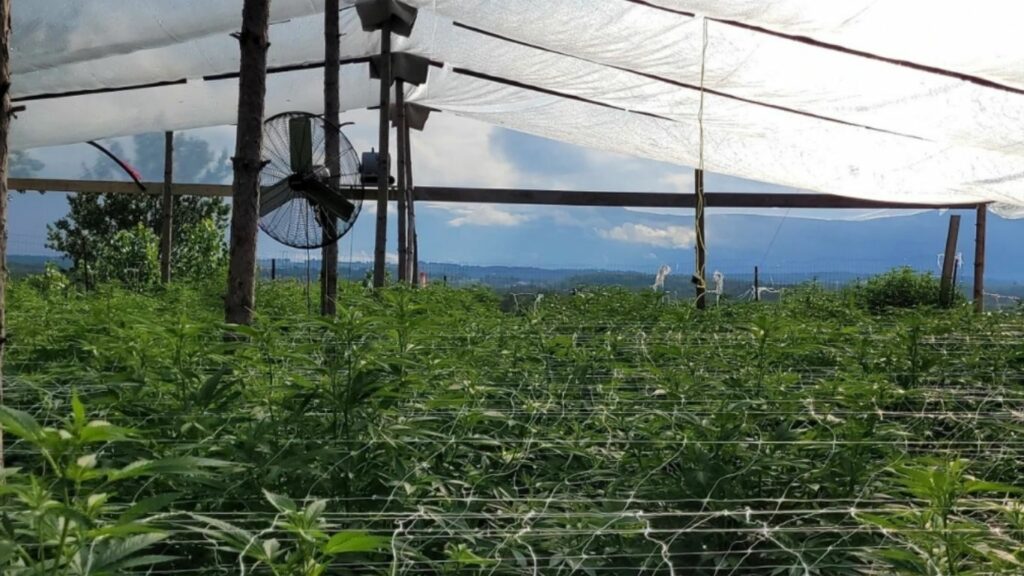 Since income from an annual crop is not always consistent, Saffer-Spiro and his father also run a business selling the same cloth pots they use on the farm. 
"Having additional revenue streams throughout the year is good. We're selling the shovels in the gold rush as well as the gold. And you can't beat the margins on cannabis since we own the land and do all the work ourselves.
"It will take good product to shift that perception. I think just as some of the very large producers have given a bad name to indoor cannabis, there are very large outdoor producers giving a bad name to outdoor cannabis. So I would just say to the consumer, look at the brand, look at who is selling it, how they are growing it.
"And ultimately it's also up to the consumers to show support for the outdoor growers if they are eco-conscious. That's why I'm so passionate about Willow Weed, because I can show people that you can grow cannabis outdoors at a high quality."
Alannah Davis at Advanced Medicinals in Duncan, BC, says they recently finished their first harvest, after getting licensed in October of 2020. They planted about 4 acres on their 80-acre farm, spread out across six different varieties selected for their history and suitability for the region.
Because Advanced Medicinals currently only has their cultivation licence and hasn't built out capacity for large-scale drying, they've opted to sell their cannabis as fresh-frozen. Although fresh-frozen sells for less, often well under $1 per gram, it also means less work, with no in-depth trimming and drying required and all the extra space that entails. One gram of dried cannabis also equals about 5 grams of fresh-frozen cannabis since it is still retaining water weight, meaning getting around twenty cents a gram fresh-frozen would be comparable to about $1 a gram dried.
"We went back and forth a few times on whether to dry or freeze it," explains Davis. "The original design of our facility is to keep it as small and low cost as possible and we just don't have the space to handle 5,800 plants drying. We did end up seeing a fair bit of demand for fresh-frozen because the concentrate market is starting to heat up, so we took that path."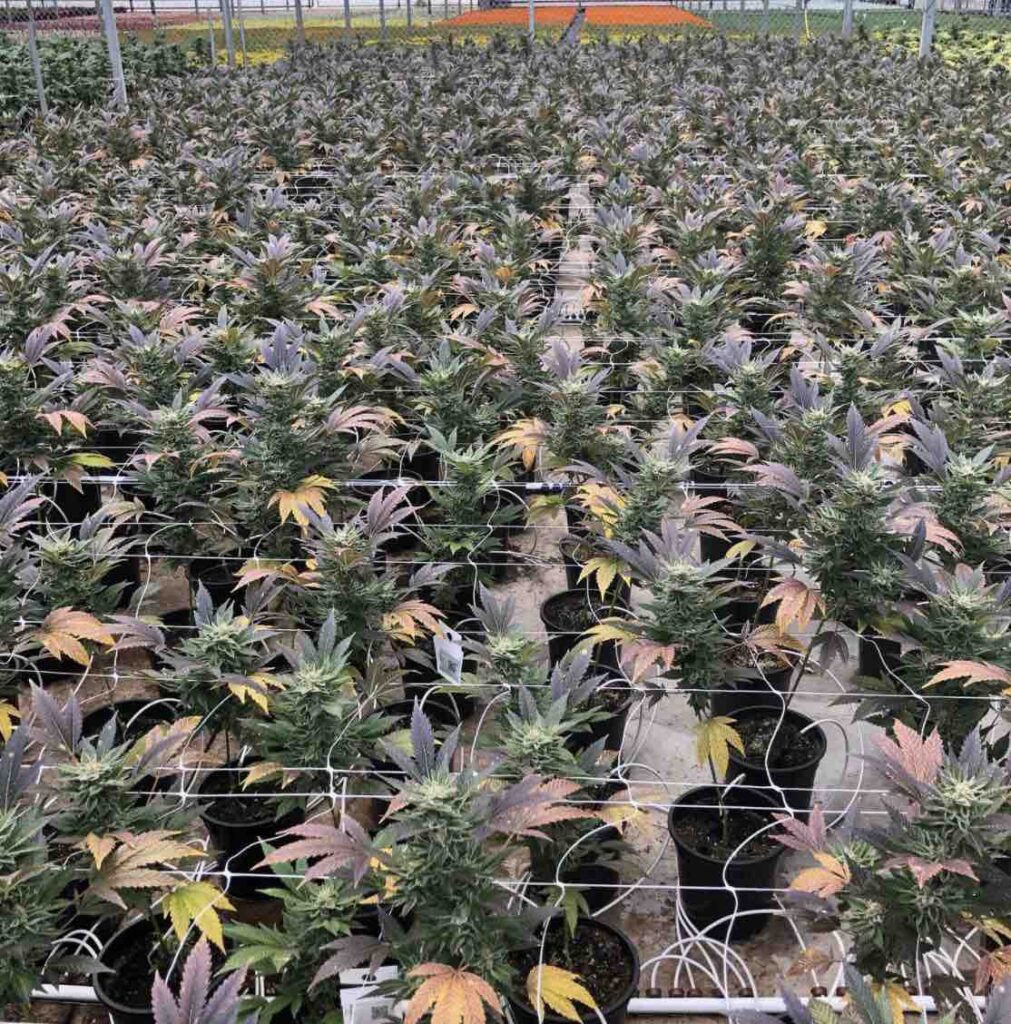 Even with interest in fresh-frozen cannabis for extraction increasing and a very low operating cost for their farm, wholesale prices can still make it hard to squeeze out a living. And despite not having a lot of revenue, licensing fees and CRA fees still apply.
"It's a real challenge to be profitable, even with our low cost as a small outdoor farm. We've now paid two sets of licensing fees before we've even got a crop off, and margins are slim to none with some prices we've seen"
She says they're in talks with a few processors interested in their crop.
Long term, Davis says Advanced Medicinals is looking at building out their own processing area as they would like to have a farmgate store where they can sell their own products, as well as other local products. BC's farmgate model is not solidified yet, but the province has said they are looking at allowing cannabis growers to have a special event permit sometime in the future so that in addition to people coming to the farm to buy cannabis, farmers can also hold cannabis-related events, give tours of their farms, and perhaps hold concerts or overnight visits.
"My long-term vision for the farm is cannabis tourism, a place where we can have events and people can visit like they would a winery. I want it to be a place people can come and learn about cannabis and experience cannabis and just chill on the farm and really enjoy themselves."
Still, that's a ways off and in the meantime, the Davis family's farm needs to ensure they can keep the lights on, so to speak.
"The path of having a legal cannabis business hasn't been easy", says Davis. "If I had to do it again, honestly I might not. But we're here now, and we're learning a lot. I'm very passionate about cannabis and I do see a lot of opportunity in the industry. Hopefully, the BC government understands these challenges and can find ways to streamline sales for us."
–Featured image via Advanced Medicinals
---