The legal cannabis industry in Canada has also generated $15.1 billion in government tax revenues, with $3 billion of this generated in Ontario. 
A new report from Deloitte and the Ontario Cannabis Store shows that the cannabis industry is in "robust health" three years into legalization.
The report notes the significant economic contribution the cannabis sector has brought to Canada but also cites some challenges facing the industry, especially when it comes to diversity within the industry as well as its environmental sustainability.
Overall, the industry has created $11 billion in sales across Canada, as well as $29 billion in capital expenditures. This has largely been due to new facility construction. 
This has created 151,000 new jobs in Canada, either directly or indirectly connected to the cannabis industry, contributing $43.5 billion to Canada's GDP. Of these, 48,000 of these new jobs were created in Ontario, with $13.3 billion contributed to the province's GDP.
According to the report, utilizing data from Statistics Canada, total sales for cannabis across Canada from 2018 to 2011 were $11 billion. Two-thirds of these sales were for non-medical cannabis. In Ontario, total sales were $3.8 billion.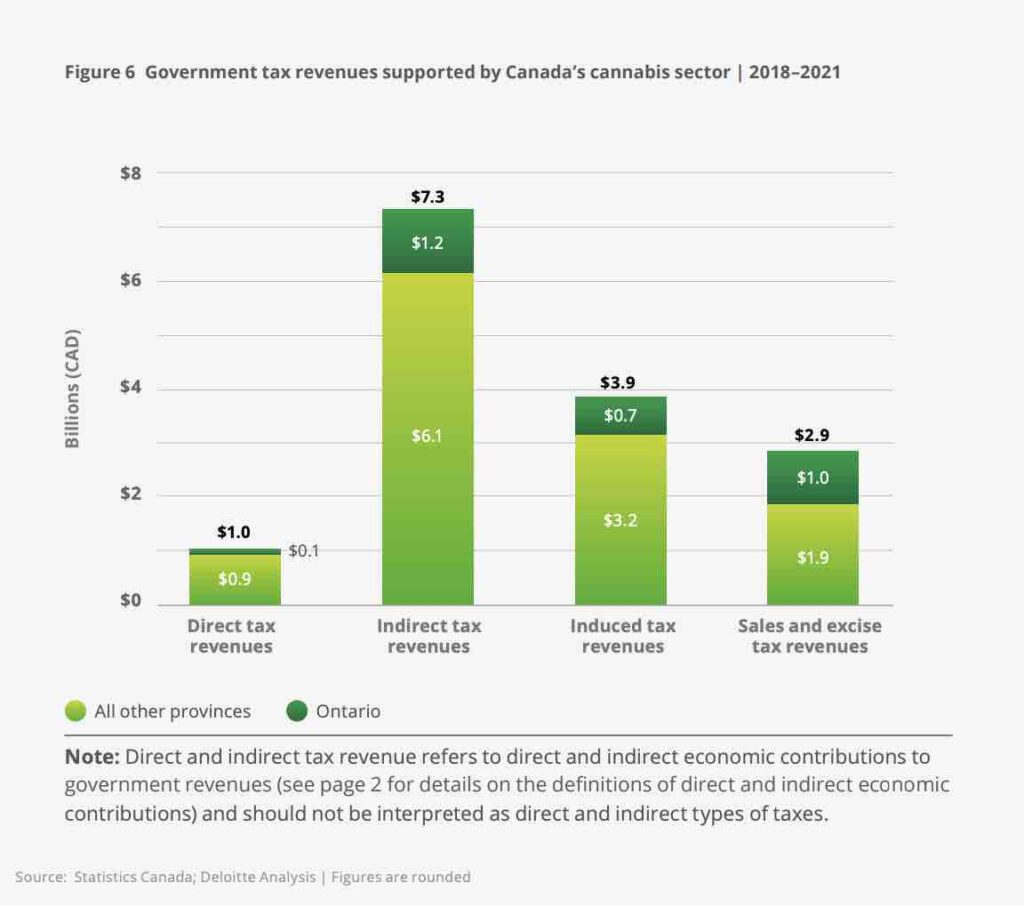 The legal cannabis industry in Canada has also generated $15.1 billion in government tax revenues, with $3 billion of this generated in Ontario.
From 2018 to 2021, there was $1 billion in direct taxes from cannabis production and retail across Canada, $7.3 in indirect taxes and $3.9 in induced taxes. On top of this, consumers purchases generated $2.9 billion in sales and excise taxes
In Ontario, cannabis retailers and producers generated about $142 million in direct taxes, $1.2 billion in indirect taxes, and $673 million in induced taxes, while consumer purchases contributed another $1 billion in sales and excise taxes.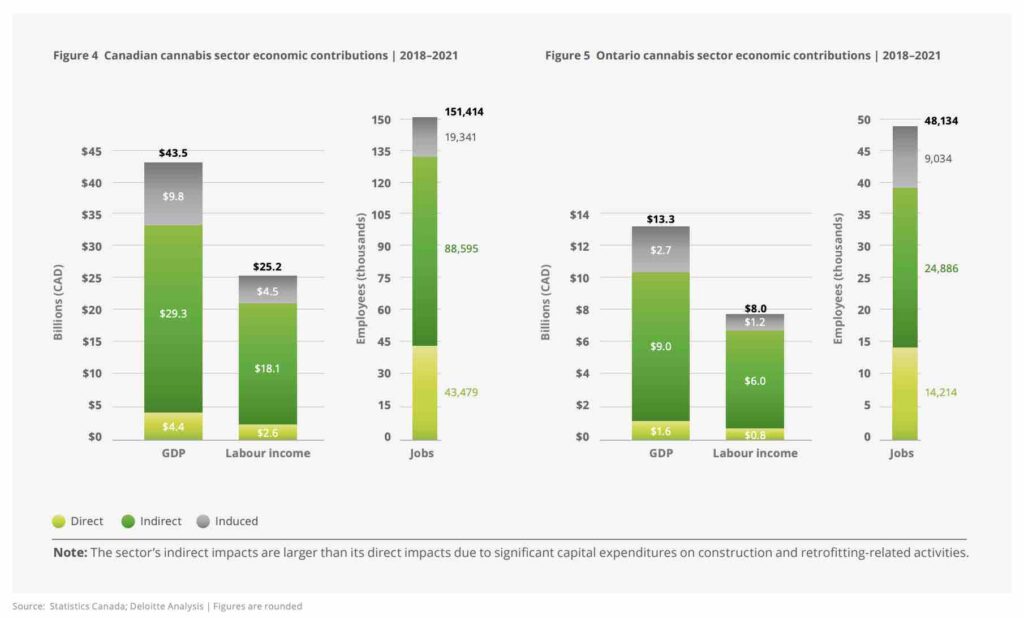 Despite this robust performance, the report also argues that the industry still has a long way to go in becoming more inclusive, with the vast majority of the industry, especially at the executive level, still being white men. The report points to various programs in the US that have sought to create more inclusivity in the industry, especially in more racialized communities and in relation to women's participation in the industry.
The industry also needs to take better strides to manage its environmental impact. According to the report, issues such as water consumption, plastics from packaging, energy use, and greenhouse gas production are all significant concerns facing the industry.
For example, each kilogram of dried cannabis flower grown inside produces on average 5,184 kg in average life cycle CO2 emissions, largely due to electricity and natural gas use. Although a portion of Canada's cannabis supply comes from outdoor farms, the majority of it comes from indoor facilities or hybrid greenhouses that rely heavily on additional light sources and heating. Indoor facilities also often require a significant cooling capacity to keep lighted rooms cool, especially in the summer.  
The report concludes that despite this robust financial impact on the country, the industry now needs to make more strides in regard to these environmental and social justice issues if it is to embrace its full potential.
---