Alberta sold just over 83,000 kg of cannabis worth almost $470 million in the fiscal year ending March 2021, but the agency still lost $12 million due to operating expenses, according to their annual report.
The total cost of these sales for the provincial agency was just over $435 million, with a net revenue of just over $34 million, including both sales to retailers as well as online sales. According to the AGLC, online sales were just 1.1% of total cannabis sales for year-to-date (April 1 – Oct 31) in the province.
The AGLC's operating expenses for this same time period for cannabis was $49,388,000, meaning the agency operated at a loss of $15,085,000. The AGLC report includes an additional $3,052,000 in "other revenue" relating to cannabis, bringing the net loss to $12,033,000. Other revenue includes various fees and licenses related to cannabis. Operating expenses include costs related to warehousing and distribution of cannabis, resources required to support the cannabis line of business, hosting/maintenance costs for Alberta Cannabis platform, etc.
The loss of $12 million was far below the estimated operating loss during this period of $36 million.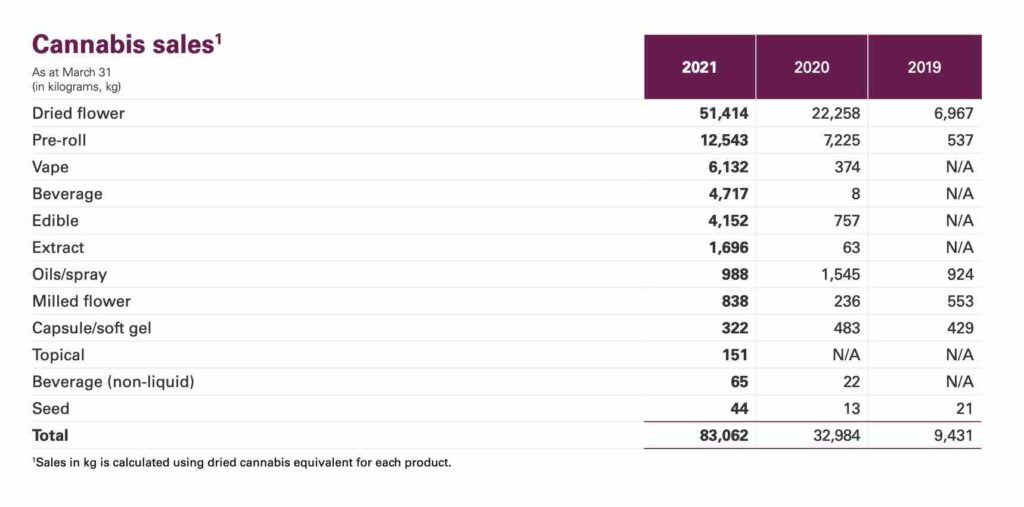 Dried flower was the largest seller with just over 50% of the market for 2020-2021. Almost 65,000 kg of dried flower (including pre rolls and milled) worth nearly $332 million were sold.
Cannabis sales in the province increased by 76.7% in 2021 compared to the year prior, with sales increasing in all categories in terms of dollars sold except capsule/soft gels, which saw a decline from $6,627,000 in 2020 to $5,733,000 in 2021.
After dried flower, vapes were the largest seller, followed by oils and capsules, then edibles, then extracts, then beverages, followed by topicals, and finally seeds.
Net revenue in 2020 was nearly $265 million, with a net profit of about $18 million after subtracting operating costs of about $247 million.

According to the AGLC, revenue from sale of cannabis in Alberta is recognized at the point in time when control of the goods is transferred to the customer on delivery. Payment is required before the goods are transferred.
Cannabis product offerings in Alberta increased by more than 800 skus over last fiscal year while the number of Alberta cannabis retailers increased by over 40% and the number of licensed producers supplying cannabis products increased over 80%.
The AGLC estimates that sales of non-medical cannabis through the province's legal supply chain captured 61% of the total market, an increase from 38% the year prior.
Legislation was recently introduced in Alberta that, if passed, would end the AGLC's management of online sales in the province, instead allowing private retailers to take on these kinds of sales. The program is expected to begin in 2022, pending passage of the bill.

Regulatory changes in Alberta over the past year also allowed charitable organizations to conduct fundraising activities in retail cannabis stores, and simplified cannabis product shipping, delivery and return procedures.
The AGLC has 17 contracts with Alberta-based licensed cannabis producers at time of reporting and conducted 7866 cannabis inspections of retail stores. As oft March 31, 2021, 496 cannabis disclosures were received, with 411 for gaming in the same time period.
Fines and other penalties were issued for things like unlocked cannabis, failure to check ID of those under 25, selling under the minimum price, providing or permitting a person to sell or give cannabis to a minor in licensed premises and can include fines of hundreds or even thousands of dollars. A report last year noted nearly $100,000 in fines issued to cannabis businesses since legalization began.
More than $20,000 in fines have been paid since November of last year. Businesses can also opt to close for a few days in many cases rather than paying the fine, but businesses generally opt for the fine.