A Nova Scotia cannabis producer has recalled one lot of pre-rolls due to inaccurately labelled THC and CBD levels, sold in PEI and Nova Scotia. 
The recall involves one lot of Aqualitas Inc.'s dried cannabis pre-rolls sold under two different brand names.
Green Harvest Organics Islander CBD pre-rolls were sold through authorized retailers in Prince Edward Island, and Reef Organic CBD Chill Packs (Charlotte's Angel) were sold through authorized retailers in Nova Scotia.
The recall is because the products were listed with incorrect cannabinoid values. The THC, total THC, and CBD labelled values are lower than the actual value, while the total CBD labelled value is higher than the actual value.
The listed THC was .92 mg/g, while the actual value is 13.26 mg/g. The total THC was listed as 3.99 mg/g while the actual amount was 65.5 mg/g. CBD and Total CBD were listed as 9.27 mg/g and 80.1 mg/g respectively, while actual levels were 13.45 mg/g and 65.6 mg/g.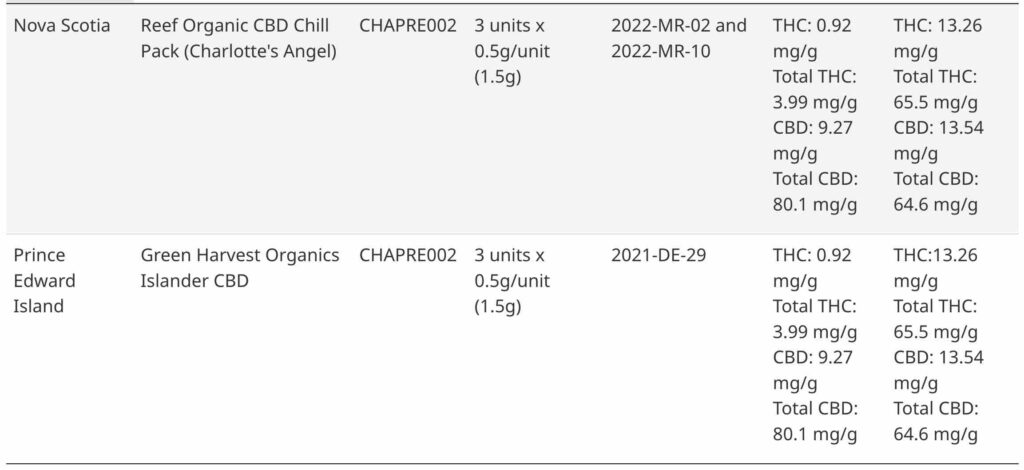 According to Health Canada, Aqualitas has received two adverse reaction reports related to the product Reef Organics CBD Chill Pack, and Health Canada has not received any adverse reaction reports for the recalled lot. Despite these adverse reactions, neither Health Canada nor Aqualtis has received any complaints related to the recalled lot. 
There were 632 units of recalled products sold from December 31, 2021 to May 10, 2022.
Consumers that have purchased the affected product and wish to return it may visit the retail store where the product was purchased. They can also report any health or safety complaints related to the use of this cannabis product or any other cannabis product by filling out Health Canada's online complaint form.
---