Cannabis sales continue to increase as prices continue to drop in BC, according to a new wholesale quarterly report for April, May, and June, 2023.
Sales of smaller SKU dried flower, such as 1-gram and 3.5-grams, declined overall, while larger formats, such as 7-gram, 14-gram, 28-gram, and 30-gram, increased. Sales of cannabis extracts, including the increasingly popular infused pre-roll category, saw the most significant year-over-year increase of 76.4 percent in total units sold and a 51.5% increase in year-over-year sales.
The BC LDB, which oversees wholesale cannabis sales and distribution in the province, saw more than thirty thousand kilograms of wholesale cannabis sales (30,655,160 grams), a more than 32 percent increase from the same period last year. Wholesale increased by nearly 16 percent to more than $127 million, while the number of stores in BC increased from 442 in the same period in 2022 to 487 at the end of June 2023.
The average price of cannabis also continued to decline in the province to a new low of $4.14, while the average cost of dried cannabis dropped to $3.40 a gram.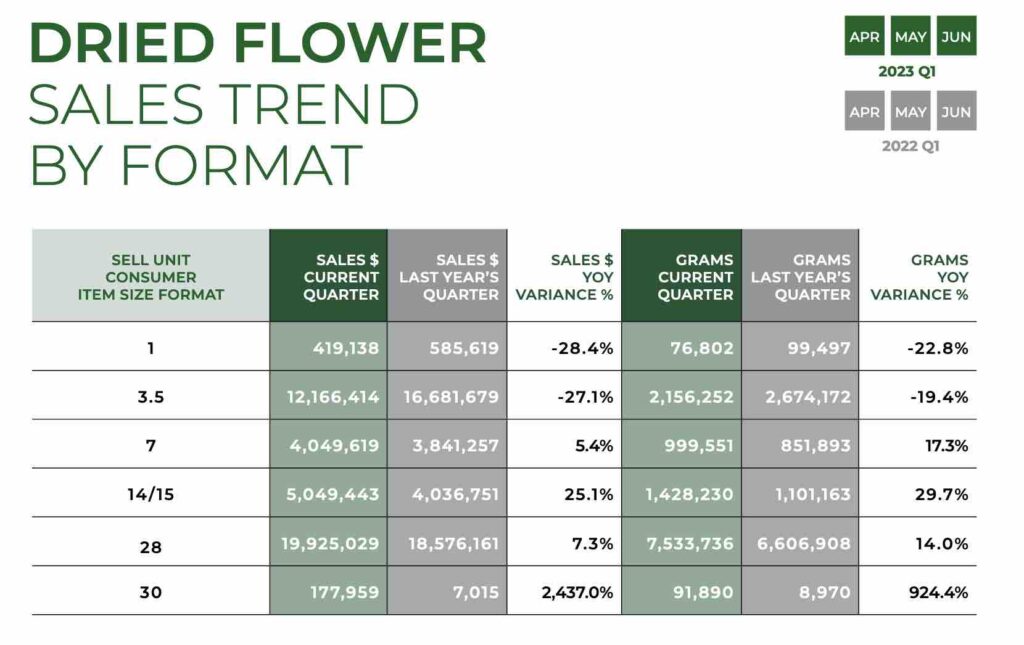 Total dollar sales of 1-gram, 3.5-gram, 7-gram, 14-gram, and 28-gram offerings of dried flower priced at more than $5 a gram all declined significantly compared to the same period last year. Eighths selling for $5 a gram or less increased, as did 7-gram and 14-gram SKUs. The 28-gram offerings priced at $3 a gram or less increased while all other prices declined.
Dollar sales of beverages increased by just over 20% year-over-year, while edibles sales increased by just 0.3 percent. Overall, dried flower sales were down 4.4 percent, and ingestible extracts like cannabis oils and capsules, driven by high sales of now-discontinued products like Jolts and Glitches, were up by 5.6 percent.
Inhalable extracts like vape pens, shatter, hash, and rosins, as well as infused pre-rolls, increased by a whopping 56.5 percent, pre rolls sales increased by 14.2 percent, while seeds sales dropped by 7.1 percent and sales of cannabis topicals decreased by 11.1 percent.
BC's direct delivery program, which launched in August 2022—allowing some small-scale cannabis growers located in the province to ship products directly to retailers without going through the LDB's central distribution warehouse—saw 779,775 grams sold for a total of $3,665,299 in sales.
The average price per gram sold through the direct delivery program was $4.70, or $4.02 for flower.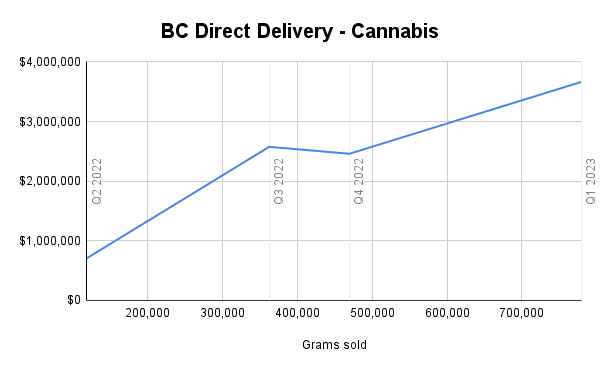 ---