BC's Chamber of Commerce criticizes province for allowing municipalities to create "cannabis deserts" that hold back the industry.
The BC Chamber's Cannabis Working Group has released a report detailing their recommendations on how to properly support the legal industry in the province, including scathing criticism of municipalities who have chosen to ban cannabis stores. 
"Through the use of restrictive zoning bylaws or a refusal to participate in the provincial licensing process, several municipalities have effectively prohibited access to legal cannabis in their region," argues the 33-page report.
Dubbing these areas as "cannabis deserts", the working group calls on the province to work with these municipalities to encourage them to allow retail stores for the nearly 1.4 million British Columbians who live within the 19 municipalities without any physical cannabis retail locations.
This accounts for more than one-quarter of the entire province not having access to a legal cannabis store in their city or town, including major cities in BC's Lower Mainland like Surrey, Richmond, Burnaby, and Coquitlam. Only half of BC's ten largest cities have legal cannabis stores currently.
Similar limitations exist on Vancouver Island, with most retailers located in Victoria and Saanich, leaving 10.6% of the island's residents without a local physical retail option.
This uneven distribution of legal stores also creates opportunities for unlicensed retailers, says the working group report. BC currently lists over 400 licensed retailers open for business, with over 60 in the Metro Vancouver region, more than 20 in the Victoria/Saanich region and the Kelowna area, 16 in Nanaimo, and 15 in Kamloops, with the rest spread out in small towns across the province.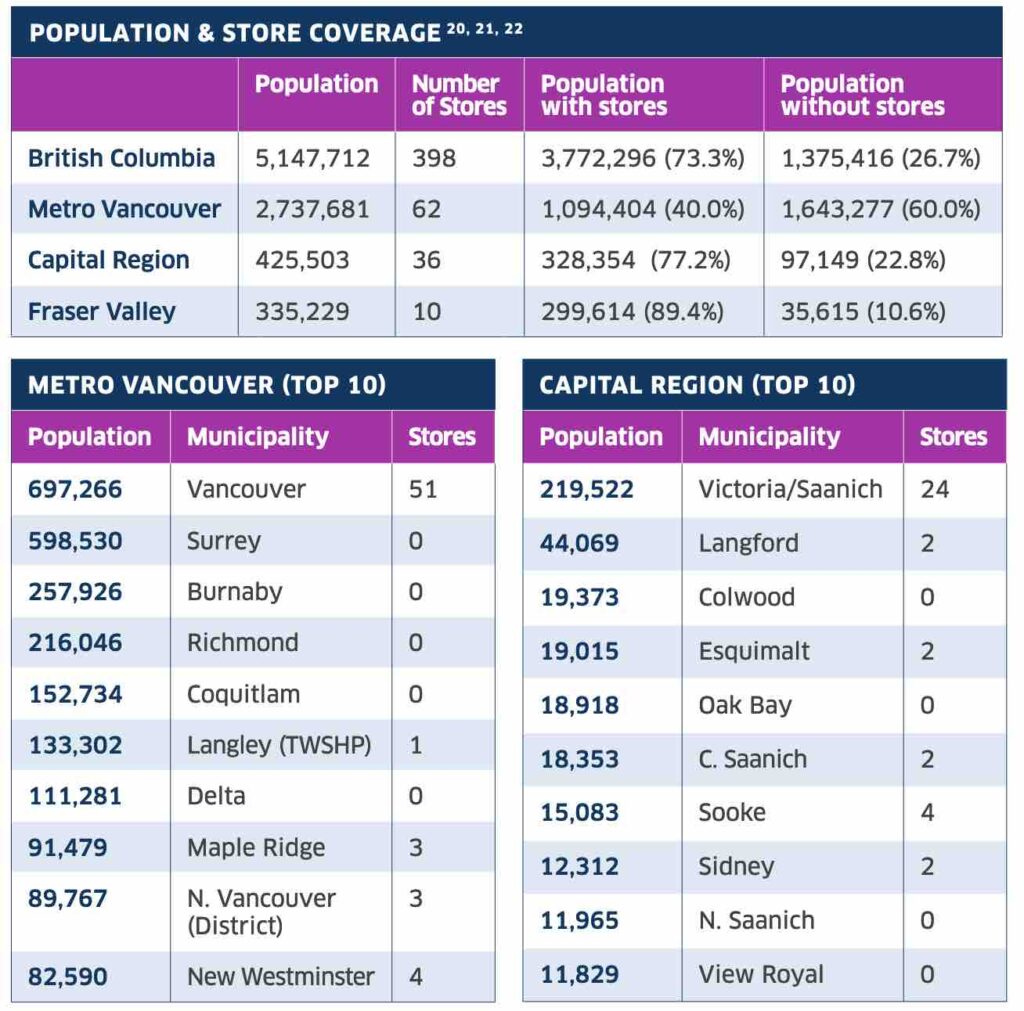 About 30 of the licensed retail cannabis stores in BC are run by the province as the BC Cannabis Store, while the rest are privately owned.
---