BC's Community Safety Unit, along with Victoria Police were seen raiding the new location of the Victoria Cannabis Buyers Club today.
The medical cannabis dispensary has been facing fines and repeated enforcement action from the provincial agency for the past few years.
Community Safety Unit (CSU) is the provincial agency charged with monitoring and enforcing the province's retail cannabis rules and regulations. Victoria Police say they were only in attendance to ensure everything unfolded safely. 
The club's founder, Ted Smith, told the Time Colonist that the CSU seized said between $80,000 and $100,000 worth of products. In comments to the media, as well as on the club's social media accounts, the club says they plan to open again soon.
The Victoria Cannabis Buyers Club—one of the oldest of its kind in the country, dating back to the mid-90s—faced a recent eviction from its previous location. Although they initially stated their intent to resist the eviction, they recently moved to a new location.
The VCBC blames the provincial government.
"The brutality caused directly by the Province is felt mostly by our members," tweeted the VCBC today. "Some won't be able to go to work, others will be stuck in bed, in pain. We have members that can't eat food if they're not medicated! This is #medicaltyranny, @bcndp is responsible for this."
The CSU issues compliance orders to unlicensed cannabis retailers that impose a monetary penalty in an amount equal to two times the retail value of the cannabis that the person sold, possessed for the purpose of sale, or produced in contravention of the Cannabis Control and Licensing Act.
The CSU has issued nearly $1.5 million in fines, conducted 320 'education visits', conducted 91 enforcement actions, and has seen nearly 200 illicit stores close since legalization. They have also seized nearly $35 million worth of cannabis and have investigated 1,205 websites involved in the illegal sale of cannabis, and as well have "disrupted" 796 of those websites.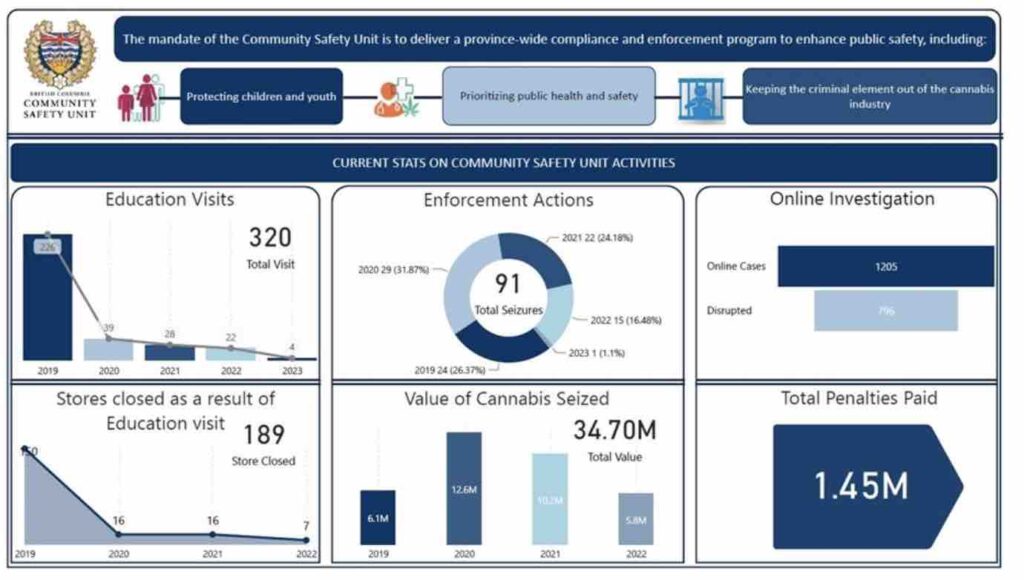 ---