BC has released their "what we heard" report based on a 2022 survey exploring the possibility of cannabis consumption spaces.
The survey—conducted both online and via telephone—showed high levels of support for consumption spaces from cannabis consumers, as well as concerns with the potential for co-location of cannabis with alcohol and impaired driving.
In total, 61% of telephone survey respondents and 34% of online survey respondents said they supported cannabis consumption spaces. The report also notes that it's possible the different rates of support had to do with self-selection bias, with telephone sampling being random, while online surveys could have been more targeted.
Younger people were also more likely to support cannabis consumption spaces than older Canadians.
Feedback from this survey will help inform decisions by the provincial government on if it will allow cannabis consumption spaces, and if so, how this could be accomplished.
While many often think of smoking or vape lounges, the province defines cannabis consumption spaces more broadly to include cannabis-specific consumption locations, consumption at festivals or other events, or even cannabis consumption in "non-cannabis primary spaces."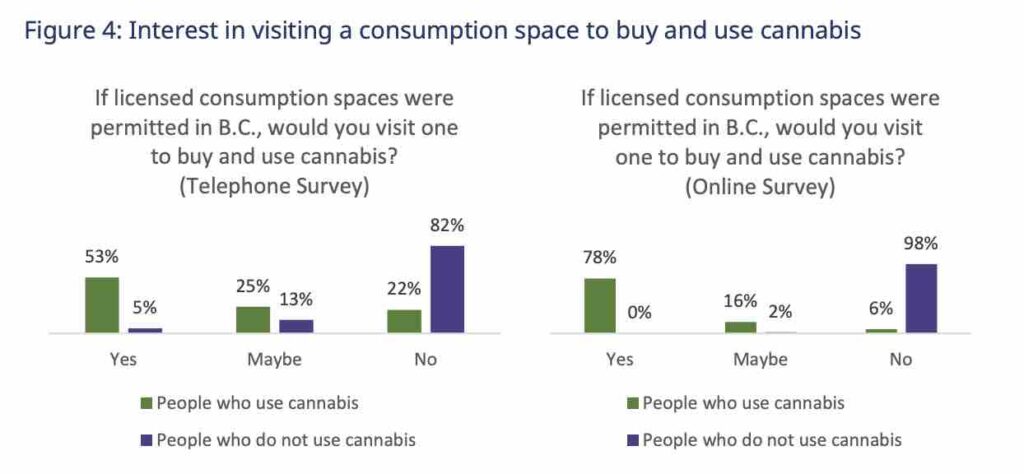 Due to laws that prevent smoking and vaping indoors, such spaces are not being considered.
BC sought public feedback earlier last year on what cannabis consumption spaces might look like in the province.
"Health and safety are our utmost priorities as we consider how provincial cannabis policies could evolve," said Mike Farnworth, Minister of Public Safety and Solicitor General. "This report provides valuable insights into people in B.C.'s perspectives on cannabis and will help guide our work to support a strong, diverse and safe legal cannabis sector across the Province."
Most survey respondents who said they use cannabis also said they were in support of consumption spaces, as were cannabis retailers, producers, and industry associations who provided written submissions.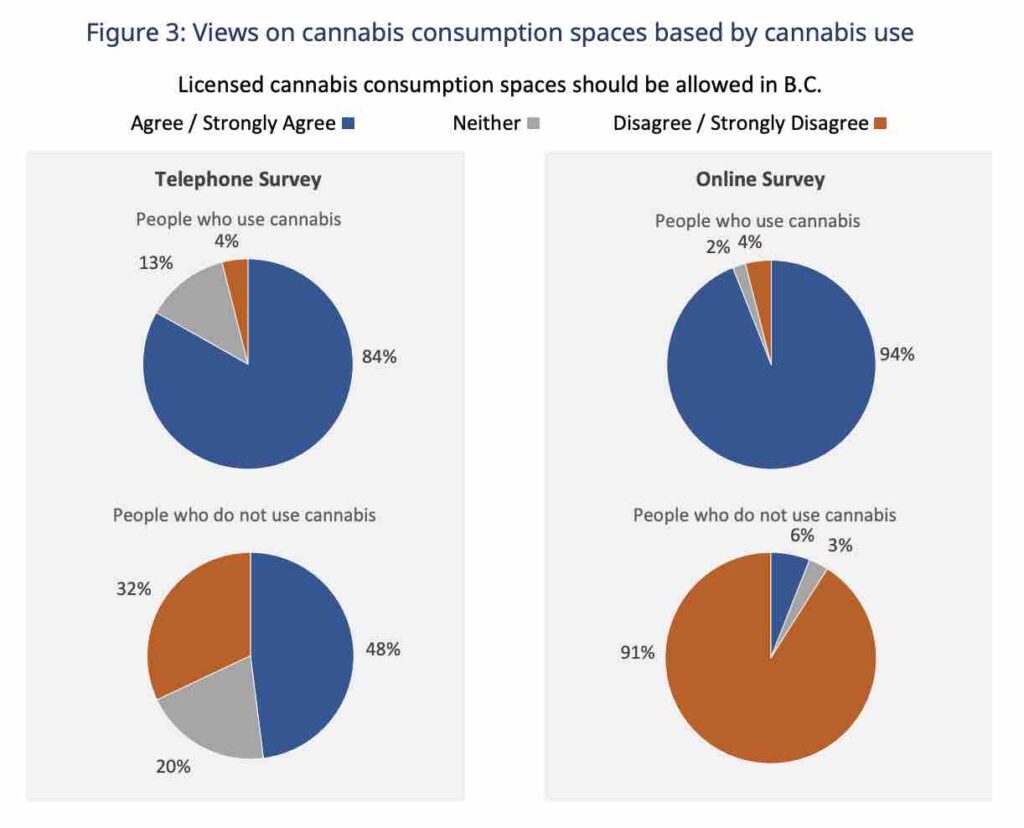 However, non-cannabis consumers as well as some public health and safety organizations and local governments were overall not supportive of such spaces. 
In total, 730 people took part in the telephone survey, while 15,362 people completed the online survey and 66 individuals, businesses and organizations provided written submissions.
"Exploring the feasibility of cannabis-consumption spaces is another way B.C. is working to support the success of the industry," said Brittny Anderson, Parliamentary Secretary for Tourism. "With the recent introduction of a licence for farm-gate sales, understanding public opinion on cannabis-related hospitality and agri-tourism activities is a practical next step. The feedback in this report will play an important role in the development of provincial policies."

Co-location with alcohol
Being able to purchase and consume cannabis products like edibles and beverages in locations where alcohol is also sold and consumed was a contentious subject. Among those who responded to the telephone survey, 42% supported such a model, while 41% opposed. In the online survey, 64% of respondents opposed such a model while only 32% supported it. Those who use cannabis were more likely to support co-location.
Concerns with dual consumption and intoxication were among the chief concerns from public health officials who opposed a co-location model, while most cannabis industry-affiliated organizations were supportive of co-location.There is no expected timeline for the province's next steps on any possible regulations for cannabis consumption spaces. The full report is available here.