British Columbians purchased nearly 85 thousand kilograms of legal cannabis last year, spending more than $420 million.
The BC LDB's newest annual report—dated July 26, 2022 but released this final week of August—attributes this 28% increase in cannabis sales from the past year to an increase in retail outlets, increased product selection, and a declining consumer price.
From March 31, 2021—March 31, 2022, the province added 98 new private cannabis stores and eight new public BC Cannabis Stores (BCCS).
Cannabis sales continue to be dominated by dried flower, pre-rolls, and extracts and concentrates, accounting for 91.5% of all cannabis sales in the province.
The LDB also more than doubled its wholesale cannabis product assortment (from 1,062 Stock Keeping Units (SKUs) last year to 2,163 SKUs this year). By year-end, the LDB was wholesale distributing cannabis products to 403 private cannabis retailers and 33 government-run BCCS locations, along with the one public online store at BCCannabisStores.com.
The province also expanded its product assortment to 2,163 from 130 licensed suppliers (compared to 1,062 products from 99 licensed suppliers the prior year) and onboarded 147 products from 36 BC micro cultivators.
The LDB also launched its new Indigenous Cannabis Product (BCICP) program, with a handful of products from Indigenous producers listed.
The provincial distributor says the average wholesale price per gram of dried cannabis flower decreased by 16.5% from the prior year's average of $6.39 a gram to $4 a gram. This price decline is driven by larger format SKUs like ounces and half ounces but is also reflected in other product categories.
The LDB also launched their Cannabis External Sales Data program in the most recent fiscal year, which retailers and producers can purchase for insight into provincial sales data. As of the date of the report, twenty licensed producers were enrolled in the paid reports service.
Interestingly, the report—dated July 26 but not posted publicly until this week—says the planned implementation of direct delivery was in September. This timeline had been previously announced, leading some to be surprised when an implementation of August 15 was announced in July.
For the 2021/22 fiscal year, the LDB's total net income and contribution to government was $1,189 million. This was an increase of $90.3 million compared to the department's expectations and $28.4 million above the prior year. Of these, Cannabis Operation's net income, before Head Office expense allocations, was $22.4 million and is included in the LDB net income of $1,189 million. Cannabis sales were $421.4 million.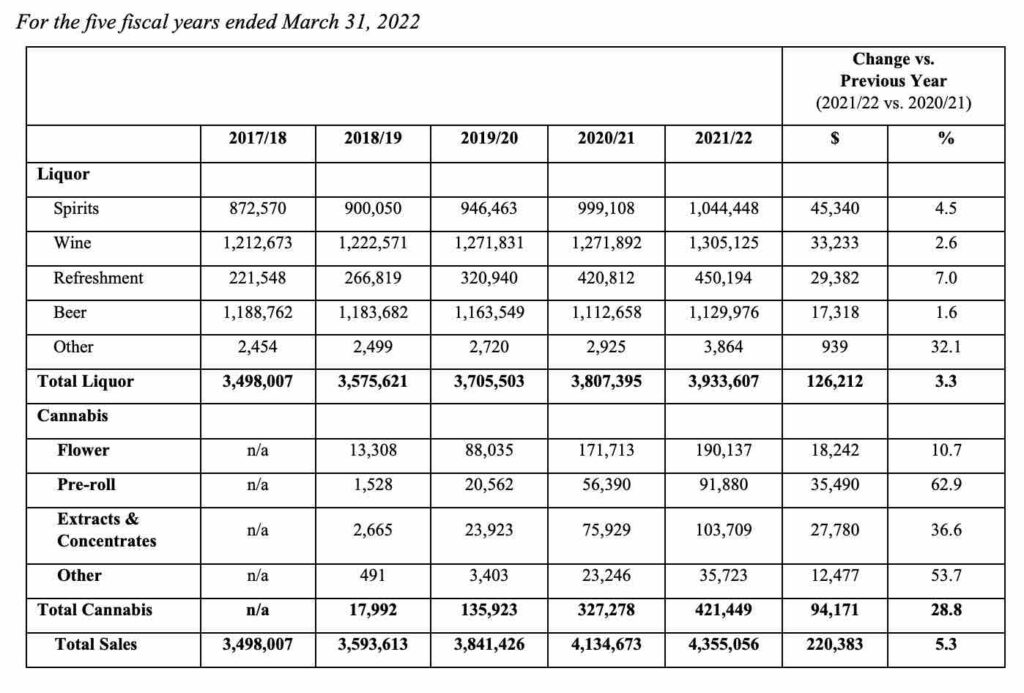 The LDB report also notes that as cannabis sales increase, the LDB gross margin rate declines as lower margin products increase as a proportion of total LDB sales.
As of March 31, 2022 there were 439 brick-and-mortar stores in the province—33 BCCS and 406 private stores. In fiscal 2021/22, there were 1.7 million transactions through BCCS and its e-commerce channel at BCCannabisStores.com, representing a 45.5%increase compared to the 1.1 million transactions in the prior year.
The average cannabis retail transaction value in fiscal 2021/22 was $57.11, a decrease of 8% compared to the average transaction value of $62.05 in the prior year. The LDB attributes this decline to the declining price of cannabis.
Product is also moving through the distribution centre faster. For fiscal 2021/22, the wholesale and retail inventory for cannabis in the province turned over seven times, indicating that inventory was held on average for 49 days. In comparison, fiscal 2020/21 wholesale and retail inventory turned six times, with inventory being held on average for 63 days.
LDB sales of $4,355 million increased $220.4 million from the previous year and were driven by an increase in beverage alcohol sales of $126.2 million and non-medical cannabis sales of $94.2 million.
---