BC has released its newest survey on cannabis use, the first since 2018, showing changes in the cannabis market and consumer habits.
The BC Cannabis Use Survey, conducted in 2021, covers a wide range of topics relating to cannabis use, and how it has changed since the beginning of cannabis legalization in Canada.
The survey brought in responses from nearly 25,000 British Columbians.
According to the survey, 71% of British Columbians who use cannabis now purchase it from the legal market. Another 40% report getting it from friends, 19% from family, and another 14% grow their own.
There was a slight increase in those willing to report cannabis use at least once in the past year, from 28% prior to legalization to 32%.
Similar to 2018's report, around one quarter (24%) of those who reported using cannabis say they do so for medical purposes, another 37% report using it for non-medical purposes, while nearly half (39%) say they use it for both medical and non-medical purposes.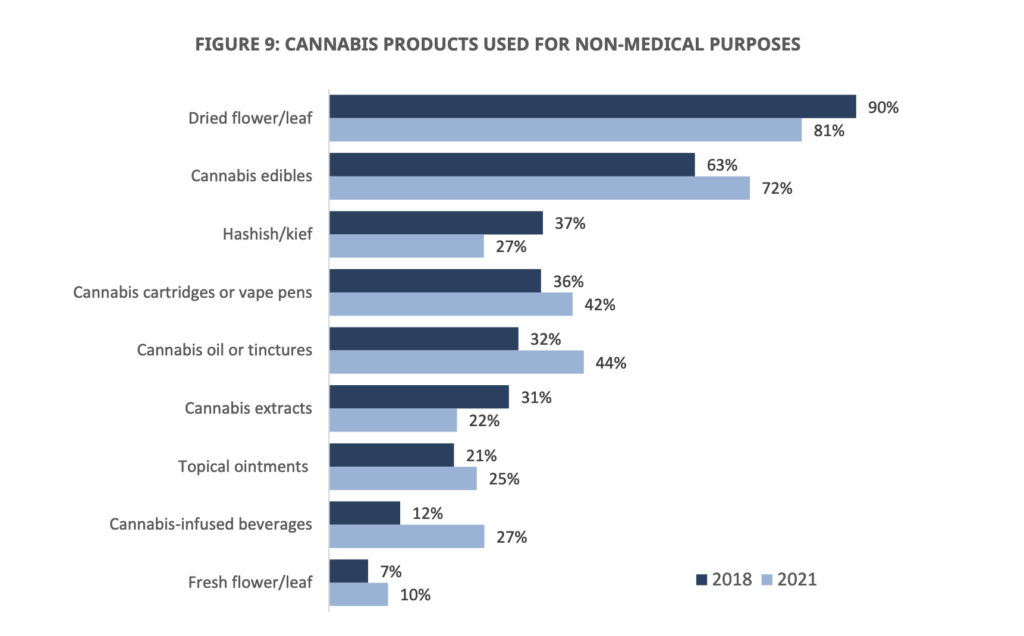 Of those who use cannabis for non-medical purposes, around half (52%) use it weekly or daily, while 48% use it monthly or less often. These figures are similar to those from 2018.
About one-quarter (24%) of those who use cannabis for non-medical purposes do so every day (or almost every day), and more than half of those using cannabis daily (59%) report using it more than once per day.
Although dried cannabis constitutes to be the most common form of consumption, products like edibles, beverages, oils, tinctures, and vaping products are increasing in popularity.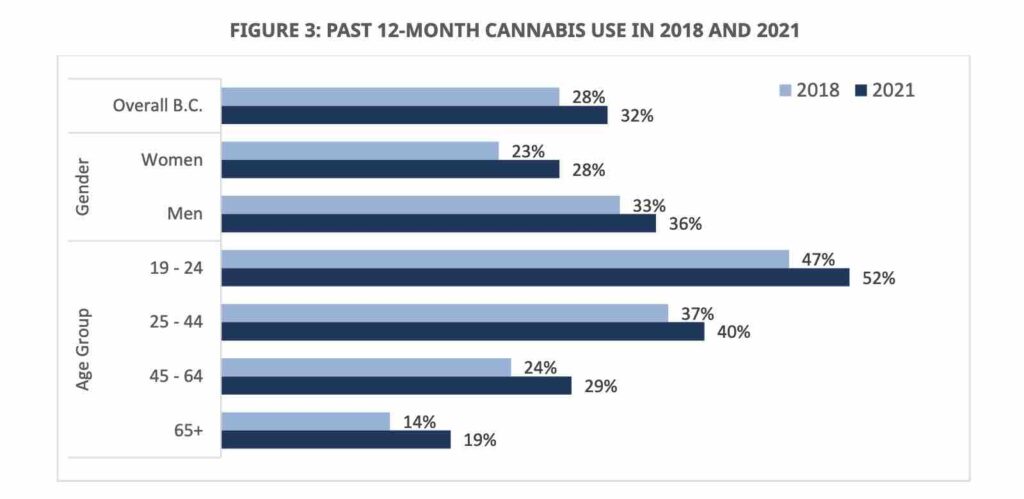 Legal vs Illegal
While the survey shows that the amount of people purchasing cannabis from an unlicensed store has declined significantly (17% compared to 56% in the 2018 survey), those who say they purchase from an unlicensed online source increased from 1% to 9%.
This reflects an overall shift in the illicit market in Canada from brick-and-mortar stores to online sources, which law enforcement says are more challenging to target.
Although legalization has lowered the stigma associated with cannabis use, 21% of respondents said they still experience judgment surrounding their use.
Fewer cannabis consumers now say they drive after using cannabis compared to the 2018 survey, from 27% to 14%
Methodology
The survey was conducted by telephone for 10 weeks between August and October of 2021, following field tests in April and June 2021. Questions were asked in English, Punjabi, Cantonese, and Mandarin, and only those aged 19 and older were eligible to participate.
Those respondents who had consumed cannabis in the past 12 months were also invited to complete a supplementary online survey. In total, 24,794 people responded to the telephone survey, and 8,473 reported having used cannabis at least once during the past 12 months. Of those who reported using cannabis, 2,420 completed the online survey.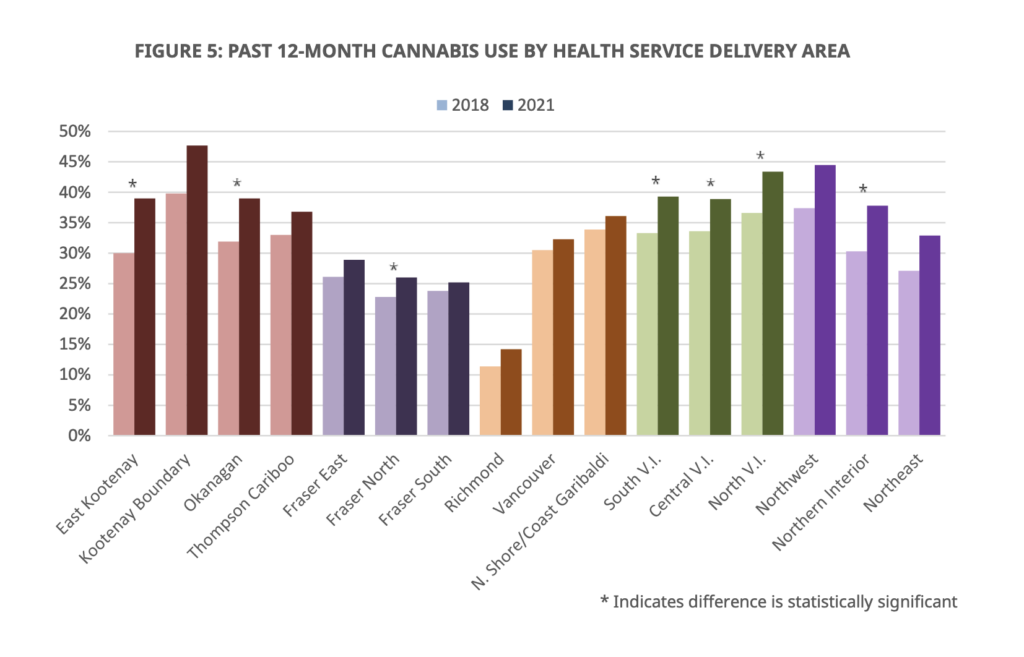 Demographics
Responses were fairly evenly divided between men and women (with 134 respondents who identified as "gender diverse"), across age groups and geographic locations within the province, and representing a variety of economic, education, and racial backgrounds.
Men tended to be more likely to consume cannabis, a trend reflected in many similar surveys in Canada and around the world.
Cannabis use was more common among Indigenous respondents (50%) than the non-Indigenous population (32%). Those who reported being born in Canada were also more likely to report past 12-month cannabis use (38%) than those born outside of Canada (18%) or those who identify as a visible minority (20%).
The survey also differentiated responses from different regions of the province, with reported use being less common in the Fraser Health Region and Vancouver Coastal Health Region than in other parts of the province.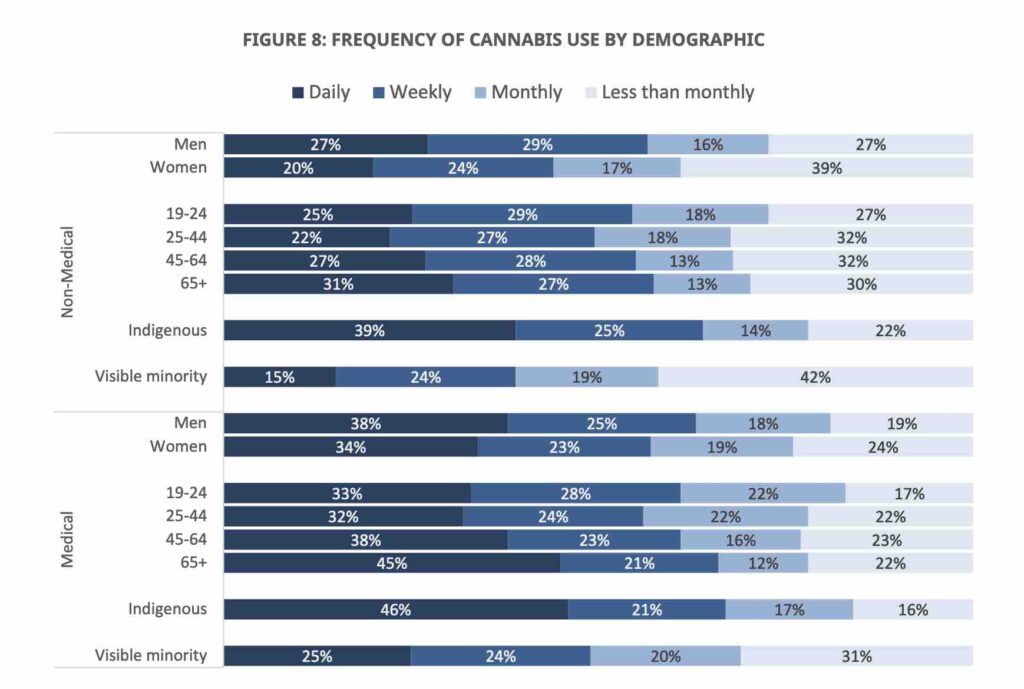 An even greater distinction is available when looking at BC's 16 Health Service Delivery Areas (HSDA), with the Kooentays showing the highest rate of use while Richmond, which has banned cannabis stores, shows the lowest.
The survey also notes its many limitations, such as the distinction between those willing to report use and actual use. It also highlights the need to better investigate how legalization may have impacted cannabis use for those under the legal age of access (19) and the impacts of cannabis use compared to other drug use, such as alcohol.
---