A new report from Statistics Canada shows that cannabis receipts – which include recreational cannabis since October 2018 – totalled over $1 billion in the first quarter of 2020.
The report, part of a larger report on all crop receipts in Canada, showed a total of $9.3 billion in the first quarter, up $339.7 million, an increase of 3.8% from the same time period in 2019. Without cannabis crop receipts, this number would have declined 4.7%
Farm cash receipts are primarily based on the monthly prices of various commodities, as well as quantities sold. The report also notes that Ontario accounted for over 40% of those cannabis receipts. As of this May 22, Ontario is home to 158 of 388 federal cannabis cultivation and/or processing licenses, or about 41% of total licenses.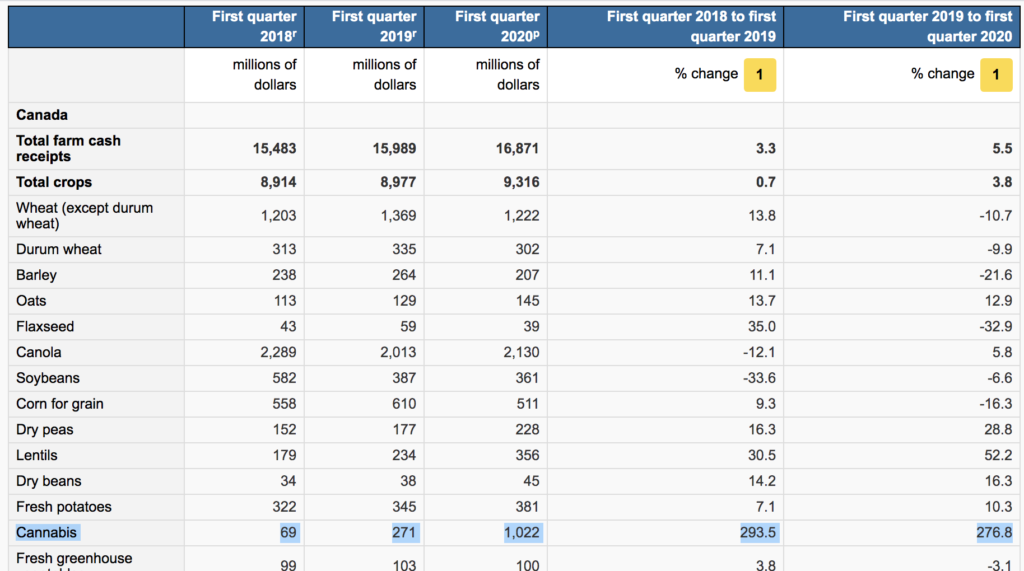 The quarterly report, last released in November of 2019, has shown continuous growth of farm receipts, over several quarters, largely buoyed by cannabis sales since legalization began on Oct 17, 2018. Statistics Canada notes that cannabis receipts began being added to total farm receipts by Statistics Canada in 2016.
A previous report shows that farm cash receipts from January to September 2018 shows that cannabis sales had totalled $240.2 million in the first three quarters, an increase of 81.3% from the same period a year prior. These totals account for sales from, at the time, exclusively licensed medicinal producers. At that time, cannabis was the main contributor for a 9.5% crop receipt increase in New Brunswick. For more information on farm cash receipts and net farm income for 2019, see the "Farm income" release in Statistics Canada's Daily report.
Previously, farm cash receipts, which includes market receipts from crop sales, livestock sales and program payments, rose 5.7% in 2019 to $66.1 billion. This had been the ninth consecutive increase in farm cash receipts and the largest increase since 2012. Without cannabis receipts the increase would have been 2.9%, which is similar to the average annual gain over the previous five years (+2.4%).
---