Cannabis producers in Canada are sitting on more than one million kilograms of unsold cannabis, a number that has remained relatively stable since September 2020.
Edibles sales continue to grow, with a spike in sales each December, and cannabis extracts have seen the most significant increase in sales, nearly doubling in the past year, while packaged units of dried cannabis have been holding steady at just under ten thousand units a month.
As of March 2023, federally licensed cannabis producers in Canada listed 1,249,755 kg of unpackaged cannabis in their inventory, along with 92,590 kg of packaged inventory, while provincial distributors and retailers had another 55,935 kg, for a total of 1,398,280 kg of dried cannabis. 
The total unpackaged inventory first surpassed one million kilograms in September 2020, fluctuating slightly. It has not dropped below one million kg since September 2021. The total peaked in January 2023 at 1,321,435 before declining somewhat in February and then again in March.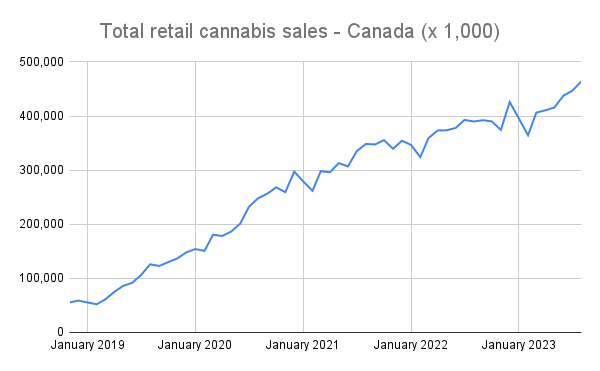 Packaged inventory in the provinces has also declined since a peak in December 2022 at 80,785, dropping to 53,850 in January and then increasing slowly over the next two months. Dried cannabis packaged sales have hovered between about eight and nine thousand since July 2021, with more than 264 thousand sold on the medical side.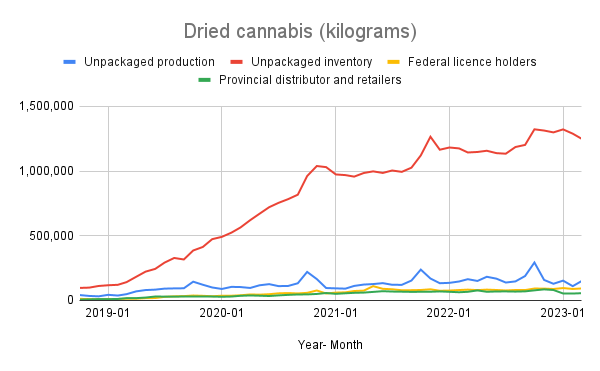 Packaged production of cannabis edibles was 4.9 million in March 2023. Packaged inventory with federal licence holders was 11.1 million, while provinces had 8.2 million. Just over 3.9 million units sold in March 2023, with another 304 thousand on the medical side.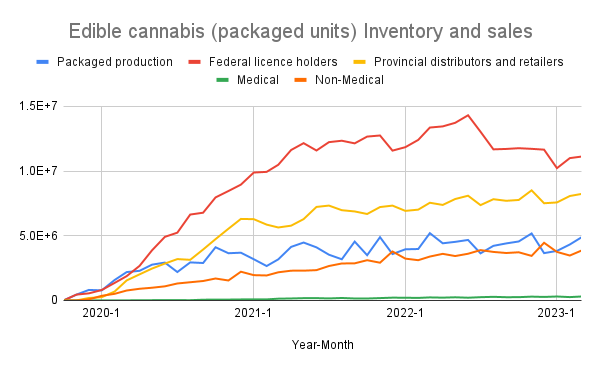 Cannabis extracts have increased significantly since first reaching the market in late 2019. As of March 2023, there were more than 5.7 million packaged units of cannabis extract in production, with 9.5 million in packaged inventory at federal licence holders and another 9.5 million in distributors and retailers.
Just over 4.3 million units were sold in 2023 in the non-medical sales channels, while more than 313 thousand were sold on the medical side. Inventories at federal licence holders peaked at more than 10.7 million units in June 2022.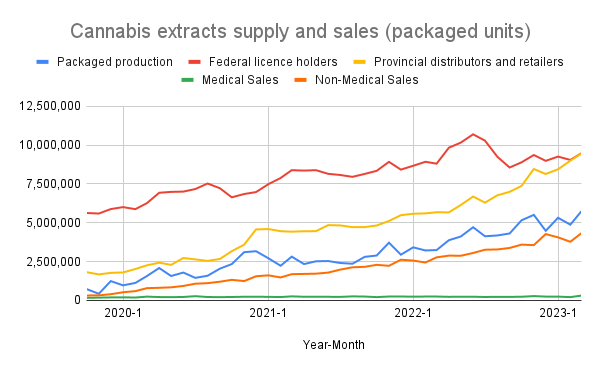 The number of units of cannabis topicals in packaged inventory at federal licence holders was nearly 291 in March 2023, down from a peak of more than 338 thousand in October 2021. The total with distributors and retailers in March 2023 was over 165 thousand, down from a peak of more than 286 thousand in January 2022.
Cannabis plants in packaged production in March 2023 with federal licence holders was 119, with another 136 with distributors or retailers. There were 4,525 cannabis plants sold in the medical stream in 2023, and 757 sold in the non-medical stream in that month.
Federal licence holders listed over 35 thousand seeds in packaged inventory in March 2023, while distributors and retailers listed nearly 66 thousand. There were only 52 units sold on the medical side and 11.6 million sold on the non-medical side that month.
The total licenced area for indoor cannabis cultivation was 1.5 million sq m in March 2023, down from a peak of 2.2 million in May 2020. The total processing area was more than 365 thousand sq m in March of this year, down from a peak of more than 526 thousand in May 2021. Approved outdoor cultivation was 587 hectares in March 2023, down from a peak of 713 hectares in December 2021.
---