Cannabis sales in BC continued to increase in the first three months of 2023, while the price of cannabis continues to drop in the province.
The BC Liquor Distribution Branch (LDB), which oversees cannabis distribution in the province and the BC Cannabis store's online and brick-and-mortar locations, recently published their Q4 results for 2022/23.
The LDB saw a nearly 30 percent increase in wholesale cannabis grams compared to the same period in 2021/22 and a more than 16 percent increase in wholesale sales with over $119 million sold.
The average price per gram of all cannabis products sold in the province was $4.29, compared to $4.78 in the year prior. The average price per gram of dried flower decreased to a low of $3.50 a gram compared to $3.83 in the same period in the previous year.
For dried flower, 3.5-gram and 28-gram SKUs continue to dominate, but declined compared to sales in the first three months of 2022, while 14 and 15-gram SKUs increased.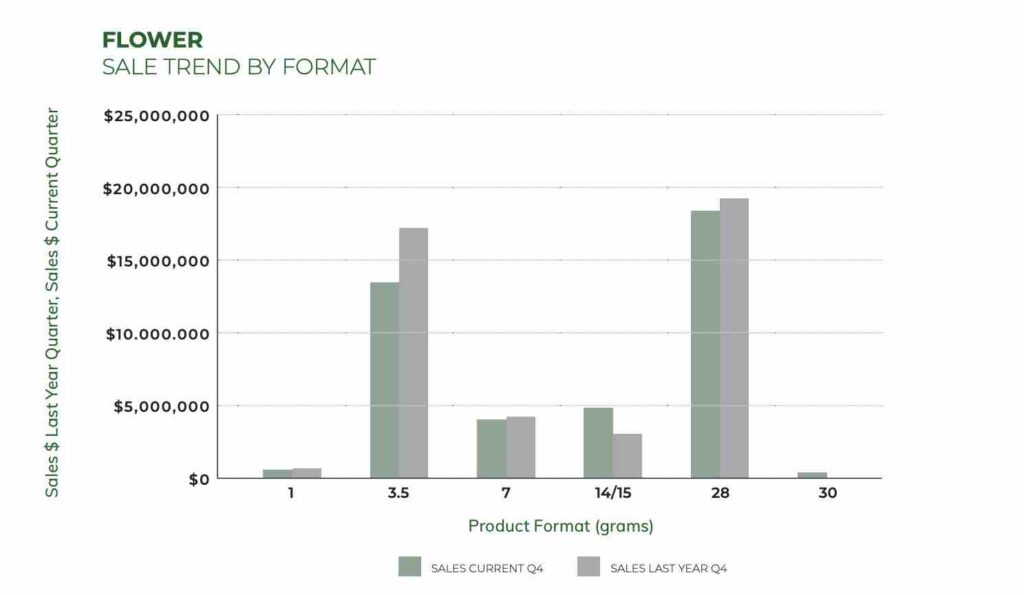 Overall, dried flower sales declined by just over 5 percent compared to the same period in the previous year. At the same time, beverages, edibles, ingestible extracts (oils and capsules), vape pens and other concentrates, pre-rolls, seeds, and topicals all increased.
The increase in year-over-year sales of beverages comes entirely on the back of carbonated beverages, while sales for other beverages like dried mixes, teas, and coffees declined.
For edibles, the most significant increase was in baked goods which increased by more than 50%, followed by chews/gummies at over 25 percent increase year-over-year. Sales of cannabis chocolates, hard candies, and other edibles all declined.
Sales of cannabis pills and capsules increased year-over-year by about 8 percent, while oils and tinctures declined by about 16 percent compared to the first three months of last year.
In the concentrates category, vape pen sales increased by 34 percent, while disposable vape pen sales increased by over 80 percent. Hash sales increased by 23.5 percent, infused pre-rolls increased by nearly 300%, resin and rosin sales increased by 23 percent, shatter by almost 9 percent, vape kits by 100%, and cannabis wax by nearly 1,000 percent. The only year-over-year decline in cannabis extracts was for dry sift.
BC's direct delivery program, launched in the summer of 2022, also continues to grow. In the first three months of 2023, close to 470 kg of cannabis or its equivalent was sold through the program, accounting for nearly $2.5 million in sales. The average price of a gram of cannabis sold in the direct delivery program was $5.24, while the average price for a gram of dried flower was $4.19.
Although the amount of cannabis sold through the program in the most recent quarter was more than that sold in Q3 under the direct delivery category, the dollar value of sales was down slightly due to the declining cost of products within the program.
---