Cannabis retailers in BC's Interior region are expecting delays in product deliveries following major road closures from a large storm on Monday.
British Columbia's Interior region is entirely cut off from the Lower Mainland where the provincial government's cannabis warehouse is located. Six roads leading from the Vancouver region in the Lower Mainland to the province's Interior region were closed late Monday or early Tuesday morning due to flooding, mudslides, and rockslides.
The province's online platform used by retailers to place orders currently has a message telling retailers to expect delays and a few retailers say they have heard directly from the LRCB or LDB on the issue.
The message reads: "Due to the extreme weather situation in parts of the province disrupting some transportation routes, the BC Liquor Distribution Branch (LDB) would like to proactively advise BC Cannabis Wholesale customers that there is a possibility of temporary service disruptions that could result in delayed deliveries."
In response to a request for comment from StratCann, a representative from the BC LDB had this to say:
"The BC Liquor Distribution Branch (LDB) has been proactively advising affected BC Cannabis Wholesale customers that there is a possibility of delayed deliveries due to the recent extreme weather and disrupted transportation routes. 
"We have been and will continue to make considerable efforts to work with our vendors and third-party carriers to maintain regular service levels. Our Customer Care team is directly working with customers that may have delayed shipments."
Christine Vandeburgt of Ridge Cannabis in Tumbler Ridge says she heard from the Liquor and Cannabis Regulation Branch (LCRB) yesterday and a private delivery service today who both told her to expect delays. Ridge Cannabis normally receives a weekly shipment every Thursday.
"Yesterday we got a call from the LCRB saying there will most likely be a delay and this morning, (the private carrier) said everything is loaded and ready to go, but they're just waiting for word (on road closures)," Vandeburgt told StratCann.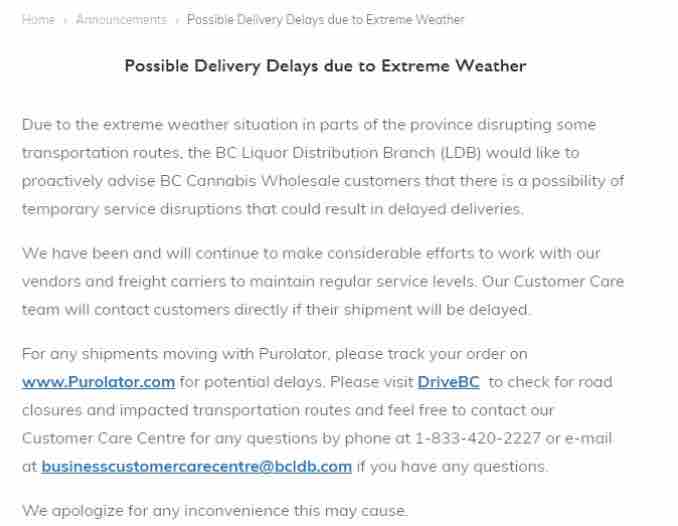 Dale Wertz, a manager at Downtown Cannabis in Salmon Arm says they have not heard anything yet other than the messaging on the BC LDB wholesale page. Normally they get a shipment every Thursday. Any major delays, he says, would significantly impact their business.
"There's nothing we can do except wait. Every single week we are very low by about Tuesday, Wednesday, so if it was another couple weeks, we'd be cleaned out."
Sierra Turner, a Budtender at Higher Path in Lumby says they have also not heard anything official yet, but they did not receive their weekly order yet, which normally comes Monday morning.
"We were supposed to receive our order yesterday and it never showed up, so I'm assuming it's stuck somewhere," says Tuner.
Tina Sooner, the District Manager at Dragon's Peak, with two locations in the Interior, one in Quesnel and one in Prince George, says they got their weekly Monday delivery yesterday at the Quesnel location, but not their Prince George location.
They are prepared to handle some delays in shipping, she says, at least for a few weeks, although the timeline of the road closures is still unknown.
"We are pretty stocked. We stay ahead of the game because of covid and everything… so we were already prepared for that. You've got to be innovative in this industry and plan ahead."
The timeline for roads opening back up is unknown. Some roads that are closed due to flooding or mudslides could be cleared in a matter of days or weeks, but the section of Highway 1 between Hope and Spences Bridge in the Fraser Canyon that collapsed due to a rock slide is expected to take longer.
This article has been updated to include comments from the BC LDB.
---