Territorial Cannabis
While most of the country focuses on the larger provinces and the evolution of their cannabis regimes, Canada's territories have remained somewhat under-reported. Although there are over 350 federally licensed cultivation and processing licenses across Canada, none yet exist in any of the three territories of Yukon, Northwest Territories, or Nunavut.
With lower levels of population, even the amount of retail stores in those locations is muted compared to their southern provincial counterparts. Yukon currently has five licensed retailers, as does the Northwest Territories, while Nunavut still currently only allows access through their online store. Nunavut also recently changed their rules to begin allowing applications from private brick and mortar retailers to serve the territory.
While none of the territories are home to cannabis cultivators or processors, at least one Yukon-based company hopes to see that change in 2020.
Cannabis Legalization in the Yukon
The grower
Chris Cornborough, the President of ArcticPharm Ltd, located outside of Whitehorse, says they recently completed construction of their greenhouse and will soon submit their evidence package. They tentatively hope to have their initial cultivation licence some time this summer, and will also be seeking a processing licence and sales amendment.
Cornborough, who was raised on Vancouver Island and grew up in BC, says he and his team chose the Yukon because they saw the potential both of the lower cost of land, labour, and doing business, but also because they saw the current lack of local production in the region as an opportunity. For example, their land costs alone were around $10,000 an acre, compared to around $50,000-100,000 in BC.
He and his team were able to purchase a 120-acre certified organic berry farm about 20 minutes north of Whitehorse in 2018. They began the process of site development and licensing almost right away. They will be growing cannabis both in their new greenhouse, as well as outdoors, with the hope of getting one crop in the ground this summer, pending their cultivation licence from Health Canada.
The territory has been good to work with, according to Cornborough.
"They're very supportive, very pro-business," he says "For them, it's a supply chain issue. They are relying on growers in other provinces to supply them with cannabis, so there are shortages, prices are at times too high, and because of that, the black market is pretty prevalent. So they're looking to knock that down, and whatever they can do to help us, they have been willing to help."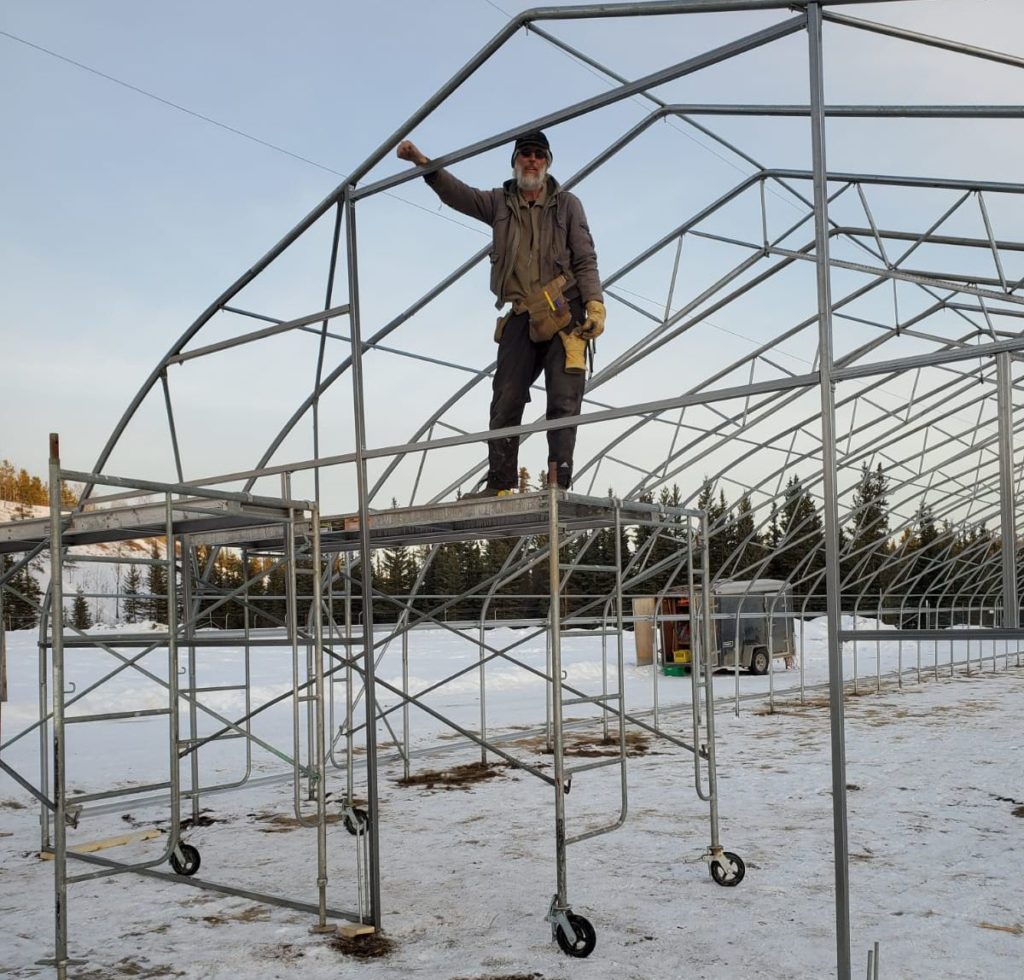 "It's a great place to do business, and if you have a footprint in the Yukon, there's a very pro business government here and people are very supportive of buying and supporting locals."
Despite the colder temperatures, Cornborough says he thinks the Yukon is actually an ideal location for outdoor cannabis production, because of long daylight hours in the summer and a dry climate.
"The conditions in the Yukon, especially where we are, are very optimal for growing cannabis outside. I think people are surprised you can grow anything in the Yukon, they think it's all snow and igloos, but people actually can grow a lot of things very well here in the summer. So if you were going to grow anywhere in Canada, maybe aside from BC's interior like Kelowna, the Yukon, especially in the Whitehorse regions, is a pretty great place to grow."
On the retail side of things, the Yukon is home to around five retailers currently open, with a few others approved by the Territorial government, but not yet open. The territory initially only had one retailer, run by the Territorial government, but opened the market up to private retailers in 2019 closing their flagship store in October 2019. They still operate an online sales portal, though.
The retailer
Jeremy Jones, the owner of Triple Js, the first private cannabis retailer in the territory, says that with a small population of approximately 35,000 people, about 25,000 of them in Whitehorse, it can be a competitive landscape. The lack of supply is part of the issue, he says, as is competition from larger retail chains who have moved in to the area, along with the territory's markup on products.
Despite some of these challenges, Jones says business in the Yukon is good, and the local government is accessible and willing to work with the cannabis industry to increase economic opportunities. Currently, he says he is lobbying the Territorial government to allow retailers to sell online. Triple J's currently offers online orders, but consumers still have to come into the store to pick up the product and pay.
"Because we're trying to keep our prices low, it's not like we're making money hand-over-fist, but we're keeping the lights on, and paying people. We're about the cannabis culture, not just making money." -Jeremy Jones, Triple J's
With the current concerns around the COVID health crises, these changes will really help business and protect the public he says. But even in better economic times, he says this will help ensure Yukoners who live in more remote parts of the territory can still access cannabis directly from private retailers. Currently, only the Territorial government sells cannabis online.
"Online ecommerce would be a huge boon for us", Jones says. "There's a lot of small communities in the Yukon, the whole population is about 35,000, with about 25 thousand of that is in Whitehorse, so there's all these little communities that don't have stores. Even in town delivery would be beneficial for us."
Another issue he hopes having Yukon-based cultivators might address is a lack of product variety, in addition to the higher prices on products from growers often located far away in BC, Alberta, Ontario, etc. Right now he says pre-rolls are in the highest demand, along with lower-priced high-THC product, but he hopes as a greater diversity of craft products become available, it will help educate consumers that there is more to cannabis than THC.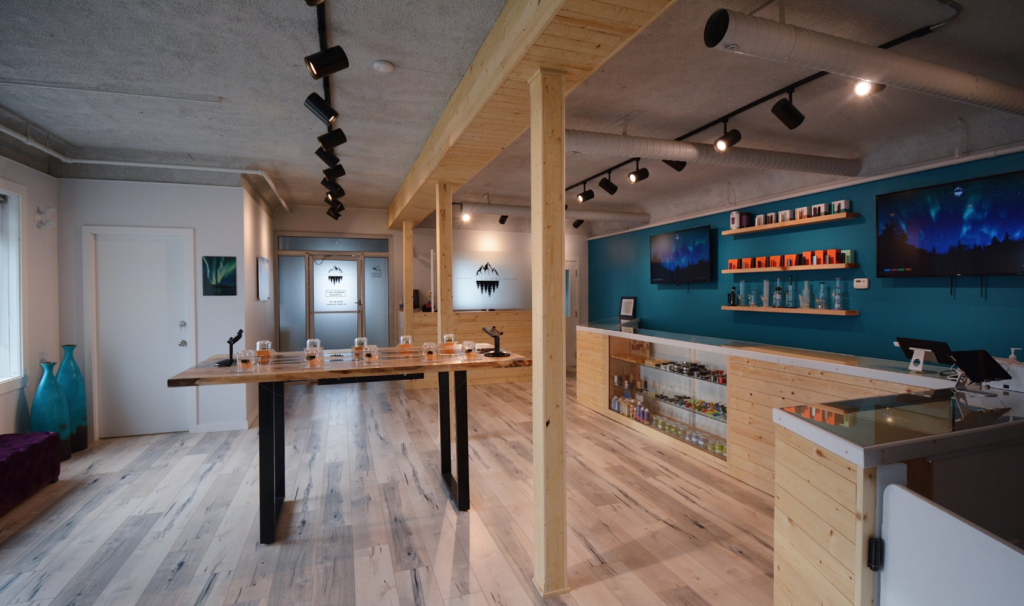 Although he says he saw a small increase in sales mid-March as the coronavirus became more of a public health issue, he has not seen the same run on products that larger provinces have seen. Business remains moderately steady and, even with government markups and at times a lack of the kind of products consumers want, that business is doing well.
"Because we're trying to keep our prices low, it's not like we're making money hand-over-fist, but we're keeping the lights on, and paying people. We're about the cannabis culture, not just making money."
Another challenge he says the government addressed is how they allocate products from their distribution warehouse to retailers. Initially it was on a first-come-first-served basis, but when a large national chain opened up in the territory, they began buying up all the product, leaving business like his without any other options.
Based on lobbying from Triple J's, as well as other retailers, Jones says the government created a new distribution model that allocates product evenly to each retailer. Jones says that the Territory has been slow, but responsive to these issues, and he's now lobbying to allow retailers to order directly from producers, rather than going through the territorial distributor at all.
"At first we had a lot of pushback and the implementation of these products, but now I think they are beginning to understand that this will work better for everyone."
"It's been a good start. There's a lot of ground to cover. I don't want to make it seem like there aren't challenges in front of us, but I think things have gone really well here in Yukon." –John Streicker, minister responsible for Yukon's cannabis regime
The Government
John Streicker, the minister responsible for the Yukon Liquor Corporation as well as the Yukon's cannabis regime, says they are always looking at ways to streamline their own system, although major changes like allowing retailers to order directly from producers may take some time.
"What we've always said is that cannabis (rules) will change over time, both federally and territorially, and we built the review processes into our legislation to try and look at things," says Streicker. "I do think we need to give it a little bit of time to see how it works. But I've always been open to those conversations.
"What I do think we need to do is ensure that we're tracking (cannabis) the whole way to keep that control in place, to make sure the black market doesn't come back in. But there may be ways in which we have control and track it with some certainty, but that we don't have to handle it as much and thus add additional costs. So that's where I would look – how to stay within the rules that we've already set, but find ways in which we can bring down the cost if we don't have to handle it or store it as the wholesaler. Maybe there's a way that would help bring the cost down. So that's one of the ways we could assist our retailers and hopeful producers."
Streicker says the Territory has been aware of the need for a smaller buyer like Yukon to deal with supply, especially since there are currently no producers in the region and all product is coming from outside the territory, sometimes from hundreds of thousands kilometers away. In the run-up prior to legalization, he points out that they secured supply deals with a handful of producers, and that unlike other parts of Canada, Yukon didn't experience any supply issues.
"We had a good game plan for our legislation and regulation, but we were nervous with supply, so we went out and got agreements in place ahead of October 17 (2018). And obviously if there were people growing here in Yukon, that would help with that, as well. We're certainly very open to it."
Although there are challenges, overall Minister Streicker says he thinks Yukon has handled the changes well, and sees the impact on the black market working already.
"It's been a big change for sure," says Streicker. "It's been a good start. There's a lot of ground to cover. I don't want to make it seem like there aren't challenges in front of us, but I think things have gone really well here in Yukon. Our sales per capita have been strong and I think that's important because that helps displace the black market. And I'm certainly impressed with private retailers so far, and overall I think it's done really well in the Yukon."