Police in Delta BC have formally filed charges against two individuals for cannabis processing and distribution.
The charges are connected to a complaint filed last year that claimed a parent had found a cannabis edible in a bag of Halloween candy, which led to an investigation which they traced back to the production facility in North Delta.
The charges announced today are the result of that investigation, where police say thousands of cannabis edibles were seized. A man and a woman were arrested during the warrant execution, although they were quickly released. Police at the time said they anticipated recommending a number of charges including distribution to minors, possession for purpose selling and prohibited synthetic production.
The charges announced today are for two counts of possession for the purpose of distribution and one count of altering cannabis by use of an organic solvent. No charges have been announced in relation to distribution to minors.
In an interview with StratCann last December, the couple now charged, Adam and Vanessa MacGillivray, said police "ransacked" their home and left them without power for three days. They ran a business called Madd Hatter out of their Delta home.
Although the business was illicit, operating with a federal production or provincial sales licence, the couple contends they were operating in the grey market "due to legalization not being able to provide medical patients with affordable access."
Police said at the time that they became aware of the business following a report of a parent who found one of their cannabis edibles in a child's Halloween bag. After several weeks of investigation, the police traced the edible back to the MacGillivray's home, leading to their arrest and the seizure of thousands of cannabis edibles. The company's website advertised cannabis-infused chocolates, gummies, elixirs, and more.
The couple disputes the claims they would have given out cannabis edibles to children.
"This was at our house with our business," Adam MacGillivray told StratCann at the time. "It would be shooting ourselves in the foot. Why would we do that?"
"Our packaging is child-resistant, we weren't selling to kids," he continued. "The packaging clearly says not for kids all over it, and we spent extra money for that packaging. It doesn't make sense why we would spend extra money for that packaging and then sell to kids."
The couple also says they are skeptical of the police's claims of what led to the search warrant, saying they were not handing out cannabis-infused candy on Halloween, and only had a bowl of chips they had left out halfway down their walkway for trick-or-treaters.
Instead, the couple says they suspect a rival company with who they had been having issues prior to their arrest may have reported them. They say in the days leading up to their arrest their website was taken down, and their email accounts were spammed with accusations that they were selling to kids. They shared screenshots of these emails with StratCann and were displayed on the company's Facebook page last year.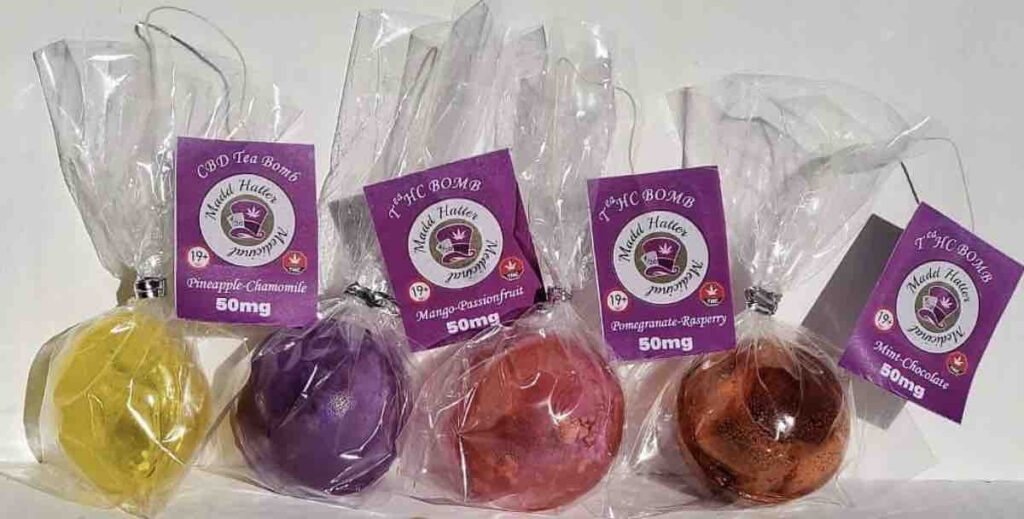 Although it's rare, and concerns around it are often exaggerated, cannabis edibles have been found in Halloween candy in Canada in the past.
A package of Halloween-themed cannabis gummies was allegedly found in a child's pile of Halloween treats after trick-or-treating in the Nova Scotia in 2019.
In 2017 police in Victoria, BC were called after parents in Victoria's James Bay neighbourhood found a package of Twisted Extracts "Black Cherry ZZZ Bomb" among their kid's candy. Police said at the time that the person who is believed to have handed out the candy has limited vision and was not aware of what they had handed out.
---