Some UBC students and residents are expressing concern for plans for two cannabis stores that are planned to open on University land.
A recent petition, started by University Endowment Land resident Connie Chen, says that two recent applications for cannabis dispensaries on campus are not appropriate for the educational purposes of campus. The petition currently has over 1,600 signatures.
In addition to expressing concern about the proximity to university students, families, and young children, the petition says that the cannabis stores would bring in people from off-campus seeking to buy cannabis.
"Many elementary and secondary school students pass by this area on the way to school and spend time in this area after school with friends," says the petition. "By allowing cannabis retail to exist in this business plaza, we are putting vulnerable children at a high risk of exposure to substances they are too young for."
Both new locations are a one-minute walk away from a liquor store.
"I think locating it in a different area would be best. I don't think it's appropriate to have it in a central hub for students in residence," a third-year English language and literature major, Stephanie Chin, told the Ubyssey, the UBC newspaper. "I think it would be much more appropriate to put it either in the corner somewhere or somewhere where it's away from some residents. I think substance should stick with substance. So I think it's a little bit odd to have a cannabis store in the middle of a place where restaurants and whatnot are."
Others told the Ubyssey that the smell of cannabis on campus has increased since legalization in 2018.
"Personally, I think, in general, [marijuana's] not a bad thing," said Anthony Chow, a third-year engineering student. "That being said, I cannot stand the smell personally, and I found some others who feel the same way … smoking on campus or recreational marijuana, where it affects other people, is a little frustrating."
John Kaye, Co-founder, CEO, and creative director at Burb tells StratCann that they are aware of the petition and feel that legal stores better address the concerns in the petition than the current illicit market. 
"We definitely understand there's a built-in negative stigma with this plant, but we've been operating stores in the lower mainland without incident for several years now, and do our best to serve the communities, but it's a testament to how misunderstood the plant is to this day."
"This is already happening on campus," he continues. "There's already people selling weed here and it's very easy to access, you don't need to show your ID. Legal stores actually serve to make things safer and to prevent minors from accessing (cannabis), so we're doing our best to address those fears."
Despite being a large population centre just west of Vancouver, the closest cannabis store to campus has been at 4529 W 10th Ave., a thirty-minute walk from the centre of campus. Vancouver has more than 50 retail cannabis locations listed online. One of the proposed cannabis stores, Atheneum cannabis, has another location in Vancouver and one in Prince George. The other, Burb Cannabis, has locations in Port Coquitlam and Port Moody, with another expected to open in early 2022 in Vancouver.
Kaye says if they get approval for the UBC location, they expect it will be open in summer 2022.
BC currently lists 371 public and private cannabis locations across the province.
In August 2020, The Alma Mater Society of the University of British Columbia Vancouver, the student society of UBC Vancouver, representing undergraduate and graduate students at UBC's Vancouver campus and their affiliated colleges, was in talks with Canopy Growth to open a retail store in the Nest, another student centre.
While University Endowment lands have allowed for one cannabis retail store, on a first-come-first-serve basis, says the University has not yet established cannabis retail rules for UBC land, AMS President Cole Evans told the Ubyssey earlier this year.
"Given the fact that UBC has yet to establish policies on cannabis retail on UBC lands, as well as multiple applications from external retailers to establish operations on UEL lands, the AMS is in no hurry to pursue its own operation until the fit is right for the UBC student community," Evans said.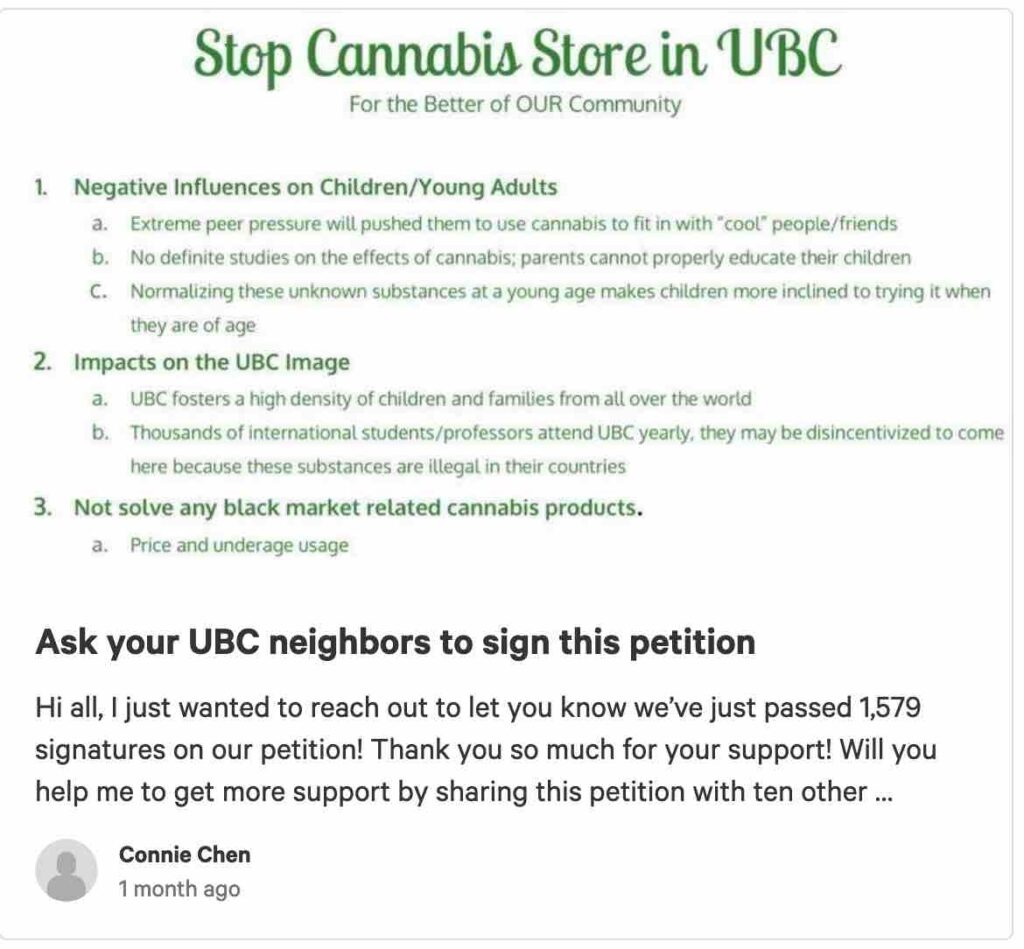 ---