Quebec's Court of Appeal has sided with the Quebec government this week on the province's ban on home grown cannabis. The opposition says they plan to appeal.
The judge's decision reverses the previous Superior Court ruling in 2019 that said the ban on Quebecers growing their own cannabis was a violation of federal law. 
The government of Quebec had appealed that ruling.
The lead counsel for the man who was challenging the ban says they plan to appeal again, this time to the Supreme Court.
"Unfortunately for Quebec cannabis enthusiasts, the Court of Appeal sided with the arguments of the Quebec government. We're getting ready for the third round: the Supreme Court of Canada! We keep you informed of any development," wrote Maxime Guérin on Facebook on Thursday.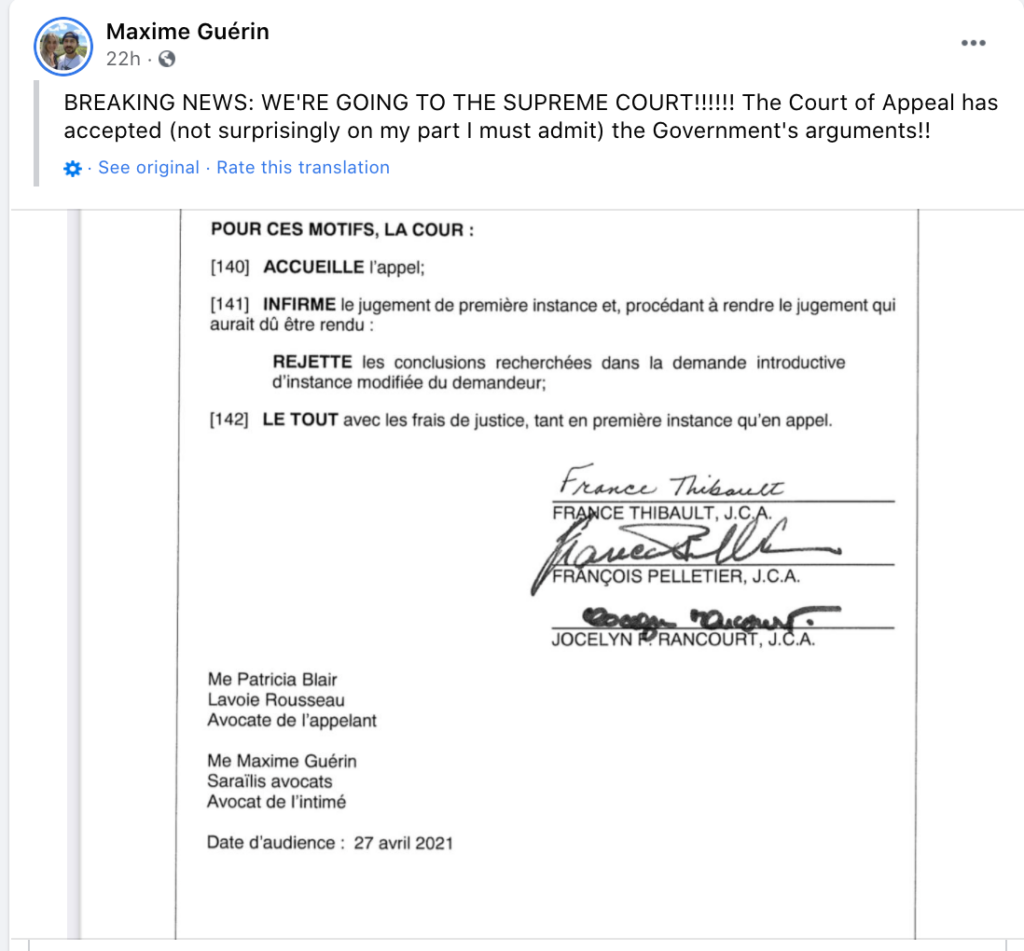 In her ruling, Judge France Thibault wrote that both sides in the case were motivated by the desire to combat the harms associated with consumption. The Quebec government argued they could ban growing cannabis at home in order to protect Quebecers, especially young people. The other side argued that the Quebec government could not overrule federal law that allows Canadians to grow up to four plants per household.
This means that currently Quebec residents can be fined $750 per plant if found to be growing cannabis unless they are doing so with a medical authorization through their physician and Health Canada. 
Guérin says he was surprised by the ruling, but he and his team are already prepared to appeal to the Supreme Court, including bringing in some other expert legal counsel. They have 60 days to file their appeal and says he expects it could be heard by the Supreme Court in about 12-18 months.
"We were expecting a positive result but I'm not all that shocked," Guérin tells StratCann. "It's a surprise, but not a total shock, and we're already preparing our appeal for the Supreme Court."
"We are going with the big guns and will be assisted in the Supreme Court by trial lawyers who are very used to going to the Supreme Court and understanding Charter rights. So we will be backed by those who are used to going to the supreme court and the kinds of arguments you need to bring there."
Earlier this year Guérin said he expected the Court of Appeal to side with his client, but he and his team were nonetheless prepared for any ruling and would be prepared to appeal if necessary.
"The government is fighting the inevitable, so I would be very surprised if the Quebec Court of Appeals went against the first judgement," he explained at the time. "But it's Quebec, we always have that thing in our head called independence and sovereignty in our territory, so we might get a surprise and hear the Court of Appeals say this is Quebec's right to do it. We would then take this to the Supreme Court because for us it's unacceptable to know that Canadians can do it everywhere except here and Manitoba. It just doesn't work in our mind."
Editor's note: This story has been updated to include recent comments from Maxime Guérin.
Manitoba's home grow ban also challenged
Meanwhile, a challenge to the other Canadian province that banned homegrown cannabis is in the works of being challenged as well. Jesse Lavoie, who is leading the challenge to the Manitoba homegrown cannabis ban, filed affidavits earlier this year and hopes to be in court later this year to formally challenge the ban.
Lavoie launched his challenge of Manitoba's section 101.15 of the Liquor, Gaming and Cannabis Control Act last September. The government's own affidavit, filed in response last year, focuses on what they say is a risk to youth and others if people can grow their own cannabis, risk of diversion to the illicit market, risk to property, quality control concerns, and the difficulty of enforcing plant limits.
Lavoie's own affidavits in response to Manitoba's, filed today in Manitoba court, aim to address these concerns and rebut them, utilizing the input from their own team of experts. The government will then have a few weeks to respond again and this process can play out until possibly the end of this year before they see court.
"This is a legal battle between closed-minded thinking and progress," says Lavoie.
"I think we'll see victory. It's backed by a lot of evidence in our favour and I'm not seeing a lot of support on the other side. It's just unfortunate that we have to take this long to get through this process and spend this much."
Lavoie says he's spent about $45,000 to get the case to come to this, with some help from a GoFundMe campaign he started last year that has brought in about $9,000 so far.
---