Health Canada recently released data showing how many applicants are in the licensing queue, how many licences are submitted, and the total number of licence holders broken down by licence type as well as which licences are outdoor, and which are affiliated with an Indigenous licence holder.
There are 205 standard, micro, nursery and sale for medical-purposes-only licence applicants with Health Canada as of June 30, 2022. Fifty-six of these are Indigenous applicants while 54 are outdoor operators. Seventy-one of these applications are for standard production licences, 118 are micros, six are for cannabis nurseries, and 10 are for medical-purposes-only licences.
BC, Ontario, and Quebec all have the most applicants in the queue, with 54 total licences in the queue in BC, 53 in Ontario, and 52 in Quebec. Alberta has 18 in the queue, 10 in Nova Scotia, seven in Manitoba, and five in New Brunswick.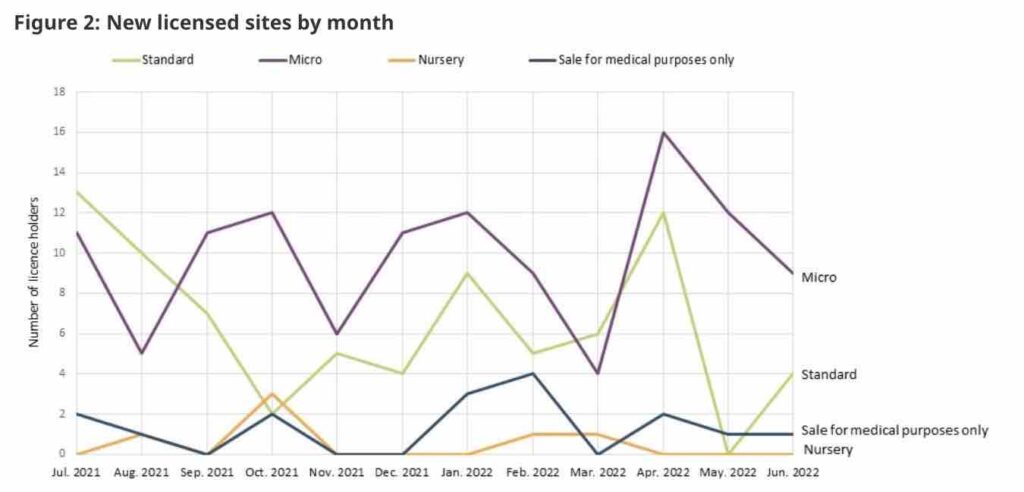 BC also leads the way with Indigenous applicants, with 21 in the queue. Ontario has 13 Indigenous-affiliated applicants in the licensing queue, Alberta has seven, Quebec has six, Manitoba has three, Nova Scotia has three, Saskatchewan has two, and New Brunswick has one.
Quebec is home to the most outdoor applications in the queue with 23, BC has 13, Ontario has 12, Alberta has two, Saskatchewan has one, Nova Scotia has one, New Brunswick has one, and Manitoba has one.
There have been 231 applications submitted from July 2021 to June 2022. Sixty-four of those are standard licence applications, 142 micro applications, seven nursery applications, and 18 medical-sales-only applications.
Health Canada has also provided detailed figures for current licences, with 868 federal licences in total as of June 30, 2022. Forty-six of these are Indigenous-affiliated licences, and 85 are outdoor operations. 
Ontario has the most licences with 280 (eight are Indigenous and 50 are outdoor), BC has 209 licences, (19 are Indigenous and 45 are outdoor), Quebec has 145 licences, (≤ 3 are Indigenous and 28 are outdoor), Alberta has 102 (nine are Indigenous and two are outdoor).
The number of new licences issued from July 2021 to June 2022 is 217. Seventy-seven of these are standard licences, 118 are micros, six are nurseries, and 16 are medical-sales-only. 
Lastly, as of June 30, 2022 there have been 83 licences revoked at the request of the licence holder, another three licences revoked by Health Canada, and seven expired, for a total of 93 inactivated licences.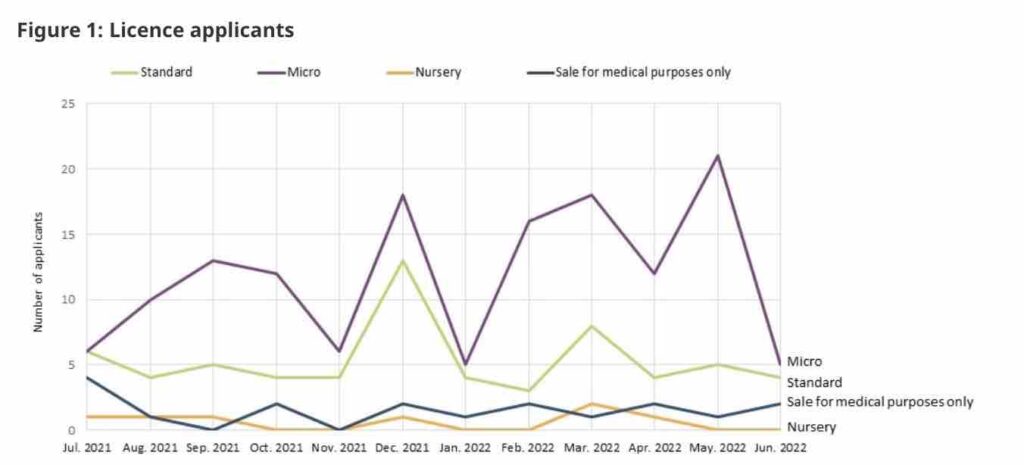 Featured image from Cedar Organics
---