Health Canada confirms it is looking into the effects of different cannabinoids to create equivalency amounts to delta-9-THC.
The federal regulator plans on collaborating with provinces and territories on the issue and "will continue research and surveillance, data gathering and analysis to support possible future regulatory changes," according to a statement shared with StratCann. The results of the project are expected during the 2023 calendar year.
The statement comes after two of Canada's biggest cannabis markets, Ontario and BC, announced they will be pausing approval of any new delta 8 THC products pending guidance from Health Canada. The research will include different cannabinoids, including delta 8. 
In order to reduce risks associated with accidental consumption and overconsumption, the federal Cannabis Act and Regulations set limits of 10mg per package for delta-9-THC in edibles, or 1,000 mg for extracts and topicals, but no such limits exist yet for non-delta 9 products. 
"While there are currently no similar legal requirements for other intoxicating cannabinoids like delta-8-THC, Health Canada strongly recommends that the total amount of intoxicating cannabinoids should not exceed the regulatory limits set for delta-9 THC, and that testing and accurate descriptions of intoxicating cannabinoid content be clearly indicated on product labels," a Senior Media Relations Advisor with Health Canada shared via email.
"Delta-8-THC is an intoxicating cannabinoid," continued the email, "and one of the many cannabinoids found in or produced naturally by the cannabis plant. However, delta-8 THC is not naturally found in significant amounts in the plant. As such, delta-8-THC is typically manufactured from cannabidiol (CBD) by a licensed cannabis processor."
"Cannabis products containing delta-8-THC have potential health and safety risks that may be similar to delta-9-THC, some of which can be serious or life-threatening. Products containing high levels of delta-8 THC have little to no history of use, so the scientific and medical understanding of their biological effects and health risks is still developing. Health Canada is closely monitoring the emergence of products containing high levels of delta-8 THC, as well as products that may contain high levels of other novel intoxicating cannabinoids, in the Canadian marketplace."
"Health Canada is currently commissioning preliminary research projects in rodents to begin to compare the psychoactive effects of various cannabinoids other than delta-9-THC. This will help further inform the intoxication equivalency of these non-delta-9 THC cannabinoids to delta-9-THC. The data generated by this and additional potential projects on this topic could help inform public education and awareness efforts, potential risk assessments as well any policies or regulations concerning these substances. The results of this initial pilot project are expected during the 2023 calendar year."
Delta-8 THC products made a small splash in the Canadian market in 2022, with a handful of companies offering products like gummies, beverages, and vape pens. Speaking with several retailers in Canada, sales for these products appear relatively low, although there seems to be interest in both the novelty of the cannabinoid, as well as the fact they provide a way to provide consumers with more THC per edible than a typical delta-9 THC edible.
Steve Schnarr, the manager at This is Cannabis, with two locations in BC, says his stores saw some initial demand, but given there are only a few products, he suspects they get lost in the high-volume shuffle of products on their shelves.
"It was interesting when they came in because it was one of the first products to go past the ten milligrams," says Schnarr. "We just had, I think, one beverage and one set of gummies. They haven't moved that well, I would say. I don't think they've been too popular."
Omi Sahota, a manager at Giggles Cannabis, with two locations in Ontario, says he thinks the lack of popularity is at least partially due to the fact many consumers still don't know about it. Although he says he was hesitant to bring in the product because of some of the stories and uncertainty from the US market, their initial small shipment (less than 20) in December sold out quickly
"I don't think the education is there yet in the market," says Sahota. "I think (producers) need to do a lot more education, not only for customers but for sellers. They never even told us it was available. I would say our customers who tried it, liked it. We also warn everyone that takes it that this is way more potent than normal THC."
Michael Krestell is the executive chairman at Dynaleo, a cannabis producer located in Alberta that specializes in cannabis edibles and beverages and is one of the companies offering delta-8 THC products.
"The issue I think that we're facing here in Canada, is that the delta 8 category here is being examined unfairly under the lens of what's happening in unregulated markets, very specifically the US," says Krestell. "We understand regulators and provincial distributors are looking for more understanding, and we think it is important to have a greater understanding of what's happening."
Their delta 8 "soft chews" are available in packs of 10 with 10mg of delta 8 THC and 1mg of delta 9 THC per piece. The company has sold more than 50,000 units so far of the product, primarily in markets like Ontario. 
Despite these sales, the delta 8 products are only a small portion of their full product menu, so the policy shift isn't a big concern for the company, says Krestell. However, he does think that some of the concern relating to the unregulated US market is potentially unwarranted.
With that said, he also notes the company understands the government's cautious approach.
"We're pleased that everyone is taking a measured approach as everyone gets up to speed from an education perspective and seeing what the actual experience is with the product in the market."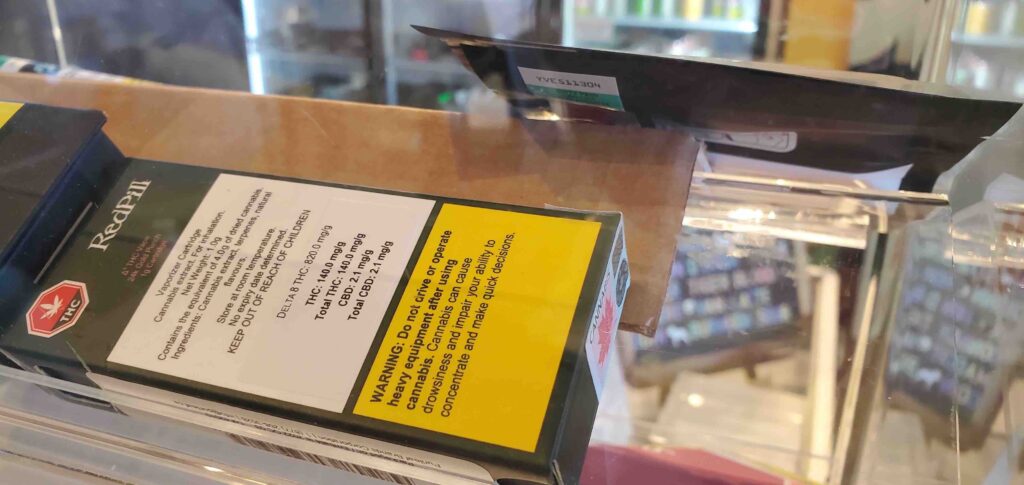 The policy change does impact the company, though, since they can currently not sell into two of the largest cannabis markets in Canada. Especially when these are all products that have gone through the federal and provincial processes for new cannabis products.
"The impact on us is twofold," explains Krestell. "One, it constrains an avenue for future growth and we've also got commitments out there for purchase of products, and we have delta 8 inventory and purchased bags we have in inventory, so from that standpoint, it's a little disappointing. We didn't try to sneak anything by anybody. We went through the NNCP process…. We went through provincial listing processes, and everyone's interpretation is that nothing here is in contravention of any regulations, and it's a decision being made to sideline it." 
Health Canada says it will "continue to monitor the effects and risks of all cannabis products, including products with high levels of delta-8 THC, and will take appropriate actions if needed." Although BC and Ontario are not currently listing any new products of this kind, Health Canada has not currently said they will be implementing a similar policy change nationwide.