A new study in the US argues that inflated THC levels on cannabis products undermine industry credibility.
Researchers tested 23 samples of cannabis from 10 Colorado stores, comparing those results against the label. They found that, on average, the products were 23 percent lower in THC than advertised.
Although consumer choices continue to be driven by a desire for higher-THC products, the average observed THC levels were just under 15 percent from all samples tested.
Inflation of THC levels isn't new. Research in Canada and the US has highlighted the issue for years. In Canada, the industry has been calling for more oversight of labs and testing standards. 
Nearly two-thirds of the samples tested 15 percent lower than advertised, while three samples were half as low as claimed on the label.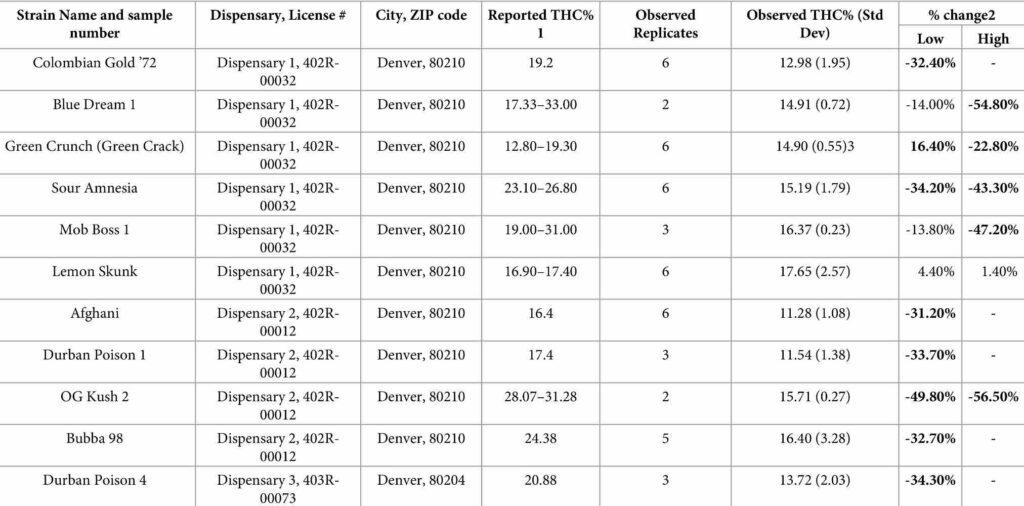 Colorado's testing standards require a producer to report THC levels as a range based on the highest and lowest percentages from the test batch. However, not all products were labelled in a range.
The samples used were one to two grams in size, looking at 12 different dried cannabis varieties. Researchers also included a handful of results from other studies.
Eighteen of those 23 samples showed THC levels below the labelled testing results. Only one of the products tested showed a higher THC level than the lowest from the range on the product label.
Although THC can degrade over time, the paper contends that this was not a factor given the lack of excessive levels of CBN, a byproduct of THC degradation.
To help address these issues, researchers in this study argue that regulators in Colorado need to do more to ensure that growers are using a representative sample rather than selecting the most potent flowers, as well as enforcing more strict product reporting rules.
Hubert Marceau, the director of development at Laboratoire PhytoChemia—an analytical testing lab in Quebec that tests cannabis products in the Canadian market—says the results once again highlight that most cannabis on the market does not have nearly as much THC as consumers might think.
"What is striking is that even with the samples that reported a range, most of the time the measured value is outside by a large margin," says Marceau. "This should be the exception. Another interesting thing is that none of the samples cross the famed 20 percent threshold."
"The fact the standard deviation of the observed values are about half as the reported ones, this means that all samples, regardless of the strain, would have a very similar THC content, even though it seems that there is more diversity on the market."
Marceau says consumers should look at these results as a good example of why they should not be basing purchasing decisions solely on advertised THC levels.
---