Metro Vancouver is considering potential revisions to their plan to manage emissions from cannabis growers.
The revisions, presented in a staff report on July 6, include allowing for more flexibility for the type of required emission control technology in cannabis greenhouses and encouraging municipalities to set minimum distances between new facilities and neighbouring land uses.
Metro Vancouver—which encompasses 21 cities in BC's Lower Mainland, one electoral area, and one treaty First Nation—first announced its plans to regulate volatile organic compounds (VOCs) from cannabis production in 2019, holding stakeholder meetings in late 2020 and early 2021.
The first phase of engagement from Metro Vancouver for the new potential cannabis production and processing regulation ended in November 2019. This was followed by a second phase of engagement from August 2021 to February 2022. The newest staff report provided feedback from that engagement process, including various federal, provincial, municipal, and First Nations agencies, the general public, and the cannabis industry.
This feedback included support for efforts to regulate VOCs, along with concerns around municipal jurisdiction, concern that the proposed regulations could impact smaller producers and give advantages to the illicit market which would face no such restrictions, and that Metro Vancouver shouldn't be regulating cannabis sector emissions because it's an agricultural activity.
The report also notes that in 2021, the BC Ministry of Agriculture, Food and Fisheries issued a report that called into question Metro Vancouver's plans, arguing that cannabis production only accounts for a small fraction of overall VOCs in the region.
It estimated that indoor cannabis accounts for about 146 tonnes of VOCs per year, compared to 715 from crops and pasture land, 9,500 from plants and vegetation (non-commercial crops), and over 37,000 from other non-agricultural human sources such as fuel, vehicles, and paints and chemical products.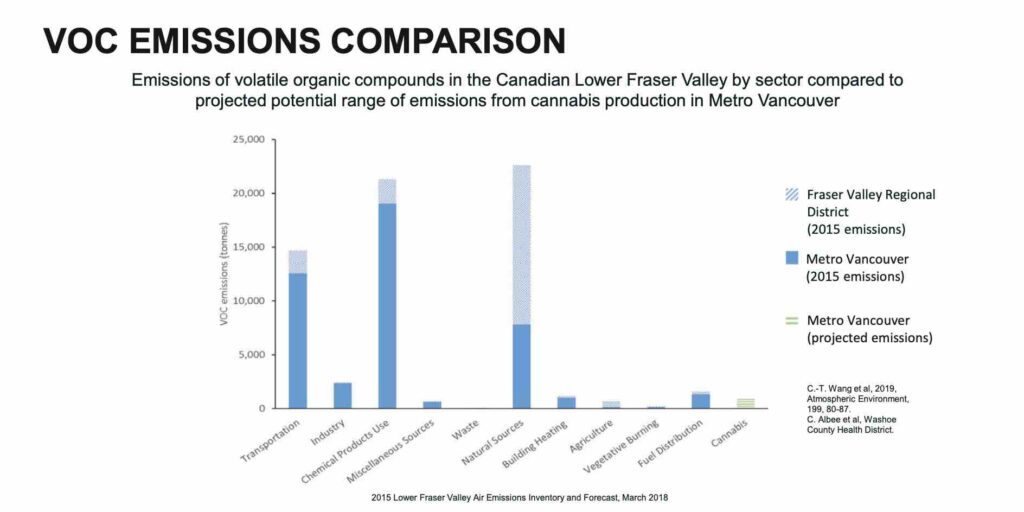 A representative for the Cannabis Cultivators of British Columbia (CCBC), which has been pushing back against Metro Van's efforts, told StratCann they see the proposed approach to be based on an anti-cannabis bias rather than legitimate environmental concerns. 
"We have serious concerns about how staff at Metro Vancouver are advancing regulations against cannabis growers in the region, which are rooted in stigma, not science. Proposed regulations are predicated on measures that are inconsistent, remain untested, and are not scientifically validated. In fact, over the past year, scientific evidence has emerged that contradicts some of the base assumptions being made by Metro Vancouver. Furthermore, Metro Vancouver is using incorrect calculations, projecting growth when, in reality, cannabis production in the region has experienced a marked decline over the past two years.
"These regulations single out legal cannabis growers only, and put at risk an already struggling agricultural sector that supports the employment of thousands of people and generates positive economic impacts across the province."
Metro Vancouver's staff report says the feedback is being used to help finalize the proposed regulation for the committee and board's consideration in 2023.
Staff recommended that the Metro Vancouver Regional District Board (MVRD):
a) send a letter to the Ministers of Agriculture and Food, Environment and Climate Change Strategy, and Public Safety and the Solicitor General requesting collaboration with Metro Vancouver on developing a concerted approach for managing emissions from cannabis production and processing in the Metro Vancouver region in a manner that protects public health and regional economic prosperity; and
b) direct staff to continue developing options to manage emissions from cannabis production and processing as described in the report dated June 23, 2023, titled "Phase 2 Engagement Summary and Next Steps for Managing Emissions from Cannabis Production and Processing."
The item will go to the Board next for consideration. The next board meeting is scheduled for Friday, July 28.
Health Canada declined to provide the number of licensed cannabis cultivators in the Lower Mainland, citing "privacy concerns."