Nearly halfway through 2022 and micro cannabis licences continue to be the most popular new licence type.
Following the trend from 2021, micro cultivation and processing licences continue to be the most commonly awarded licence category, with 45 of the 97 licences issued so far this year being micros.
Another 40 of the licences issued this year were standard (cultivation and/or processing), along with ten medical-sales-only licences and two nursery licences. A medical-sales-only (MSO) licence allows a licence holder to operate an online medical sales platform without ever possessing cannabis.
In 2021, there were 262 new licences issued; 130 of them were micros (cultivation and/or standard) while 108 were standard cultivation and/or processing licences, along with eleven medical-sales-only and eleven nursery licences.
This was a slight change from 2020 when there were 144 standard licences, 132 micros, 20 medical-sales-only licences and 9 nursery licences.
There are currently 309 micro licences across Canada, out of 859 active licences in total. Another 28 of those are nurseries, 39 are medical-sales-only licences, and 483 are standard licences.
Health Canada has also begun ramping up the issuance of product sales amendments for Dried/Fresh cannabis since they made these licence types automatic beginning April 19. Since then, 121 have been issued as of May 20.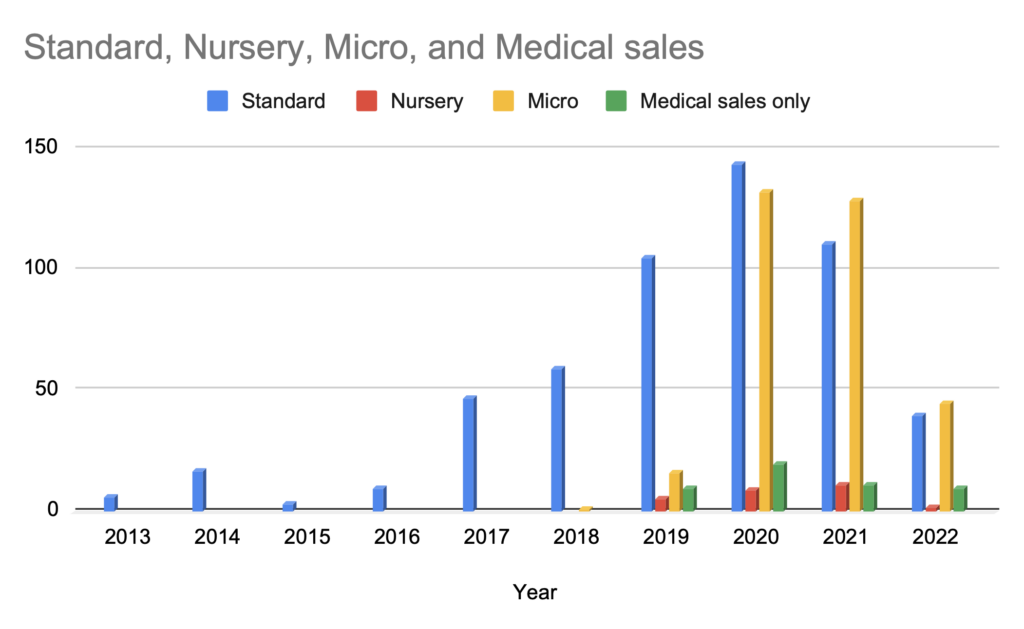 Featured image from Kootenays Finest Craft Cannabis
---