One cannabis testing lab in Canada, with several years of experience in the industry, says most of the cannabis they have analyzed is around 18-24 percent THC, with only a fraction cracking the 30 percent threshold.
In data recently shared with StratCann, High North Laboratories says less than one percent of samples they've tested showed results of over 30 percent total THC: just 154 in more than 20,000 cannabis samples. The data was anonymized to remove client names and other identifying information.
Rick Moriarity, COO of High North Laboratories, says they are sharing the information now to add to the conversation around consumer expectations for high THC products. While the market increasingly demands higher and higher THC products—sometimes pushing into the high twenties and even thirties—Moriarity says the cannabis flower they have analyzed tends to be around 21 percent THC.
In fact, after controlling for lower-THC products they test (like hemp or more CBD-rich flower), just over half of nearly 20,000 samples were in the range of 18 to 24 percent THC.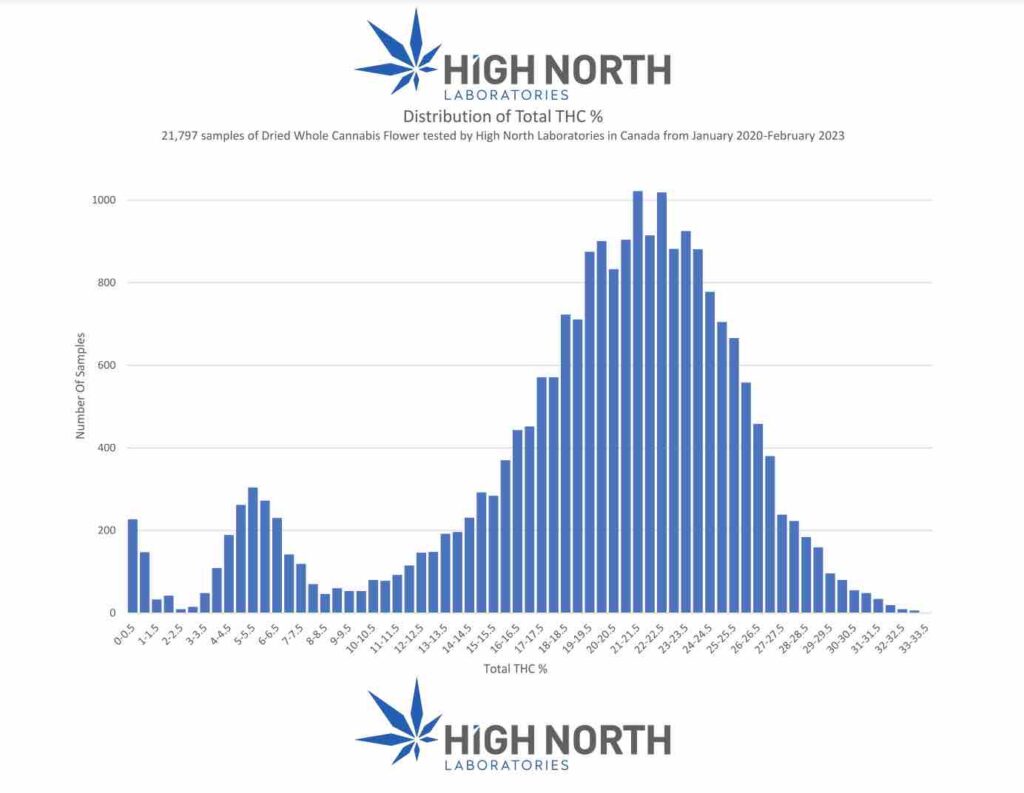 These findings mirror research published in 2021 in the US that showed a similar breakdown of THC levels peaking around 18 to 20 percent.
The expectation of high THC being the only indicator of quality, says Moriarity, isn't realistic. It can be a factor, but not the only one.
"I hope this information can help guide consumers not to be looking at total THC for a purchase decision. There's nothing wrong with looking at the total THC to see what it is and if it is a CBD or balanced product; however, it should not influence you enough that you walk into a store and say, "what's your highest THC flower?"
One of the problems, he acknowledges, is that consumers are focussing on THC, at least in part, because they can't decide based on aroma, as many consumers could do in the pre-legal market.
"With the regulations around packaging, it is not easy to look and smell before making a purchase decision. I know some stores have jars with little air holes that you can look at and attempt to smell the flower. It's better than not having that option, but the flower gets old quickly that way and is not truly representative. So I understand why, but THC alone isn't a good replacement for that.
"Terpenes are one other factor to consider, as is our endocannabinoid system and several other important cannabinoids that we're only just starting to learn more about. The point is, this all amounts to so much more than just that one number for THC. And that's even if those numbers are accurate, which obviously, they often aren't."
He adds that he doesn't mean all lab testing is inaccurate, but emphasizes that "the numbers are not accurate when being inflated by a select few non-reputable labs."
Similar to another cannabis lab that recently shared results of off-the-shelf products they tested, High North shared with StratCann what they say are the results of 35 cannabis flower products they purchased from cannabis stores. As with their other internal testing results, High North removed producers names in the info provided to StratCann.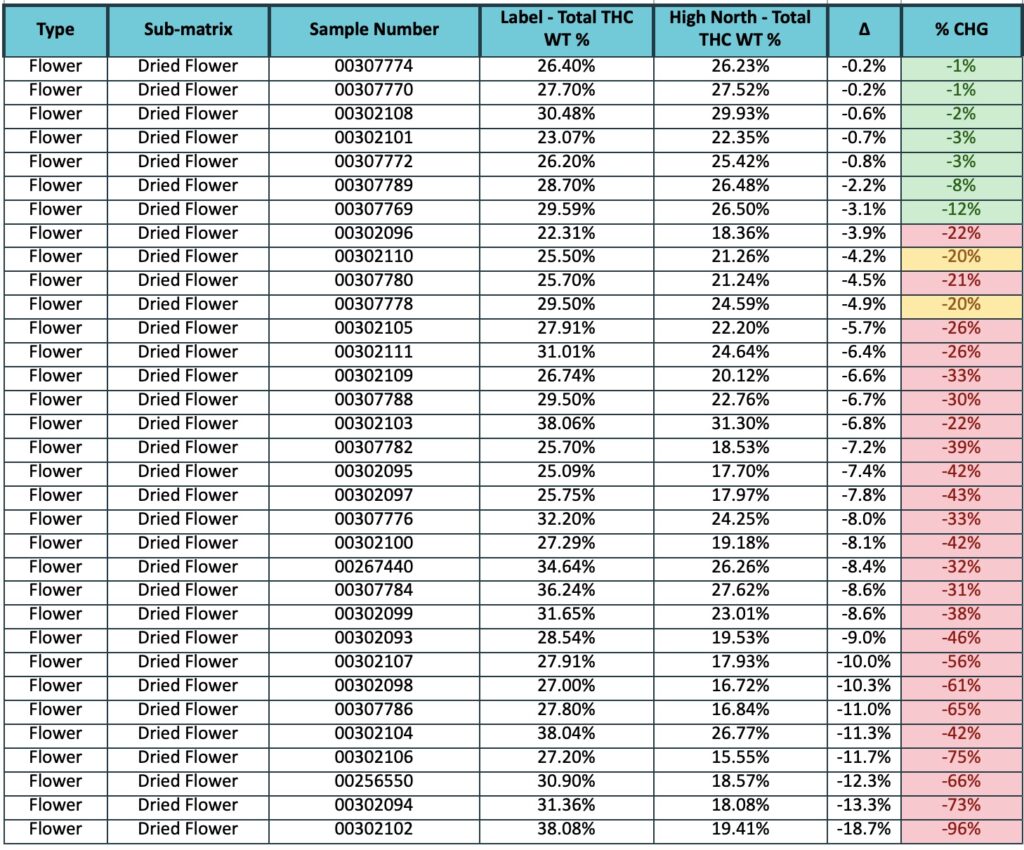 Of these, nine were within an acceptable deviation range of no more than 12 percent, while most were within between 20 to nearly 100 percent deviation from the labelled amounts. One product tested at 19 percent THC but was listed on the label as having 38 percent. Interestingly, one flower sample that High North's second test showed at a whopping 31 percent THC was labelled as 38 percent.
Moriarity highlights this specific result as an example of how absurd it is that a producer who is already hitting such a high number like 30 percent, would need to boost those numbers even more.
These results indicate that much of the cannabis on the market is actually in a range of around 20 percent THC, and also how inaccurate at least some of the available product labels are, says Moriarity. The results also highlight the folly of consumers and even provincial buyers in making purchase decisions based on THC alone.
Content sponsored by: High North Laboratories
---