A Minister of Parliament has presented a petition in the House of Commons calling on the Minister of Health to address what petitioners say are problems with abuse of the medical cannabis designated production program.
Diane Finley, a Conservative representing the Ontario riding of Haldimand-Norfolk, presented petition e-2920 in the House on February 5, with more than 1,000 signatures. 
"These petitioners are worried about the growing problem of the misuse and abuse of the Liberal government's current medical marijuana rules and the loopholes that exist in the designated grower program," said Finley in the House of Commons. "The results are an infiltration of our communities by organized crime. There are also severe impacts on the quality of life for nearby residents."
"These petitioners and I are calling on the government to take immediate action to address these loopholes. We also call for the Minister of Health to live up to the promises she has made repeatedly for over a year now to deal with this issue fully and promptly."
Finley is one of several MPs who have spoken out on this issue over the last year, and first asked the Minister of Health to look into the issue in July 2020. Patty Hadju, the Minister of Health said at the time that she would look into the complaints.  
The petition argues that "the existing regime governing the production of medical marijuana, particularly the Part 2 or "designated growers" regime, is rife with abuse as a result of loopholes in the current legislation that impede local officials' and law enforcement's investigations of growing operations that appear to be in violation of the law, of a lack of oversight from Health Canada of growing facilities, and of individuals obtaining extraordinarily large prescriptions to be grown by designated growers, and said prescriptions being magnitudes in excess of what a normal medical use prescription would be."
It also says that these designated grows are often operating at a commercial scale but are not required to implement controls for odour and that organized crime is linked to these kinds of grows.
Health Canada's medical cannabis access program has long allowed people to grow their own cannabis or designate someone to do so for them, with an authorization from a qualified medical professional.
In 2014 Health Canada, under the then Conservative government lead by Rona Ambrose, repealed the existing program (called the MMAR) with a new program called the MMPR that only allowed a more tightly controlled commercial production and sale.
The MMPR was successfully challenged in court and a new program that again allowed personal and designated medical cannabis production was introduced in 2016 under the new Liberal government (called the ACMPR). Concerns have long existed with the misuse of these licences for large-scale commercial production in the illicit market.
According to Health Canada, the number of individuals registered for personal and designated cultivation of cannabis for their own medical purposes increased 29% from 33,614 in June 2020 to 43,211 in September 2020.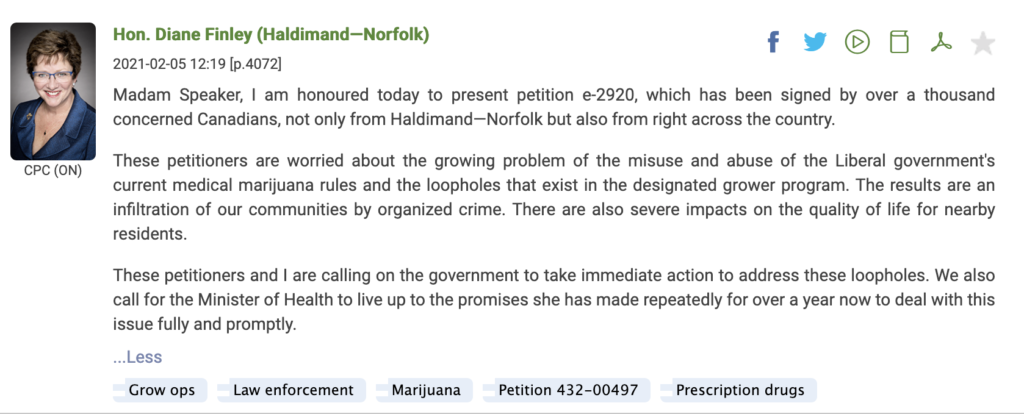 Finley has served six straight terms representing Haldimand-Norfolk. The community has expressed concern with the issue of personal and medical growers in the past. An article posted on January 24, 2020 says the community is home to "70 unmonitored medicinal cannabis operations", with many local residents upset with issues like odour or light control.
It is also in an area of southern Ontario with many large-scale commercial cannabis growers.
"As farmers retire the ACMPR approval in August 2016 has brought in a wave of property buyers from the GTA that the community and law enforcement suspect may be connected to organized crime," wrote a guest columnist in Post Media's Ontario Farmer last January. "Leamington, Brant County and the Niagara Peninsula, as areas with greenhouse infrastructure, are dealing with the same issues."
Serving six consecutive terms, Finley was an MP throughout the years the Conservatives were in charge of these types of medical cannabis grows. She was concerned with them as far back as 2005, blaming the then Liberal government, but appears to have raised no such concerns when her party was in power from 2006-2015.
Another Conservative MP, Mark Dalton, representing the BC riding of Pitt Meadows-Maple Ridge, brought up similar concerns the day prior, on December 4, saying residents in his riding are "fed up" with these personal or designated growers causing "big problems" within their neighbourhoods. He says law enforcement and Health Canada deflect responsibility to each other.
"Many medicinal marijuana growers are growing much more than their licences permit them to and have much more than a few plants, which is causing big problems within our neighbourhoods," said Dalton. "All of this is happening without any proper supervision and enforcement by Health Canada.
"When residents have asked for help, it is a revolving door. The RCMP say that it is Health Canada's responsibility and Health Canada does nothing."
Highlighting this back and forth between RCMP and Health Canada, Bill Blair—Canada's Minister of Public Safety and one of the government's main spokesperson on legalization, as well as the MP for the Ontario riding of Scarborough Southwest—pointed out growing outside the allowances of a licence isd a law enforcement issue, not a Health Canada issue.
"When people grow that marijuana and sell it outside of medical authorizations, they are committing a crime," said Blair. "It is the responsibility of the police jurisdiction to investigate those crimes and bring charges where appropriate. Strong penalties exist for those activities and the tools are available to law enforcement to control those behaviours."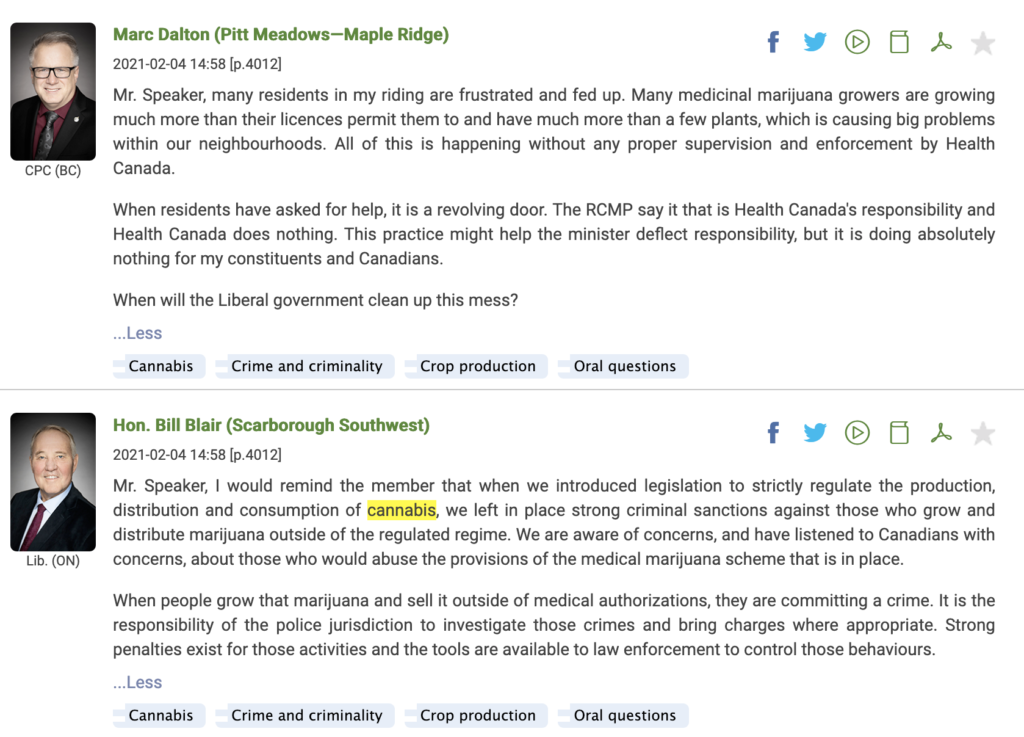 Managing these types of personal and designated production medical licenses has been a challenge for municipalities ever since introduced under the previous Harper government in the early 2000s.
As recently as this July, police in the neighbouring county of Niagara seized more than 17,000 plants from a large greenhouse operation of this nature that police say was the largest of its kind, with ties to organized crime.
Regional police in 2019 announced 24 simultaneous raids that had occurred in Southern Ontario of growers utilizing these same personal and designated medical cannabis authorizations. A large-scale grow op of this nature generated headlines in 2018 when it was raided by police in Ontario. A similar bust made headlines in 2017 with some 765 plants in a greenhouse operation.
Such licenses exist due to a string of court cases going back to the early 2000s, and affirmed as recently as the Federal Court of Canada's February 2016 decision in Allard v. Canada, which have affirmed the rights of individuals authorized to possess medical cannabis to also grow their own or designate someone to do so for them.
Although these licenses are intended for the personal use of those specifically connected to the licence, it is not at all uncommon and has been well documented that growers of all sizes often grow for further commercial distribution under the cover of such medical licensing.
Law enforcement and some politicians point the finger at Health Canada for not policing plant counts and compliance of home grows, but the federal regulator would also require a warrant on anyone's home if requested, rendering enforcement a logistical challenge, especially with fewer than 100 such inspectors across the country.
Some blame the various provincial colleges of physicians who are supposed to police their own doctors from prescribing very large gram-a-day amounts to medical cannabis patients.
Last year the Saskatchewan College of Physicians and Surgeons levied a $15,000 and disciplinary action against a Saskatchewan doctor found to be profiting from issuing medical cannabis licences in 2018. Recently, a medical cannabis patient who had been authorized 100 grams a day, had a court reject an allowance for the patient to possess up to 1000 grams in public at a time.
---