New Brunswick's cannabis branch, Cannabis NB, has announced a new competition to decide what Atlantic Canadian cannabis producers have the best dried flower.
The first annual "Cannabis NB Cup" will run until July 28, with a limited number of customers being able to purchase a Cannabis Cup box to act as a judge in the competition. The box will contain eight 3.5 gram packages, one from each of the participating licensed producers along with a full judging tool kit.
Competition boxes are only available at Cannabis NB stores for a retail price of $250 and judges will be able to vote online until July 28. Included is D Bubba from Namaste (Zenabis–NB), Mac-1 from Edison (Organigram–NB), Sky Cuddler Double Kush from Stewart Farms–NB, Tiger Bomb from Crystal Cure–NB, Ghost Train Haze from Reef Organic (Aqualitis–NS), Lemon Haze from Ritual Cannabis (Mernova Medicinal–NS), ICC x Kush Mints 11 from Msiku (AtlantiCann–NS),and Black Cherry Punch from FIGR–PEI.
The judging will be done online with the 600 selected judges scoring products for Best in Grow, Runner Up, Honorable Mention, Best Looking, and Best Experience. Each box comes with a "judge's book" that allows them to score each variety of flower based on an array of attributes such as bud structure, visual appeal, trim, taste, smoothness, ash, and more.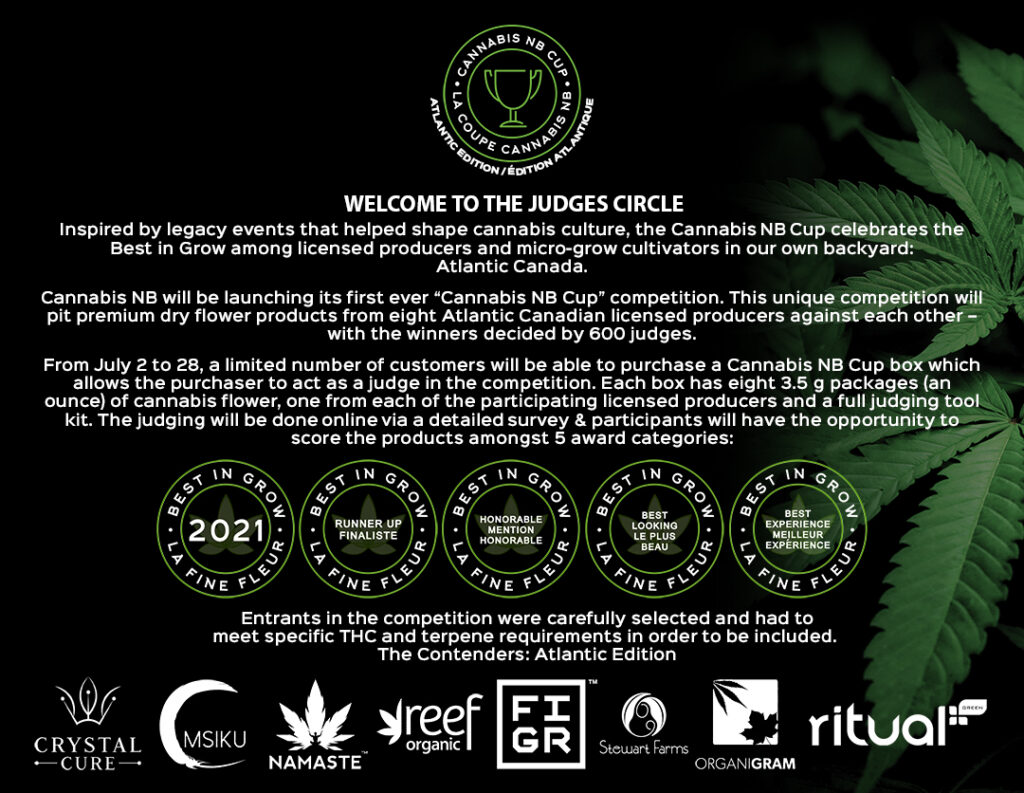 Tanner Stewart of Stewart Farms in New Brunswick says he's excited about having his Sky Cuddler Double Kush included in the contest. He says Canada's East Coast has a lot to prove and thinks the Cup will be a great opportunity to show off their wares.
"We're just happy to be in the contest," says Stewart. "We think it's going to really bring great awareness to East Coast consumers about how great the weed is that is being produced here on the East Coast. I think this is going to demonstrate that the West Coast won't necessarily remain the sole source of great cannabis in Canada. There's a lot of east coast growers with a lot of things to provide, so I think this cannabis cup is a good way for this community to kick this off."
"I've seen the box and for only $250 for 30 grams for all these great products, I think the biggest winner will be the consumers," he adds.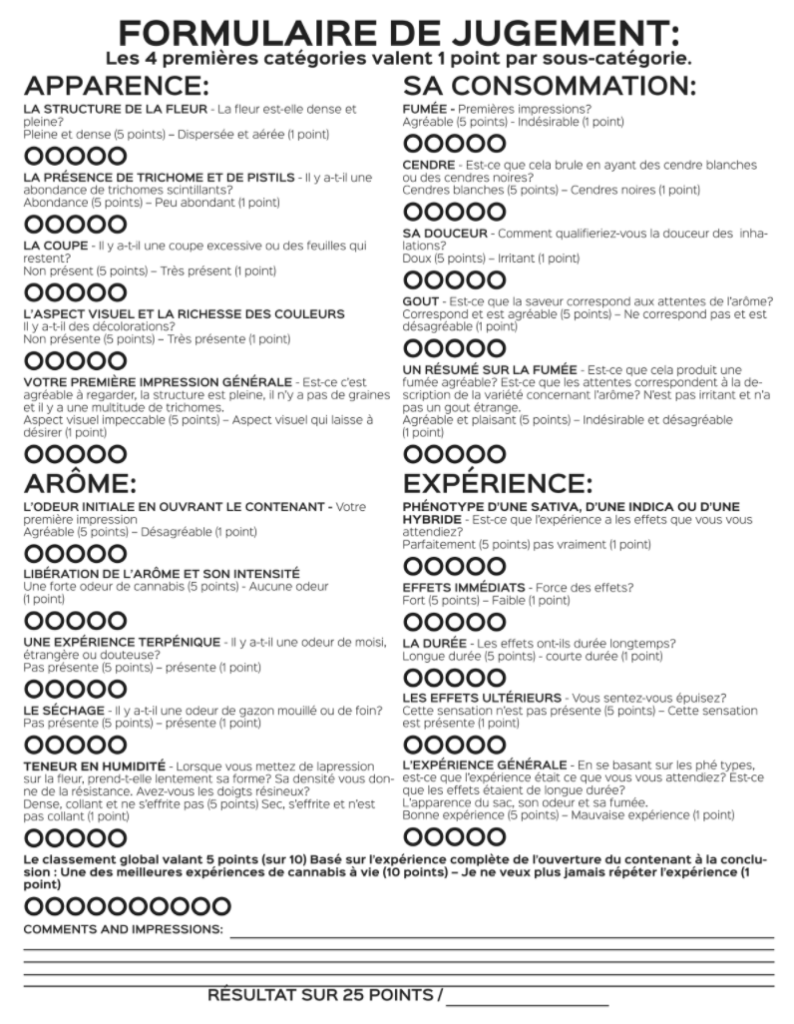 Jonathan Wilson of Crystal Cure, another New Brunswick producer that is including their Farmers Series Tiger Bomb, says he's very excited to be included in the contest. Crystal Cure's Farmers Series currently features a product grown by New Brunswick micro producer Golden Peak Cannabis, that is then processed and packaged in partnership with Crystal Cure.
"I think the contest is innovative and it shows that Cannabis NB is committed to the customer experience," says Wilson. "It shows it's not just a Crown Corporation, it's them trying to demonstrate they are customer facing and in tune with the industry. And it's a focus on premium products, showing its premium cannabis grown in the east, and I love what they've done with this. We signed up as soon as we heard about it."
Cannabis NB says they selected their eight producers to be included in the contest based on specific THC and terpene requirements.
"We are very excited to be launching our first Cannabis NB Cup. It's a great opportunity for our partners in Atlantic Canada to showcase their best dry flower products, and a chance for our customers to participate directly in this unique event as judges," said Lara Wood, VP of Operations for Cannabis NB. "After the launch of the Atlantic Edition, our team will be working to expand the competition to include competitors from across Canada for the Cannabis NB Cup National Edition in the fall."
Award winners will be announced on July 30th and along with bragging rights, the overall winner "Best in Grow" will be showcased in a Cannabis NB Cup display in every Cannabis NB store across the province and win an automatic position to be a contender in the "Cannabis NB Cup National Edition".
---