Newfoundland sold more than $70 million worth of cannabis in the last year, according to Newfoundland and Labrador Liquor Corporation (NLC) Q4 and Fiscal Year 2023 Performance numbers released by the province this week.
Cannabis sales through Licensed Cannabis Retailers (LCRs) including online sales in the province, totalled $18.7 million in Q4, an increase of 22 percent over the same period in the previous year.
Total retail cannabis sales for fiscal year 2023, ending April 1, 2023, increased by 15.8 percent over the prior year to $70.7 million. The NLC recorded $61 million in cannabis sales in 2022 and $52 million in 2021.
The NLC also incurred a significant increase in operating and administrative expenses through the fiscal year (44 percent) due to an increase in commissions paid to some cannabis retailers. This commission is tied to higher sales volumes and an increase in the commission rate paid from 15% to 20% to these LCRs.

The end of the 2022-23 fiscal year also marks the end of the provincial agency's three-year planning period for the 2020-2023 Business Plan. During this period, NLC reported record sales and earnings in each of the three years. The amount the NLC paid to the provincial government for the three-year period totalled $613 million, an increase of $80.9 million over the previous three-year period (including alcohol).
"I'm extremely proud of the NLC team for their continued commitment to serving Newfoundlanders and Labradorians," said Bruce Keating, NLC President and CEO. "We're proud to have contributed $208.0 million to fund valuable programs and services in communities across the Province.
"Importantly, we have continued to take important steps with respect to enhancing the customer experience with our regulatory mandate, corporate governance, and corporate social responsibility, as well as diversity, inclusion and belonging. As an employer to more than 600 NLC team members, we will continue to work towards earning trust in everything we do, and strive to become the kind of organization we believe NLC can be."
The NLC also conducted 1,484 inspections on liquor establishments and cannabis retailers in Q4. This represents a 42 percent increase over the number of inspections conducted during the same period in fiscal year 2022. The increase in inspections is due to fewer inspections during covid restrictions.
During the fiscal year, the NLC conducted 4,468 inspections on liquor establishments and cannabis retailers. In fiscal year 2023, the NLC also worked with local law enforcement and Canada Post to investigate 18 files resulting in seizures of 409 kg of cannabis products. Since legalization in October 2018, NLC's Regulatory Compliance and Enforcement team has seized approximately $10 million in illegal cannabis products.
In Q4 of 2023, staff representatives participated in the Evidence to Policy Symposium: Coming Together to Foster Safe Cannabis Use, hosted by Cannabis Health Evaluation and Research Partnership.
The NLC is a Crown Corporation of the Government of Newfoundland and Labrador with responsibility through the Liquor Corporation Act, the Liquor Control Act, and the Cannabis Control Act for the importation, sale, distribution and management of beverage alcohol and cannabis. It also regulates and distributes to over 40 licensed cannabis retailers across the Province. Consumers of legal age can also purchase cannabis at ShopCannabisNL.com.
In late 2022, the province said it was looking to licence more cannabis retailers.
The province also began allowing the sale of cannabis vape pens in September 2022, a move the government says will help its legal stores better capture market share from illegal cannabis operators, noting that such products represent about 20% of total sales in other legal markets.
Effective October 1st, 2022, the NLC increased commission rates paid to Tier 1 and Tier 2 LCRs from 15% to 20%. The province has four different retail "tiers" of cannabis retail licences, with Tier 1 stores operating as stand-alone cannabis-only locations, while Tier 2 stores are cannabis-only stores that are located in an existing non-cannabis retail location.
Tier 3 stores operate within non-cannabis retail locations but have their own separate counter, while Tier 4 stores sell cannabis at the same counter as other non-cannabis products. For example, the island of Newfoundland currently has 11 "C Shop" cannabis stores located inside larger shopping centres.
The provincial regulator hopes the new commission rate will help these stores to "mitigate the specific challenges of this store format compared with other tiers and improve the viability of these specialized stores in our local cannabis industry."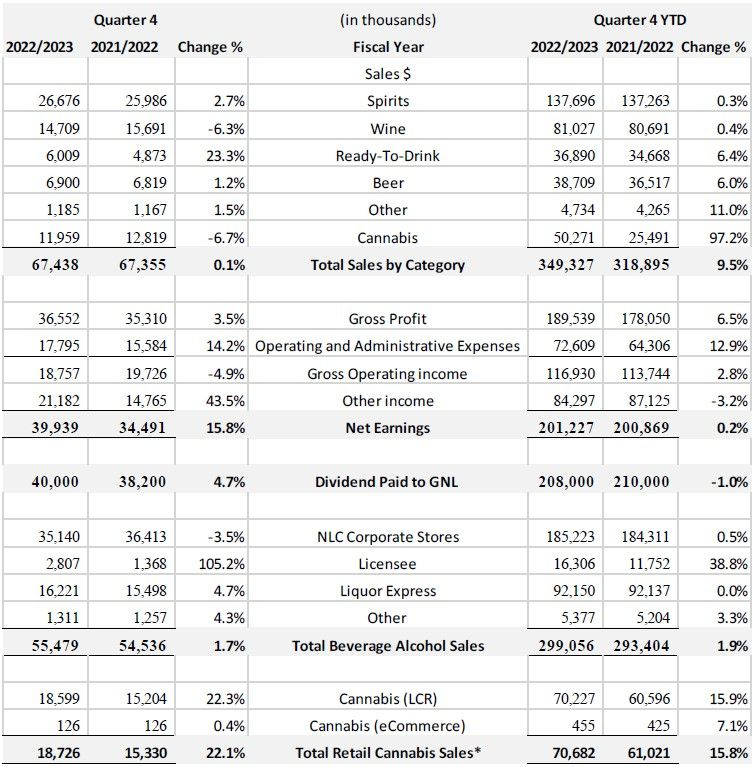 *Note – Total Retail Cannabis Sales includes all sales of cannabis in Newfoundland and Labrador. In October 2021, NLC began warehousing and selling cannabis to LCRs. Prior to October 2021, licensed cannabis producers sold cannabis directly to LCRs and remitted a commission to NLC that was included in other income.
---