The brief appearance of ingestible extracts on cannabis shelves and their subsequent disappearance has potentially introduced more consumers to cannabis oil capsules, say some BC cannabis retailers.
So-called ingestible extracts or "edible extracts", sold with much more than the 10mg THC per package allowed in cannabis edibles, have become very popular with some consumers over the past year. Organigram's introduction of their Edison Jolts, a 10mg THC lozenge sold with up to 25 each per package (250mg THC), first released in summer 2021, was soon followed by products like Aurora Glitches and several others in 2022 with similar high THC offerings per package.
Sales of these products shot up over the last few quarters in BC before Health Canada put a stop to the fun earlier this year, declaring them to be non-compliant with federal regulations. In early January 2023, Health Canada sent a notice to producers highlighting their concerns. Companies had until May 31, 2023, to cease sales and distribution.
Although some retailers were able to stock up, many stores have since run out, and BC's most recent quarterly report for Q2 2023 shows sales dropping significantly.
However, their disappearance from shelves has given at least some retailers an opportunity to tell consumers about another similar product that has been available since the beginning of legalization: cannabis oils and cannabis oil capsules.
While sales of cannabis capsules in BC slightly declined as ingestibles increased, their rapid decline in Q2 2023 was matched by a slight increase in the sale of cannabis oils.
Kayla DeFazio, an Assistant Manager at Spiritleaf in Maple Ridge, one of the top-selling stores in the province, says she has seen that trend play out in her store, often guided by herself and other employees.
Like the ingestible extracts, cannabis capsules offer consumers a similarly larger quality of THC per container, in individual servings of up to 10 mg THC, explains DeFazio, listing off one popular product in their store that offers ten, 50, and 100 capsule bottles with each capsule containing 10 mg THC.
She points out that while these types of cannabis capsules have long been available, she thinks the conversation about the lack of these ingestible extracts has helped introduce them to many consumers who weren't familiar with them. Consumers come in looking for ingestible extracts that they no longer carry, and they tell them about these other, similar products.
"We're just trying to find a better solution for people. A lot of them have a higher tolerance, and they definitely need a higher dosage, so when we weren't able to give them that with the (ingestible extracts), we tried to move them on to something as a different option. "
"A lot of people just really like the idea of having an edible, having a gummy, having different flavours," she continues. "But then a lot of people were also turned off by the excess sugar. So once we showed them that there was a better price point and something maybe a little bit healthier, they had an easier time moving on to something new."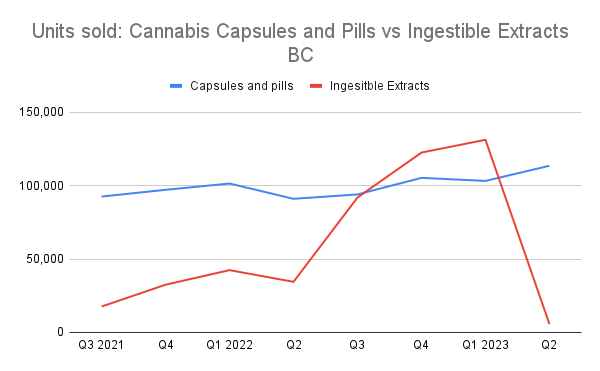 Trevor Pewarchuk, District Manager for Trees Cannabis, with multiple locations on Vancouver Island, says he's also seen evidence of a similar trend in his stores.
Products like Edison Jolts and Aurora's Glitches were "insanely popular," says Pewarchuk, but he notes they quickly sold out once Health Canada told producers to stop shipping more to retailers.
Instead, some consumers have gone back to buying edibles or gummies, he says, but some are discovering they can get a similar product with the same effect without the added sugar and at a lower cost when they buy cannabis oil capsules.
"Generally, we would direct them in that case to an oil or a capsule option just because they tend to be the closest equivalent they can purchase with the max amount of active ingredient per dose," explains Pewarchuk.
However, he says most of the customers who were interested in those higher potency items were edible consumers already, and they are now just purchasing multiple packs to get the same effect.
"Some are going to oils, but many are just shifting to buying multiple edibles or multiple beverages."
Meanwhile, in Vancouver's first licenced cannabis store, Evergreen Cannabis, owner Mike Babins says this is a conversation he's been having with consumers since edibles first began appearing in late 2019 or early 2020.
"As soon as edibles came in, anyone coming in looking for (a large amount), we immediately say to them that we're happy to sell you that, but you can buy a jar of (capsules) that are the same thing. You can then go next door and get a pack of gummy bears if you really need candy. And you can save a lot of money."
Babins says he thinks there's still a lot to do to educate consumers about products like cannabis oils and capsules, with some consumers believing that being in an "edible" form somehow increases its potency.
"A lot of people really, truly think that it works best in a gummy. Maybe everyone else is finally catching on and realizing that is not the case.
"Maybe the public is finally getting informed and starting to understand that there are other higher THC options for edibles. The more people who understand that, the easier it's for us to guide them in that direction and help them decide."
Related Articles
---