Health Canada issued two new recalls of dried cannabis on April 18, one sold in Alberta and one in Saskatchewan.
Peace Naturals has issued a recall for their Spinach Kiwi Lime Punch pre-rolled joints that were sold in Alberta due to inaccurate THC levels.
The products were labelled as having 20 mg/g of THC and total THC of 212 mg/g while the actual figure was 17 mg/g and 287 mg/g.
Twenty units of the product were sold from March 24 to April 4. The 0.35 gram pre-rolls came in packages of 10.
Health Canada's recall notice says that Peace Naturals received one consumer complaint based on inaccurate THC levels. Health Canada has not received any complaints.
As always, Health Canada reminds Canadians to report any health or safety complaints related to the use of this cannabis product or any other cannabis product by filling out the online complaint form.
A second recall, also issued on April 18, was for inaccurate THC levels on Medz Cannabis Inc.'s Harts Charlottes Angel pre-rolls sold in Saskatchewan.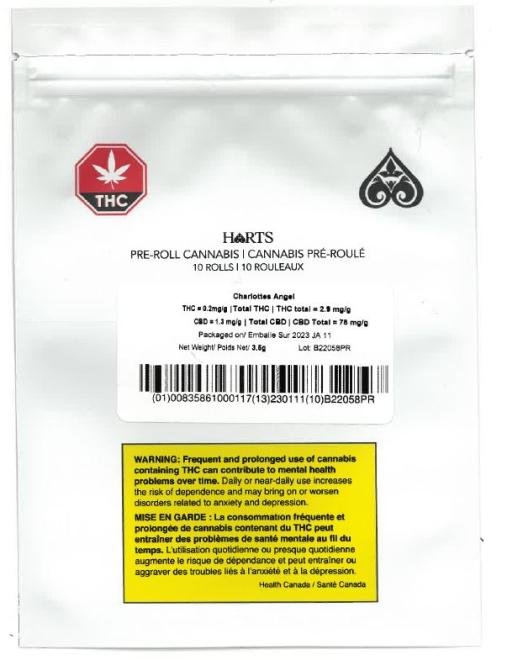 There were 240 units sold where the THC, total THC, CBD and total CBD labelled are lower than the actual values in the product.
Neither Medz Cannabis Inc. or Health Canada have received any complaints as of publication.
The printed value of cannabinoids showed total THC of 2.9 mg/g but the actual value was 6.2 mg/g. CBD levels on the label were 1.3 mg/g but actual value was 10.5 mg/g. Total CBD was listed as 78 mg/g but the actual value was 130 mg/g.
---